Carry out routine maintenance on your Android smartphone or tablet, it is not a necessity, but certainly it can be useful from time to time for many reasons, such as deleting junk files so as not to thesplay the warning of internal memory full or microSD low, speed up your device and finally to increase battery life too.
By thent of downloatheng apps, using them to exchange messages, videos, photos and voice notes (as happens on WhatsApp or Telegram) the space inside the device fills up easily.
If you want to restore performance of your device and recover some space, in this article you will surely find the best android cleaner app suitable for you.
I will obviously only show you free apps, so as not to have to refurbish the device by paying for an app (also considering the goodness of the free apps available).
Best Android cleaning apps of 2021
If you are wondering if these apps really work, the answer is definitely yes. While using a smartphone over the months, if not years, many cache files accumulate and not only that, sooner or later you have to delete, as well as the junk data left by a lot of applications.
Android cleaning apps therefore do a great job in the find unnecessary files and help you delete them, but we must not confuse this with cleaning the RAM memory, so in this case, any application is obsolete as in the latest versions of Android, this optimization is already done by the operating system.
Cleaning applications are extremely useful, especially if you are using a cheap phone or an older phone, whose performance has deteriorated over time. Here is a quick index of the apps we have selected:
Google files
Norton Clean
SD Maid
CCleaner
Droid Optimizer
AVG Cleaner
Avast Cleanup
Ace Cleaner
One Booster
All-In-One Toolbox
Google files
You can only start with one of the best apps for cleaning Android devices. Google Files needs no introduction.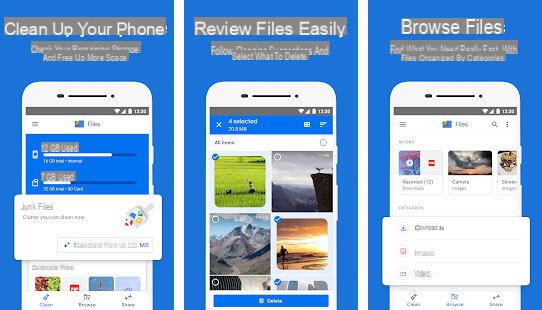 Google files allows you to free up space, helping you with gods suggestions for files to delete, such as chat app files, duplicate files, apps you haven't used in a long time, cache files, and more.
This app integrates a quick search system that uses categories and filters to organize the files to be deleted. It also allows you to quickly and intuitively move files to a micro SD card easily.
Last but not least, Google Files allows you to share images, videos, documents or apps with other users nearby who use the app, without consuming mobile data, simply by pairing the phone with that of another user nearby. with the Files app. All this securely thanks to WPA2 encryption.
If you want to back up to the cloud, you can conveniently use Google Drive or other cloud storage apps.
Norton Clean
The famous manufacturer of one of the most used antivirus to detect malware, makes available a handy cleaning app for Android called Norton Clean.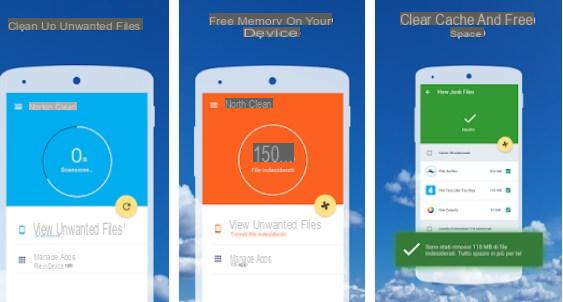 It is one of the best ad-free Android cleaner apps, which also safeguards privacy, the result of a study in which Norton claims to have analyzed the junk file behavior of millions of apps. Norton Clean looks for leftover files left behind by deleted apps, cache files, and more. It also allows users to remove pre-installed apps. Like Google Files, it will also warn you with tips for deleting apps you rarely use.
Just a tap to start scanning the device memory and find all the files that you can delete without any problem! This way you can install new apps and save videos and photos without worrying about the remaining space.
SD Maid - system cleaning

Another very simple app to keep internal memory and microSD clean of unnecessary files is SD Maid, mistakenly underestimated, but which actually has great potential given its ability to remove junk files in depth.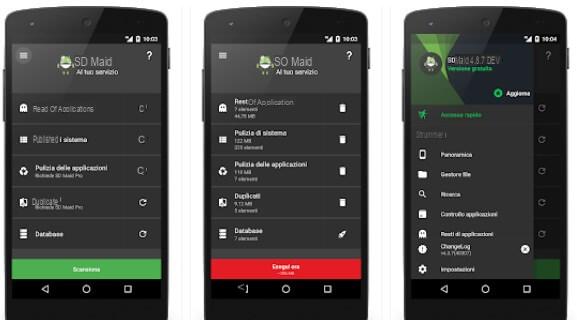 It offers a wide range of tools to manage files. With SD Maid you can take care of cache files, duplicate files, files left behind by previously installed apps, manage current apps and more. It is also a brilliant device storage analyzer, which gives users a detailed overview of what is contained in the device's memory. These widgets help speed up the cleaning process.
With a few simple taps on the screen, you can find the useless files of the installed applications, clean up the most used folders, report the apps you rarely use and find duplicate or bulky files, so as to recover unnecessary space.
CCleaner - Phone Cleaner, RAM Booster
Directly from one of the most used programs on Windows 10 and macOS to clean the PC of junk files, comes an application to clean up Android of high quality.
In adthetion to the essential cleaning functions, with this app you can remove unnecessary files placed in the cache, remove update packages, messages and data sent via chat and old APKs present in the internal memory.
CCleaner for Android also features one system monitoring tool. It allows you to keep an eye on the CPU usage of thefferent apps, the RAM consumed by the apps and the temperature levels of the device.
You will have the option to uninstall multiple applications at the same time. The Storage Analyzer function gives you a better idea of ​​how the space on your smartphone is being used, allowing you to find the type of content or folder that contains the largest files, so you can delete them and recover space on your smartphone. You can also remove junk mail, clear your phone's RAM, and reclaim more space.
Droid Optimizer
This is one of the oldest and lightest cleaning apps for Android.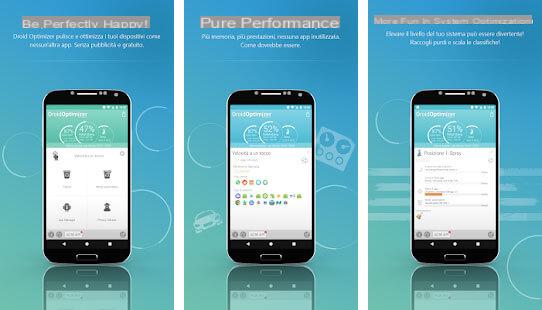 It does brilliant cleaning work on Android devices although the user interface may look a little old at first glance. Plus, the app is ad-free.
The app has a dashboard that details the amount of RAM and free space left. While cleaning your Android device, you can end the background process with a tap. You can also set the app to auto clean.
An extremely interesting feature lies in the possibility of see apps that may have been granted sensitive permissions. Without exaggerating, we can confidently say that Droid Optimizer is one of the best apps to use in this area.
AVG Cleaner - Phone Cleaner

App from the same software company to fight malware of all kinds.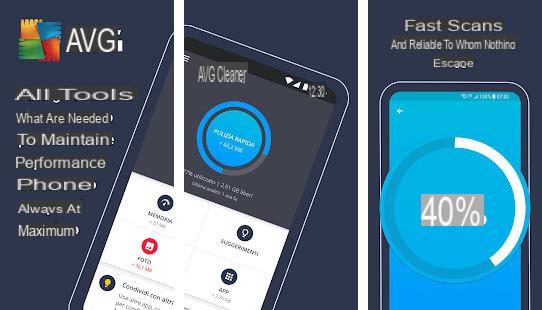 In adthetion to cleaning junk files, it also doubles as a file manager and a smart photo analyzer which removes the bad quality photos o duplicate.
It analyzes the apps that are consuming a lot of resources consuming the battery and asks you if you want to stop or remove it, depentheng on the usage. Within the app, you can easily delete background apps, thus improving the performance of the device. Aside from that, some battery saving options are also available.
The best part is the app analysis which gives you one overview of how the app is draining the battery and usage analysis. There are advertisements in this app, which can be a bit annoying at times, but overall it's a great phone cleaner app.
Avast Cleanup: Power, cleaning and optimization
Avast, a well-known manufacturer of the antivirus solution, also makes available a convenient tool for cleaning on Android, called Avast Cleanup.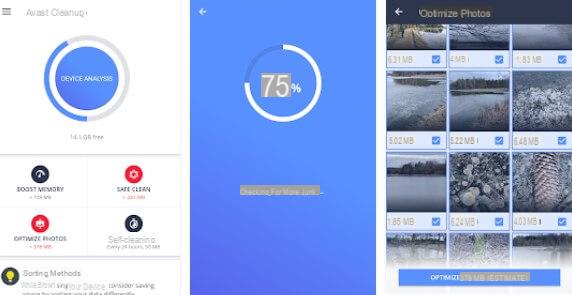 The features present in this app are very similar to AVG Cleaner, with a photo analyzer and an option to hibernate apps.
With this app you can perform a complete analysis of the folders in the internal memory and in the microSD in search of cache files, useless files and redundant files that you can delete without problems.
There are also some unique features on the app, such as cloud storage integration and secure cleaning.
Excellent way to optimize the photos on the device, reducing their size without affecting the visual quality too much (and thus recovering some space even if you take high-resolution photos), a pity that this function is only available for paid users .
Ace Cleaner (Boost Speed Free)
Simple but effective Android cleaning application focused more on phone optimization.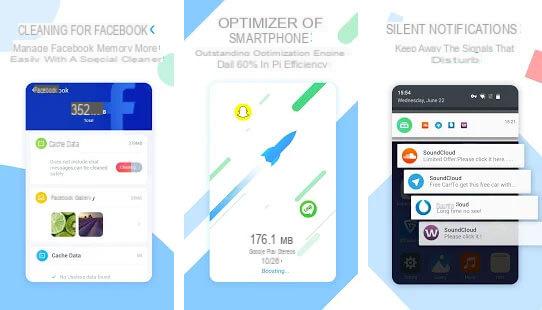 With its features (such as Ace Clean, Ace Boost, Quiet Notification, Battery Saver and CPU Cooler, Ace Cleaner) it highlights the ability to increase and maximize the performance of your phone.
It has a great system for identifying duplicate photos in your storage space and gives you the ability to delete them, keep your favorites and clean up the space.
One Booster
It stands as an app that can be used both for cleaning and as an antivirus app. This way, you won't have to download a separate antivirus app for Android, even if the danger of catching a virus on Android is negligible, unlike on PCs.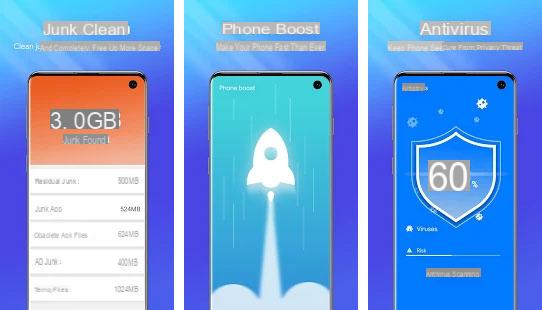 You can easily remove junk files and caches thanks to its intuitive user interface. Other than that, there are CPU cooling features that essentially clear the RAM on your Android smartphone.
There is also a battery saving function which you can use to hibernate apps. In this app the only drawback is to be found in the massive presence of advertisements even in full screen.
All-In-One Toolbox: Free up memory and space
As you can already guess from the name, this is a multipurpose Android application that can handle much more than just cleaning junk files.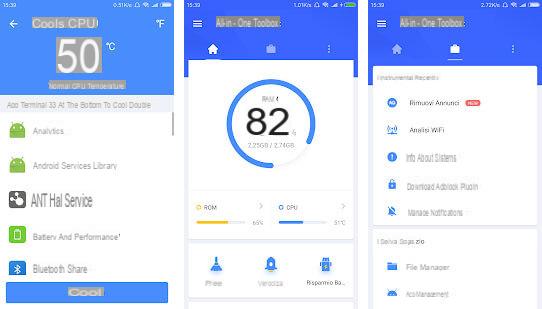 The app integrates more than 30 tools to increase the productivity of your smartphone. It has a program of uninstalling system apps which works even without root. With Boot Speedup, instead it lets you choose which apps (inclutheng system apps) should be launched when the phone restarts.
The app manager includes options for uninstalling or installing apps and moving them from the phone memory to removable storage.
As you can see, there is plenty of choice. Surely among these you will find the memory cleaning app on Android that is right for you.
Best apps to clean Android from unnecessary files and recover space