Do you want to share a passion or an experience with relatives or with the rest of the world? Rather than building your own website, start a blog: it's quick, easy and free with specialized online services.
The very first blog was created in 1994 by an American student. Almost thirty years later, the Web would number nearly 600 million. Big brands, like many news sites, use this type of platform to establish a closer, more intimate connection with their visitors and their fans. Very popular in the mid-2000s, the blog is still today the best way to share passions, desires, points of view, stories, trips, experiences or delusions on the Internet. We often describe a blog as a private diary published on the Web, but besides the oxymoron of the formula - intimate not really rhyming with public ... -, it is more appropriate to present it as a personal site, created and animated by an individual.
Much easier to handle than a website, a blog does not require any technical knowledge and a few steps are enough to design, animate and enrich it. It must be said that the structure of a blog is both simple and effective. It is nothing more than a web page in which the author posts news, links, photos or short texts of his creation. Everything is organized in the form of briefs, called notes or notes and published in an antecchronological order, that is to say from the most recent to the oldest. What makes the singularity of a blog, it is in particular the possibility left to the readers to react to the published articles.
What are the methods to start a blog?
There are two methods of creating and running a blog. The first, and the simplest, is to rely on a dedicated and free platform. The second requires a financial investment and some technical knowledge.
To create a blog, two elements are necessary. The first is a publication tool. Called content management system (or CMS for Content Management System in English), it allows you to layout the blog, manage the texts, images, sounds and videos that you add as well as visitors' comments. The second is the online space that hosts your content so that it is accessible to your visitors. Here, two possible solutions: either go through a blog platform which makes the editing tool available free of charge as well as the online space, or choose a paid host and use the editing tool of your choice. You will therefore have to find a host adapted to your needs such as Ionos de 1 & 1, Wordpress.org or even Medium to name a few. Each offers formulas billed from a few euros per month. Then, it will be necessary to install your CMS and your database on its servers. This last method offers more freedom since you have the domain name - the name of your blog followed by the .com extension, for example - more or less storage space depending on the formula chosen and, above all, none. publishing tool is not imposed on you.
Most of the blogs designed in this way rely on WordPress, the most popular and powerful tool; but also one of the least easy to handle for beginners. Also, if you do not intend to spend many hours developing and animating your blog, it is better to turn to a free platform that will allow you to both publish and host your content. In return, you will have to accept that the name of your blog is attached to that of the platform with which it is produced and you will often have to support the presence of some advertisements on your pages. There are dozens of "turnkey" blogging platforms on the web like Site123, Jimdo, or even SiteW to name a few. They are distinguished by the quantity and quality of the page templates available, the wealth of editing tools and the free storage space reserved for you. All that remains is to choose. To make it easier for you, we have selected six that will allow you, in a few minutes, to publish your first post.
Wix: it adapts to all levels
Equally at home in building sophisticated, even professional websites, as well as blogging, Wix knows how to take the newbie user by hand. With a few questions, he manages to detect your level of knowledge and the objective you are looking for. It then offers the modules best suited to your needs such as a subscription form, a chat module (online discussion) or even a shop. All that remains is to choose the design and start integrating your content. We appreciate the simple customization by drag and drop and the elegance of the models presented. A very good platform to start a blog and lead it to success with the possibility of switching to paid plans (from 10,20 euros per month) and take advantage of more functions.
Try Wix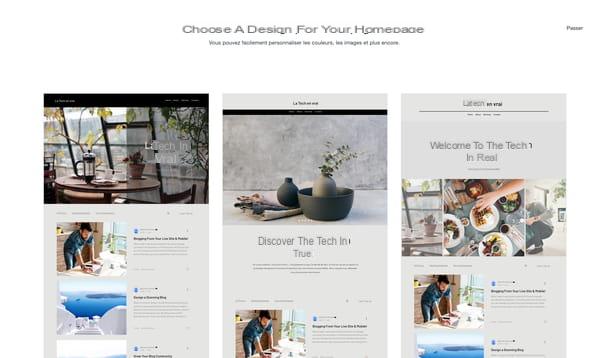 Blogger: easier with Google
Launched in 1999 and then acquired in 2003 by Google, Blogger remains a safe bet for starting a blog without the hassle. If you already have a Gmail account, Blogger will make it easier for you to retrieve your documents from Google Drive or your photos from Google Photos since all of its services can be linked to your blog. In French, easy to learn, Blogger offers a good variety of themes to apply to your pages, but the layout and design options remain fairly basic. In addition, Google will decide for its part whether or not it wants to index your blog in its search engine. Blogger is nonetheless an excellent tool to get started and even offers the possibility of publishing articles by sending an email.
Try Blogger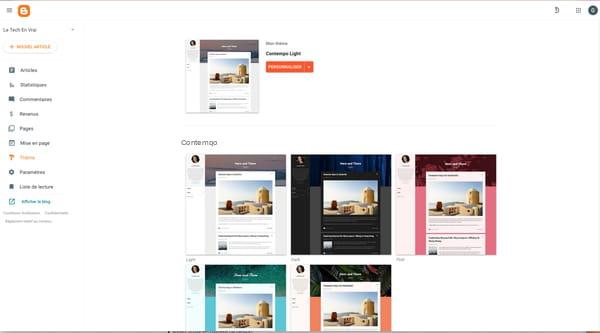 Weebly: the blog almost turnkey
With Wix, Weebly is probably the best platform for beginners. The interface is partially translated into French, but it's still easy to navigate. We start by choosing the type of content that we want to put online (a website, a store, a blog), we define a theme, the name of the blog and the edition can begin. The editor interface is quite simple to handle and understand with its large buttons and its drag-and-drop operation. We appreciate the effort made on the very elegant design of the graphic themes. The service allows many customizations. Be careful, however, if you want to post videos. The allocated storage space is only 500MB. Better to store them on YouTube, for example. Finally, it is good to note that Google will not index your Weebly blog created with the free version. To make it known, you will have to use word of mouth or switch to the paid version.
Try Weebly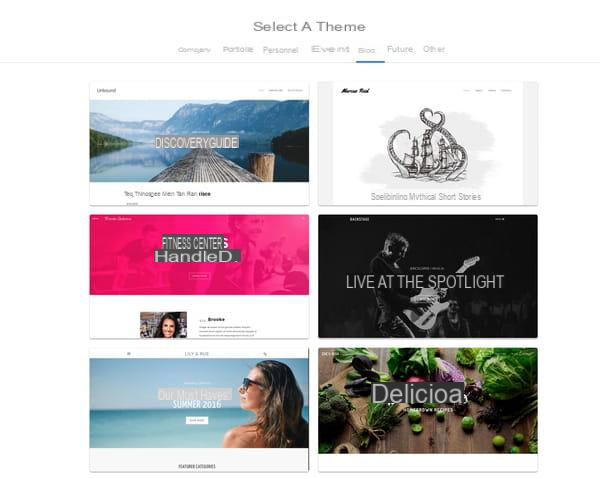 Wordpress.com: a taste of power
While Wordpress.org remains the most popular tool for building a rich and polished blog or website, its free counterpart Wordpress.com offers a good overview of its capacity. It is even more than enough to start a blog easily without spending anything. Wordpress.com offers many styles of pages (templates), but beware, some are not free. The tool remains intuitive to use. In French, Wordpress.com is not full of functions. It offers the basic tools allowing you to modify the design of the blog, but that's it. To take advantage of more customization options, you will have to go to the cash register (from 4 euros per month). For example, to add videos, you will need to subscribe to the Premium plan (8 euros per month).
Try WordPress.com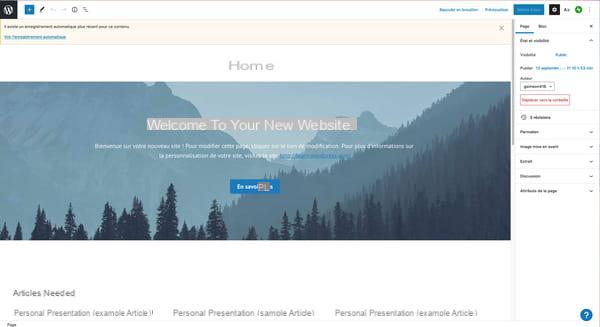 OverBlog: free has limits
French platform born in 2004, Overblog remains one of the tools best suited to blog creation. Several customizable layout themes are available to get started quickly. The tools are quite easy to use and the social media connection buttons are already in place and ready to be configured. By default, Overblog allows search engines (Bing and Google) to index your content. We only regret that access to your publications is open to all winds. Cannot privatize your blog to a few handpicked visitors using a password. This is an option available with a paid plan (from 4,99 euros per month). In addition, some users complain about the amount, a little excessive, of advertisements present on their pages.
Try Overblog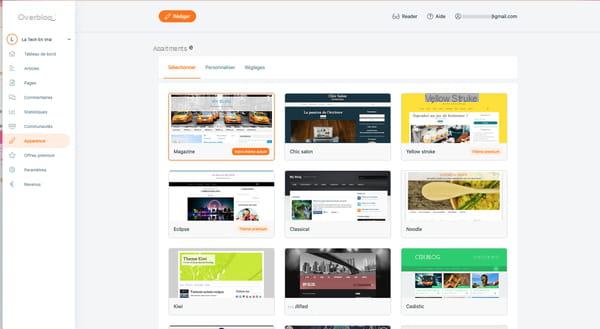 Tumblr : un blog sauce Twitter
Tumblr differentiates itself from other blogging services by its somewhat raw appearance. It is above all a microblogging platform. Its purpose is to allow you to publish short texts, with or without images or animated GIFs, a bit like Twitter. Above all, by subscribing to other Tumblr accounts that deal with the same domain as you, you can quickly increase your visibility. Service is in French (although some menus have not yet been fully translated). Very popular, and easy to use, Tumblr still suffers from a sulphurous reputation today (it hosted a lot of erotic and pornographic content until a few years ago). Yahoo, its former owner then had to carry out a major purge. But since its takeover by Automattic (a company that publishes Wordpress.com), sensitive content has reappeared.
Try Tumblr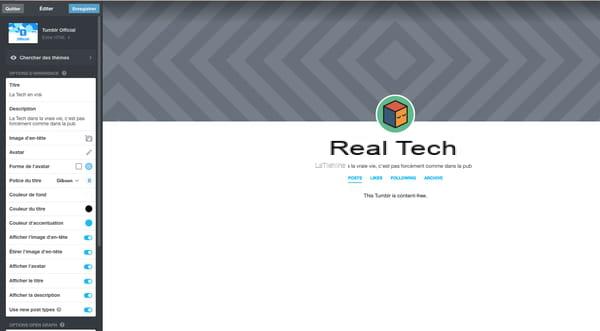 Blogging: the best free services
Summary Wix Blogger Methods Weebly Wordpress.com OverBlog Tumblr The very first blog was started in 1994 by an American student. Almost thirty years later, the Web would count nearly ...