Cambridge Audio has launched the new true wireless earphones on the market Melomania 1+ and for this review we put all the renowned sound quality of the English manufacturer in our ears. The 1+ are a pair of headphones that play your favorite songs with great quality and with a universe of details, especially considering their lightness and attractive price. But the lack of ANC and a few other details could make you change: so let's try to understand in this review if the Melomania 1+ are the perfect earphones for you.
Review of Melomania 1+, the new Cambridge Audio earphones
Cambridge Audio has acquired the respect of many audiophiles over the years thanks to hi-fi systems and amplifiers built in England but in recent years has wanted to offer its own line of wireless earphones. Le Melomania 1, the first model of its kind produced, was a great success among experts. The reason is all in the constructive quality. THE Graphene-enhanced 5,8mm drivers they sound beautiful despite the headphones being small and light. For this reason, the Melomania 1+ retain the design and many features of its predecessor, while innovating with a dedicated app, new smart functions and smoother controls.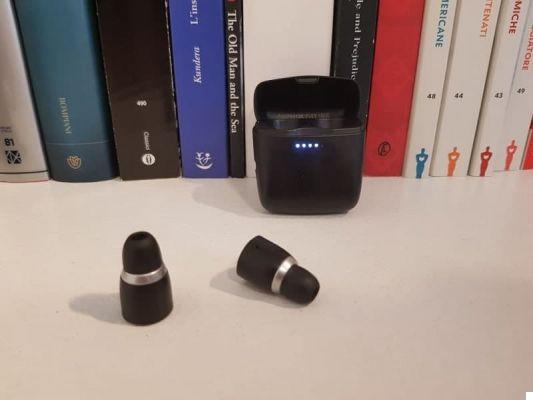 Headphone and case design
In the package you will find your new Melomania 1+ with the case that also acts as a charger for the headphones. But Cambridge Audio also wanted to include lots of different ones eartips: find the various sizes of both the "rubber" in silicone in that memory foam. We were lucky enough to find the ones already fitted comfortable but we still took the trouble to try the others. And we recommend that you do it too, these earphones give their best sound quality when they adhere well to the walls of your ear canal. The difference in quality (and also in insulation) is felt.
The headphones are quite small and discreet, while still demonstrating one great constructive solidity. Above all they are very light and really comfortable. Placement is secure in the ear.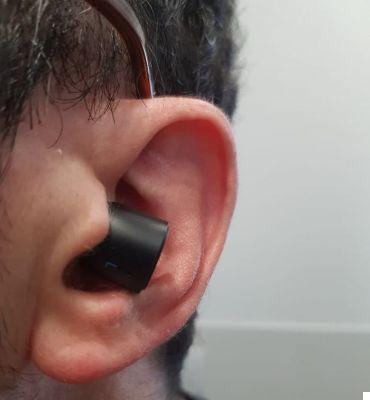 Custody has (finally) USB-C input for charging, which is very fast. But what surprised us positively is the battery life. Depending on whether you use the high-quality playback mode (which we always recommend when listening to music) or the low-power one, autonomy varies from 7 to 9 hours. With the charging case, you arrive from 35 to 45 hours. While there are rivals who do even better, you won't notice the difference. Most people will be able to use them for more than a week without having to plug them in. The only negative note: in the package you will find only the cable but not the transformer (although many would use that of the smartphone in any case).
Melomania 1+ review: all the quality of Cambridge Audio
We immediately tried to listen to some songs with Melomania 1+ for this review, after having quickly paired headphones to our smartphone. Feeling patriotic, we started with Nuclear Tactical Penguins' "Scooby Doo," which has a nice mix of bass and mid-highs and has a rhythm that could cause shaking in lower quality headphones. Instead the reproduction results really rich in detail: the lyrics of the song stand out well against the sound background.
Playing a more bass-rich track like Kendrick Lamar's "I" we noticed that the deeper notes weren't as powerful as the track's rich highs. But using the Melomania app we were able to see that it was just a software issue: using the graphic equalizer to raise the bass we were able to fully enjoy it. Given the size and light weight of the headphones, don't expect explosive power. But they are incredibly deep and well calibrated.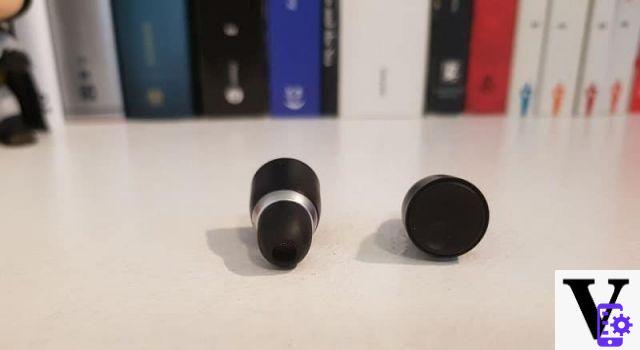 The EQ also has a default voice mode, which is great for listening to podcasts. In general, if the Balanced profile you find already allows you to show all the details of your favorite tracks, using the app enriches the experience and adapts it to your personal tastes. Even trying out more sonic tracks, from In The Heights music videos, through to Miles Davis' Kind of Blue and Beethoven's Ninth, Melomania 1+ performs at its best. Spatiality is also excellent, which allows you to imagine the bands and orchestras arranged around you with great precision.
We also ran the usual sound tests upon tests on AudioCheck to confirm this: the sound quality is high, the excellent dynamism and the low and medium-high management exceeds our expectations. To do better, you must have a cable and not use a smartphone as a source. And spend a lot more.
Daily use: extra controls and features
To control Melomania 1+ use i buttons on the earphones. Squeezing them could push them deeper: another good reason to spend some time choosing the eartips: if you find the right size you can avoid this inconvenience. The commands are pretty straightforward: one tap to play / pause or to answer a call, two taps to the right to go forward with the track and two to the left to go back. With three taps you can activate the Voice Assistant on your smartphone, both Siri and Google. By holding down the right earbud during playback, you can turn up the volume. To lower it, do the same to the left. If the track is paused, pressing for three seconds allows you to pair the headphones.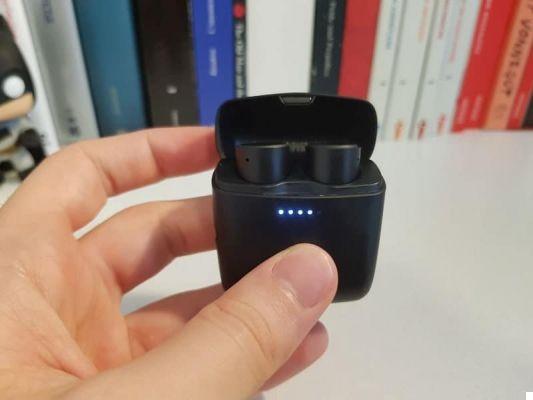 Microphones for calls are good, though not particularly powerful. The people we called could hear us well but that is the sound muffled that most true wireless headphones have. If you want to use the headphones primarily for calls, these are not for you. But they do their homework for the average user.
Use during sports is possible. They have a certification IPX5 which ensures that sweat and dust are not a problem, even if you cannot use them by immersing yourself in water (Bluetooth does not travel in water anyway, so they would be useless). However they are not very comfortable while you are running: getting to the controls is complicated. They never fell during our tests but they didn't give us the firmness in the ear that running earphones give us. Again: great for the gym and workouts of the average user but athletes may prefer something more specific.
READ ALSO: Cambridge Audio Melomania 1 review: small and surprising
Two small problems
During testing for this review, the Melomania 1+ they never had any doubts about the sound. But there were a couple of issues that we report. We used the app to update the firmware earphones, receiving an error message a couple of consecutive times. We had to close the app, put the earbuds back in the case, and re-take them out for everything to work as best as possible.
The other issue has to do with mating. It happened a few times that the headphones did not re-pair once removed from the case. However, this only happened before the firmware update, so it may already be a matter of fact when you buy your pair. The problem never came back, despite having tried several times. And it is in any case simple to solve, just press and hold the headset for three seconds.
Discover the best offers of the day on the telegram channel of technologicfans
Cambridge Audio Melomania 1+ review: are they worth buying?
The main task of any pair of headphones is to have a sound that is rich in detail and pleasant to listen to. The Melomania 1+ do it great - during this review we were impressed by the sound well thought out by Cambridge Audio engineers.
With a price of 129,95 € however, they put themselves in a category that is really full of rivals, with so many interesting features. There are really good sports alternatives for example. And those with an iPhone might be giving up something in terms of sound quality for the built-in functions of the base model of AirPods. And there are headsets that do a lot better on calling. Above all, in this price range there are already headphones with decent active noise cancellation, which instead missing in Melomania 1+.
But if they matter to you above all the sound quality and comfort of the earphones, there are few true wireless headphones that can compete. Cambridge Audio's Melomania 1+ are a recommended purchase for anyone who wants a comfortable but brilliant solution to listen to their favorite tracks.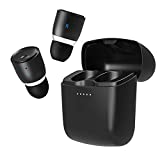 Cambridge Audio Melomania True Wireless Earbuds - Bluetooth...
MELOMANIA COMPATIBLE APP - Customize equalization, high performance sound mode, find my earphones, ...
HIGH PERFORMANCE AUDIO MODE - Enjoy an even bigger soundstage, lower noise and range ...
LONG BATTERY LIFE: Wireless earbuds up to 9 hours of playtime with an extra 36 hours in the case of ...
129,95 EUR Buy at Amazon Cambridge Audio Melomania 1+ True Wireless Earphones Cambridge Audio Melomania 1+ review