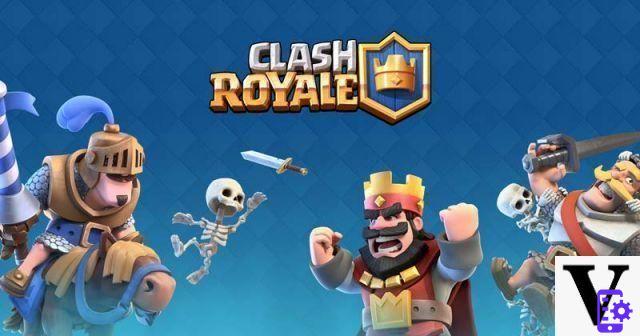 Barely released, Clash Royale, Supercell's latest mobile game is a great success, easily climbing to the top downloads of the Play Store for the month of March. Find here our guide and some tips to progress in the game easily.
Barely released, already a conqueror: Clash Royale is one of the most active and popular games of the start of the year, and ranks first for downloads in March. A coup succeeded by Supercell, which already had one of the biggest mobile games with Clash of Clans.
Supercell is even listening to its community, and has now made the game much more accessible and deep with a new update adding 6 new cards, more gold in the game and a new spectator mode for the most gaming addicts. .
But getting started on the game can be difficult, so we have concocted you below a guide and many tips, for beginners as well as intermediate players, in order to play the game in the best possible way and avoid buying gems.
With the competitive aspect of the game getting bigger and bigger, with the coming of an official tournament mode in Clash Royale, it's time to take the game seriously!
Our Clash Royale guide
In this topic, we will focus on the strategy to adopt on Clash Royale in order to maximize its chances of victories, offline as well as online.
Also read: our pick of the best free Android games of 2021
be patient
While it's very tempting to go on the assault right away, Clash Royale is actually a game that favors patient gamers. Take your time to try to determine your opponent's strategy and cards, and to reload your Elixir gauge.
Favor starting the attack with a salvo of monsters rather than going little by little. A pair or a trio will actually be much more likely to turn the game in your favor, or on the contrary increase your advantage and force the opponent to think about his cons.
Don't stay inactive
If your Elixir gauge is full, don't just keep it warm while thinking about the next turn: play a card that costs little or you don't need at the moment, and be careful of it. think about your strategy beforehand. At the start of the game, it is not bad to come up with an effective combo from the start, in order to force the opponent to play defensively.
Fight alongside your towers.
Even though it may seem scary to mix your towers with your battles, we strongly recommend that you do so: although losing these can lead to your defeat, they are also fantastic weapons.
So do not hesitate, especially in the defensive phase, to take advantage of the damage they offer rather than trying to move the battle away from it: you will be better able to quickly end the enemy assault and relaunch your load quickly.
Let your towers deal with some enemies
Likewise, take advantage of the damage your towers deal to keep squeezing enemy lines. Indeed, assess the situation well as a preamble: if your opponent sends archers to your land while you are on his line, there is no point in spending your Elixir and your cards.
Archers will be killed in 4 shots through arena turns without taking that much damage, and you'll save your Elixir and your Arrows or Fireball cards for much more pressing threats.
Play on weaknesses to maximize profit in Elixir
Each opponent card has its own weakness, so be sure to reserve your Elixir expenditure for your attackers and have a against easy for the opponent's attack. For example, an Arrows card costing 3 elixirs alone defeats a horde of minions costing the opponent 5 elixirs. So favor inexpensive answers by playing on the weaknesses of each card.
Know how to use the new cards
With its latest update, Clash Royale now has 6 new cards that allow you to counter stronger tactics as much as create new ones. Don't be afraid to experiment with these early on in order to gain the upper hand over opponents who are too accustomed to the game's old metagame!
Do not hesitate to experiment with new tactics: SuperCell is making many updates to keep the balance of the game intact. Especially with a serious nerf of the Pig Rider considered too present in the current metagame.
And of course, the latest additions to date with 4 new cards: if the Princess were a problem for you, you will be delighted to learn that the log represents a perfect counter for her. The Lumberjack is also a very good solution to reinforce your breakthrough on the opposing lines.
Our Clash Royale tips
In this chapter, we will focus this time on the little tips and reflexes to have for beginner players and intermediaries, in order to maximize their games of Clash Royale and not have to buy gems too often.
Don't spend your first gems too quickly
By default, the game gives you 100 gems that you can freely spend. But we advise you not to spend them too quickly and first acquire a global vision of the game, its strategy and the way you play.
Indeed, players spending their gems on cards they end up not using are not uncommon, so avoid being part of them. Rather, it is recommended to wait until you have 500 saved, and thus benefit from the 10 gold coins they unlock.
Train offline
While Clash Royale's offline training mode may seem unappealing, it's perfect for test your decks, get a feel for the pace of the game and get ready to go into battle. So don't miss it, and practice well before going to fight online.
Make a balanced deck
Your deck of cards governs the way you play, but it also governs your chances of winning. Try to make the deck as balanced as possible, with a cost in Medium elixir from 3 to 3,5, to be sure you don't find yourself having to remain inactive during a game and thus lose the advantage.
Join a clan as soon as possible
A clan will not only allow you to acquire new cards easily, if your comrades are not too selfish, but also you. train against real people and gain valuable advice. It is therefore imperative to take advantage of it.
Come back every 3 hours
It's silly, but to avoid spending gems, you have to comply with the constraints of the game. And every 4 hours, Clash Royale offers you a new chest with random objects that takes 3 hours to open.
If you pass by and your 4 slots boxes are full, you will no longer benefit from these gifts which can be essential for your development. So get in the habit of checking them very regularly throughout the day.
Cycle of giant and magic chests
In connection with this last tip, know that the chests of Clash Royale are ultimately not random but dependent on a specific cycle revealed today. You can thus optimize your gains at best during your games.
Keep in mind, however, that Super Magic Chests are completely random. So there is no way to manipulate your luck in this field, and it is natural not to have had any for the unlucky among you.
The 3 best current decks
The current meta of the game causes some decks to be more powerful than others. Here are the 3 best decks you can put together to fight in September.
Giant / Poison Deck (Arena 7)
Cards :
Barbarians
Skeletons
Electrocution
Mini PEKKA
Giant
Elixir collector
Poison
Princess
This is a fairly straightforward deck to play and hard to miss. However, you have to be patient, since the goal is above all to stock up on elixir before you can really attack. The goal is to be unstoppable.
Place elixir collectors immediately. Defend yourself at the start of the game with the barbarians and keep your Mini PEKKA in order to launch it in combo with the Giant. Place the Giant at the bottom of the map, reload your 10 elixirs and launch the Mini PEKKA in combination with the Princess: a devastating push, coupled with your various spells in support.
Weakness : Huge weakness against air monsters, sensitive to area spells, may have difficulty against slow but more powerful decks.
Royal Giant Deck (Arena 7)
Cards :
King of giants
Gargoyles
Barbarians
Minor
Electrocution
Princess
Elixir collector
Mini PEKKA
Your goal will be to push an offensive with high attack rate, with the King of the giants in conjugation with the miner in shield. The destruction of towers can be supported by the princesses or the Mini PEKKA In defense, the princess and your minions can easily take care of the aerial adversaries, when the ground can be managed by the barbarians and the mini PEKKA
Weakness : it is an extremely expensive deck requiring a perfect management of the elixir. The slightest attack will require you to spend a lot of elixir.
Deck Deck Hog / Poison (arène 6)
Cards :
Canon
Skeletons
Electrocution
Elixir collector
Musketeer
Valkyrie
Pig Rider
Poison
A deck based on its variety of combos, the most powerful of which is the pig (to destroy cannons and towers), the musketeer on the cover to clean the passage and the valkyrie to clean up the barbarians and minions counters. This one is expensive, many other combos are available to make the most effective advance possible at the moment T. In defense, the Valkyrie will do the housework just as much as the skeletons, while the spells can make you gain a significant asset.
Weakness : you absolutely must have the elixir advantage at all times. What's more, this deck requires non-stop focus, and even the smallest misstep can cost you dearly. Be sure to manage your defense well, and restart the attack as soon as you can.
Share
Tweet
Share
Envoyer à un ami