Have you been sent a PDF document containing a table that you would like to transfer to Excel? I'll be honest, it's not a very simple operation. Convertire PDF in Excel it requires a job for which it is not at all easy to keep the original file structure intact: often you get documents that are not formatted correctly or with truncated information.
In any case, there are conversion services that, as far as possible, do a good job: if you want I can recommend some free ones and explain how to use them. Most of the free solutions are Web-based, this means that to make them work you don't have to download any software on your computer, but you have to send the documents to be converted on remote servers (with the potential risks that this can entail in terms of privacy, given that, reassurances to part of the managers of the aforementioned services, we have no way of actually knowing how the data is processed).
However, I will also point out paid offline solutions with free trials. If everything is clear, I would say not to get lost in chat further and to see together how to convert PDF documents into Excel sheets. I hope that the files in your possession are easily "digested" by these solutions and that you are able to obtain the desired results. Good luck and happy reading!
Index
Convert PDF to Excel: program
Convert PDF to Excel online for free

iLovePDF
Online2PDF
Other services to convert PDF to Excel online

Convert PDF to Excel in App for free

SmallPDF (Android/iOS/iPadOS)
Other apps to convert PDF to Excel
Convert PDF to Excel: program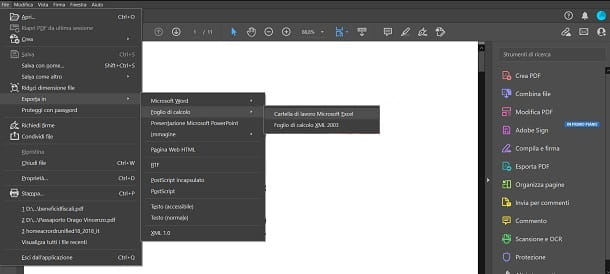 The first solution that I recommend that you consider for convertire PDF in Excel is to use Adobe Acrobat Pro. It is a desktop software for Windows e MacOS which allows you to manage PDFs (Adobe is the company that developed this file format) and operate on them, also including the ability to transform them into documents of various kinds, including Excel spreadsheets.
As you probably know, Acrobat Pro is not free software - it requires a subscription starting from 15,85 euro / month; however, you can do it free trial for 7 days, after registering a free Adobe account and activating the trial at this link. If you want to know more about how to enable an Adobe subscription, I recommend reading this tutorial of mine.
So let's see how convert PDF to Excel with Adobe. After downloading the installation file, su Windows, run the .exe file, log in and press the button Start installing. On Macinstead, run the .dmg file and double-click on the wording Acrobat DC Installer. At this point, press on the keys apri e OK, enter the password del Mac and then log in with your Adobe account. Finally, press on the button Start installing.
Now that you have Acrobat Pro installed, import any PDF document, via entries File> Open. If the PDF document is a scan, however, you will need to enable character recognition (OCR, i.e. Optical character recognition) in advance. For convertire PDF in Excel con OCR, just click on the button Scan and OCR that you find in the side menu. I warn you, however, that unfortunately some characters may not be recognized, especially if the scan quality is not high.
If, on the other hand, the PDF document to be processed was generated directly from a spreadsheet, you may be able to convert PDF to Excel while keeping formatting, even if the result is not guaranteed even in this case (as mentioned, this type of conversion is among the most complex that there can be).
All you need to do to turn the document into Excel is to go to the menu File> Export To> Spreadsheet> Microsoft Excel Workbook, top left. Then you have to choose the destination path and wait for the procedure to be completed.
Convert PDF to Excel online for free
If you want convert PDF to Excel online for free, what you have to do is take into consideration the solutions that I will propose to you in the next chapters (remembering what was said in the introductory phase of the tutorial about privacy).
iLovePDF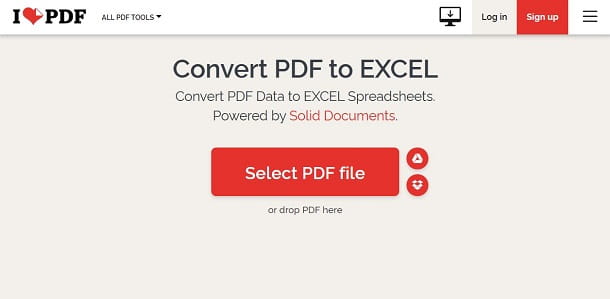 iLovePDF is one of the best services for converting and editing PDF files online. It is free, even if it has limitations regarding the transformation of documents from PDF to Excel, which can be removed with the subscription of a subscription starting from 4 euros / month: you can only process one file at a time with a maximum size of 15MB.
To use the Excel conversion function offered by the service, connect to its home page and drag the PDF to be converted into the browser window, or click on the file Select PDF file. If you have signed up for a subscription, you can enable the feature OCR for character recognition, otherwise press the key directly Convert to Excel.
Now, wait a few seconds for the document to be processed and the output file will be automatically downloaded to your PC. If the download does not start automatically, click on the button Download Excel, to start it manually.
Online2PDF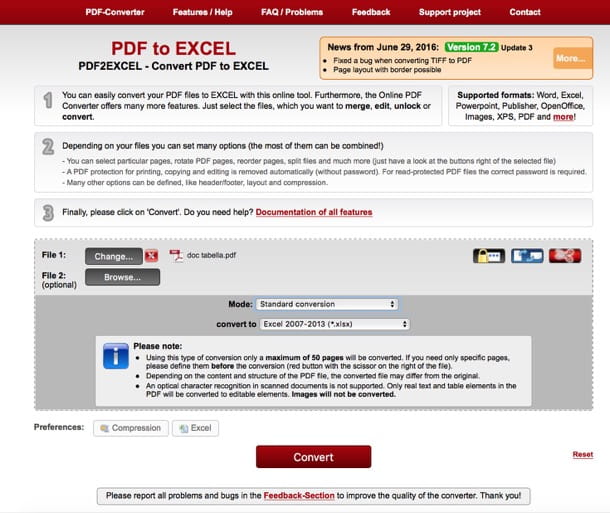 Online2PDF is another great service that allows you to convertire PDF in Excel online for free and without annoying registrations. It has an upload limit of 150MB (100MB per file) and allows you to convert up to 20 documents at the same time. It adds a little writing to the output files, but luckily the writing can be removed easily with any spreadsheet program.
To use Online2PDF, connected to its home page and drag the files to convert into the browser window or press the button Select files. So make sure that in the drop-down menu Convert to the format is selected xLSX (or select the format xls of the old versions of Excel, if you prefer) and presses the button Convert to start the conversion first and then the download of the document.
If you want, by clicking on the tab Excel found below you can also change the symbol used by the service for decimal separation (the comma), replacing it with a period, or set the date format.
Other services to convert PDF to Excel online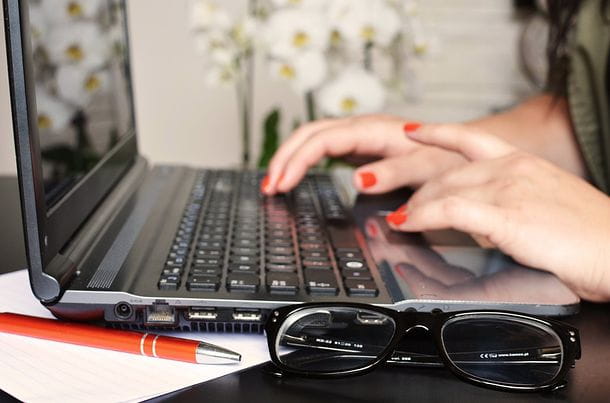 The online converters I told you about in previous chapters ensure that they protect user privacy by deleting documents from their servers within a few days of uploading. However, I do not recommend using them if you need to convert documents that include sensitive information (e.g. bank details, addresses or other personal information).
That said, if you want to know other solutions that can help you in converting PDF documents to Excel or other formats, my advice is to consult my guides on how to convert online and the one on online converters.
Convert PDF to Excel in App for free
There are some apps you can use on your smartphone or tablet to be successful convertire PDF in Excel, even for free. You will find everything you need in the following chapters.
SmallPDF (Android/iOS/iPadOS)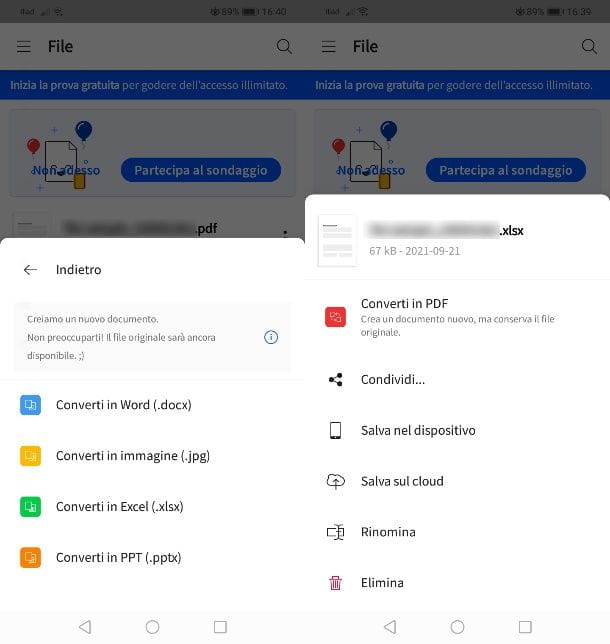 SmallPDF is an online service that allows you to convert documents into other formats. Through the appropriate app for Android (also available on alternative stores) and for iOS / iPadOS, you can proceed with the free conversion of your files. Unfortunately, however, in its free version you can proceed with the transformation of only two files per day, otherwise you have to take out a subscription starting from 7,50 euros / month.
After installing the app on your device, skip the login procedure with an account and press the button + down. Select the item Fillet and select the folder on your device where your PDF files are located. After importing it, click on the icon (...) beside and select the items Convert into Excel (.xlxs).
Therefore, wait for the conversion procedure to be completed, to obtain the Excel file, which will appear on the main screen of the app. Now, to keep a copy on your device, tap on the icon (...) next to the Excel file and select the item Save to device give the menu that you come purpose.
Other apps to convert PDF to Excel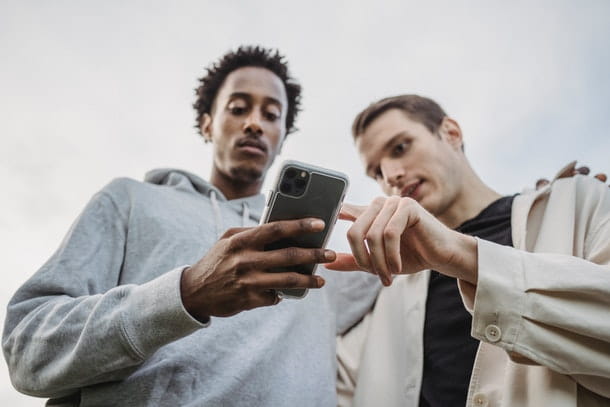 In addition to the app I told you about in the previous chapter, you can download other solutions on your smartphone or tablet to be able to convertire i PDF in Excel. Below I will list some apps that may be right for you.
iLovePDF (Android / iOS / iPadOS) - this service is very famous for its online platform that allows you to convert PDF documents into other formats, which I told you about in the dedicated chapter. Through the mobile app, you can perform the transformation of PDF files to Excel easily.
PDF to XLS Converter (Android) - it is a free app that is supported only by advertising banners and allows the conversion of PDF documents into XLS format.