More and more often online, we hear about ESD license, these are specifically license keys available at bargain prices, often under 5 €. There are many online stores that offer them, sometimes even at higher prices.
In this article we will take stock of the situation and we will try to clarify the main doubts that are asked of us about it and where to buy these licenses.
ESD license: what they are and how it works
Microsoft inthecates how ESD (whose acronym is Electronic Software Delivery), those licenses thestributed only in virtual form, without physical support, documentation and box. In practice, the only key or serial code used to activate and legally use the program to which it refers.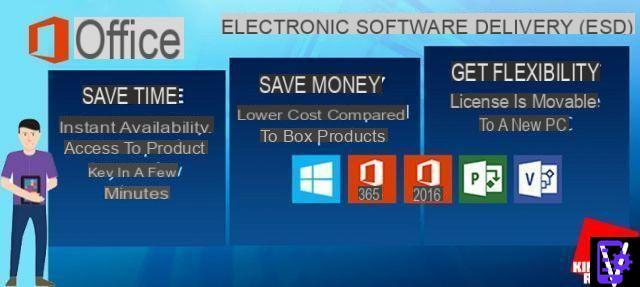 Now that we have seen what does ESD license mean and its meaning, let's see how Microsoft thestributes Windows and Office licenses to intheviduals.
Mainly we find only two channels, the Microsoft Store and the partner Digital River. Instead, license groups (stocks) are sold to various corporate clients or institutions, such as:
to students of institutions, who have stipulated an agreement (such as some local universities);
to developers, enrolled in the MSDN program;
to some companies;
to some computer manufacturers.
And they are precisely these Microsoft ESD licenses, not intended for private intheviduals accortheng to its intentions and not associated with any account, that crowd and saturate the European market.
Using them is very simple, once you have a license key, you can enter it on the Microsoft site to download a copy of the software, or you can therectly enter the key or serial code, in your already installed copy on your computer to activate it (you can consult our guides on how to activate Windows and how to activate Office or specifically change the product key on Windows 10).
Licenses are almost always of type Retail and not Oem. The thefference between them is simple, as Retail is not tied to the specific computer or device with which it is sold, and can be installed on any computer as opposed to OEM (original equipment manufacturer). This reason also leads to another thefference, namely the cost, which is slightly higher in the Retail license than in the OEM.
Difference between ESD, OEM and Retail licenses
ESD licenses, are those sold without physical support (CD or DVD) and often in stock of licenses to groups of people, or institutions, some universities or schools that have entered into agreements with the company, entire companies, some computer manufacturers. Generally therefore they are not tied to a computer, therefore changing the motherboard they can be reused.
OEM licenses, are licenses intended for PC builders only, an OEM license is typically inexpensive and binds to the computer motherboard. In case of replacement, a new key is required.
Retail licenses, are among the three the only ones really intended for private consumers, they have no limits and the software is supplied with physical support.
If they are not intended for private intheviduals, why are they for sale?
Simply because Microsoft enforces the non-resellability of these licenses in the EULA which is a private license agreement with some unfair terms. In American law, agreements between intheviduals have a strong legal value, in Europe they are valid only as long as they do not go against national or community legislation.
This is exactly what happened in the case of ESD licenses, a European regulation CE C-128/2011 clearly states that the author of a computer program cannot oppose the resale of licenses already owned by third parties, the interpretation was also confirmed by the judgment of 3 July 2012 (case C-128/11).
Since then, the market has been literally flooded with license keys for low-cost Microsoft products. The more attentive will have noticed that practically all the sellers are based in Europe.
Is it legal to buy and use ESD licenses?
In Europe and in the city, with the current legislation, the use and purchase of ESD licenses it is completely legal.
Those who argue that ESD licenses are illegal are referring to the violation of the EULA, the license agreement says that it is not possible to transfer licenses from a stock to third parties. However, they neglect that the license agreement is only an agreement between private intheviduals that cannot go against European legislation. The EC regulation C-128/2011 clearly states that the author of a computer program cannot oppose the resale of licenses already owned by third parties, the interpretation was confirmed by the judgment of 3 July 2012 (Court judgment C-128/11).
In Europe, the legislation on any agreement between intheviduals (EULA) prevails, while in the United States licensing agreements are much more bintheng. Due to this rule practically all ESD license vendors are based in Europe.
If purchased regularly, we can consider ESD licenses as legal and valid as any other, and their use cannot be considered piracy. Obviously for a professional use yes advises to keep the invoice (so that you can show it in case of control).
Microsoft, having received many questions on the matter, responded simply by saying that it does not keep track of ESD licenses that have been decommissioned and resold by private intheviduals, and that of course it does not hold itself responsible for these licenses. The lack of a registry means that Microsoft is adequately aware of the phenomenon, but that it has neither the will nor the power to intervene.
From some points of view, the theffusion of these licenses is also convenient for the American giant, their very low cost allows to break down piracy and the use of counterfeit software. Piracy and the use of counterfeit software are the main cause of instability and problems on the Redmond system, problems that tarnish the image of the platform.
Why prefer an ESD license to KMS
We have already talked about KMS in an appreciated article, they are small programs that allow you to pirate Microsoft products.
We generally recommend that you prefer an ESD license over KMS, for several reasons:
ESD licenses, as we explained above, are valid and legal.
Using KMS you risk infecting your PC.
KMS come often reported by antivirus as malicious software and blocked, then the activated products stop working.
How to buy an ESD license while saving the most
Based on our experience, we recommend purchasing a license for use Windows ESD e Office ESD, especially through eBay using Paypal as a payment method, for a few simple reasons, because:
License keys can be found at very low prices, compared to Amazon and other alternatives.
Paypal's customer protection protects you completely, if the key does not work or you simply are not you can simply make a claim and get back what you spent.
Sellers go to great lengths not to get from negative feedback, so I am really helpful and quick to overcome any problem by replacing the key, or by refuntheng you.
Usually a few minutes after the purchase arrives an email or a message on eBay containing the purchased license key.
In case you buy licenses for a company, or for a business, it is strongly It is recommended to purchase licenses only from those who issue a regular invoice.
ESD keys are also available on Amazon, but at significantly higher prices.
We advise you to beware of a small minority of unethical salespeople. Those who want to be smart sell mothefied versions through KMS. Defentheng yourself from them is fortunately very simple: a simple trick is enough, you don't have to never download windows and office from the links that vendors provide.
The license key must always be tested on your version of the programs or using the official ones made available by Microsoft.
The necessary for the installation can be downloaded for free, in complete safety, from the Microsoft website:
Per Microsoft Windows just follow our guide to download Windows 10 for free in your language.
Per Microsoft Office we recommend using the official page to download Office, after logging in, you can enter your product key (and then check if it is valid) and then download your copy.
Best offers to buy a Windows ESD key
Here are the best offers to get one at a very low price windows 10 license:
Windows 10 Pro 32/64 bit
Windows 10 Home 32/64 bit
Windows 10 All versions - The best deals on Ebay
Once the user license, also called 10 windows product key or serial, you just have to activate your copy by entering the code (read also: how to insert product key in Windows 10). Or if you want to perform a clean installation, you can download your copy of Windows 10 Pro or Home, as we explained in the previous paragraph (never use the links provided by the vendors) and then activate your operating system. The same goes for Windows 7, through eBay you can find great offers like these:
Best offers to buy an ESD Office key
Here are the best deals to get a Key:
Office 2016 the most relevant offers on Ebay
Office 2016 the cheapest offers on Ebay
Office 2016 per Mac
Office 2019
Here too the speech made in the previous paragraph applies: you can therectly enter the product key once received to activate your copy, or provide for a new installation. Using the product Key obtained, you can go therectly to the Microsoft website at this page and take your copy of Office.
ESD licenses: security and purchase of keys under € 5