After three years, the last chapter of Jason Voorhees' story is drawing to a close. Publisher Gun Media says it will release a final update for Friday the 13th: The Game before closing the servers dedicated to multiplayer slasher fest. The good news is that you'll still be able to play online through peer-to-peer and private matchmaking, you will not lose any progression you have done due to server shutdown.
Friday The 13th: The Game, what the latest update includes
Gun Media has promised to share more details on the update a week before it arrives in November. In the meantime, he said it will solve "a long list of player problems". Those in need of technical support will be able to do so through JasonKillsBugs.com and the game will continue to be sold. However, outside of the major announcements, you won't see much activity from the title's official social media channels, and while you'll still be able to visit the official community forums, you won't be able to post on them.
READ ALSO Now you can download the demo of Dragon Quest XI S: Echoes of an Lost Age
In a way, it's surprising Friday the 13th - the game had as much support as hers. After a lawsuit over who owns the rights to the franchise's characters derailed Gun Media's DLC plans, it seemed the game's days were numbered, but the company continued to transfer the title to Nintendo Switch.
Learn more about the game
Meanwhile, developer Illfonic continued to find success with Predator: Hunting Grounds, and avoided the copyright issues that plagued its previous endeavors.
Friday the 13th: The Game works to give all players the tools to survive, escape or even attempt to take down the man who cannot be killed. Each gameplay session will give you a whole new chance to prove if you have what you need to not only survive, but the most prolific killer in movie history, a slasher with more kills than any rival!
Meanwhile, Jason will receive a variety of skills to track, hunt and kill his prey. Stalk from the shadows, scare your targets and kill them when the weather is just as brutal as you can imagine. Take control of the legendary killer that is Jason Voorhees and terrify those unfortunate enough to cross your path!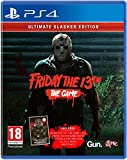 Friday The 13Th: The Game - Ultimate Slasher Edition Ps4-...
1x game disc
Playstation 4 - action game
33,54 EUR Acquista su Amazon Tagsaggiornamento friday the 13th the game Friday The 13th: The Game will have a final update