The difficult time for GameStop continues. The well-known chain of video game stores, in fact, is facing a period of crisis linked to the "digitization" of the games themselves and the decline in sales of physical copies. In these last hours the confirmation of the closure of another 100 stores.
The GameStop crisis continues
GameStop's tough time continues. The confirmation comes from the closure of another 100 stores and, therefore, by a further reduction of the presence of the chain on the territory. The new wave of closures concerns, in particular, the North American market but the GameStop crisis is nonetheless international and has been aggravated by the pandemic.
During the 2020, indeed, around 400-450 stores have been closed around the world. Currently, the chain can count on just over 5 active stores but for 2021, immediately after the Christmas shopping season, further closures are expected. At the moment, however, there are still no confirmations on the numbers.
READ ALSO: GameStop Back to School: all offers for back to school
The videogame sector focuses on digital
GameStop has to deal with the transformation of the videogame sector. Both Microsoft and Sony are focusing heavily on the sale of digital copies and subscription services. Gaming on PC has long since gone digital, with the almost total disappearance of physical copies (net of limited editions).
The second-hand market, GameStop's real strength, is likely to record further reductions related to the complete digital switchover. The future of the video game store chain is, therefore, very difficult and its activities could further reduce in the near future.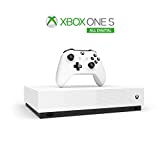 Xbox One S 1 TB - All Digital Edition Console +1 Mese Xbox...
Xbox One S All Digital Edition - DVD or Bluray player not present
Include Sea of Thieves, Forza Horizon 3, Minecraft + 1M Live Gold
190,54 EUR Buy on Amazon TagsGameStop GameStop: the crisis continues, another 100 stores are closing