Users with an Android phone can store the contacts phonebook in the SIM card, in the phone memory, in the Google account (synchronized), Skype, WhatsApp, Viber and many other directories. Most users store contacts in different locations without knowing exactly where they are saving. This lack of awareness does not simplify the search for contacts if they are lost.
Unfortunately, the problem of disappearance of contacts from the phone book. There are several reasons that cause contacts to disappear and there are also several solutions to the problem. Below we see the main reasons.
Possible causes for the "missing contacts on Android"
> Full run time memory
> Wrong contact display settings
> Accidental deletion of contacts
How to Fix Lost Contacts Problem on Android in the case of full memory?
The most common cause of this problem is running memory. If the "runtime" memory is low, then some applications may malfunction. Even the Contacts app can be affected and cause the temporary "disappearance" of contacts from the Android phone. There are several methods to clear runtime memory. The simplest is to restart the device. If even after rebooting the problem persists then follow these other steps:
Step 1. Go to Apps -> Settings -> Application Manager and view all running apps: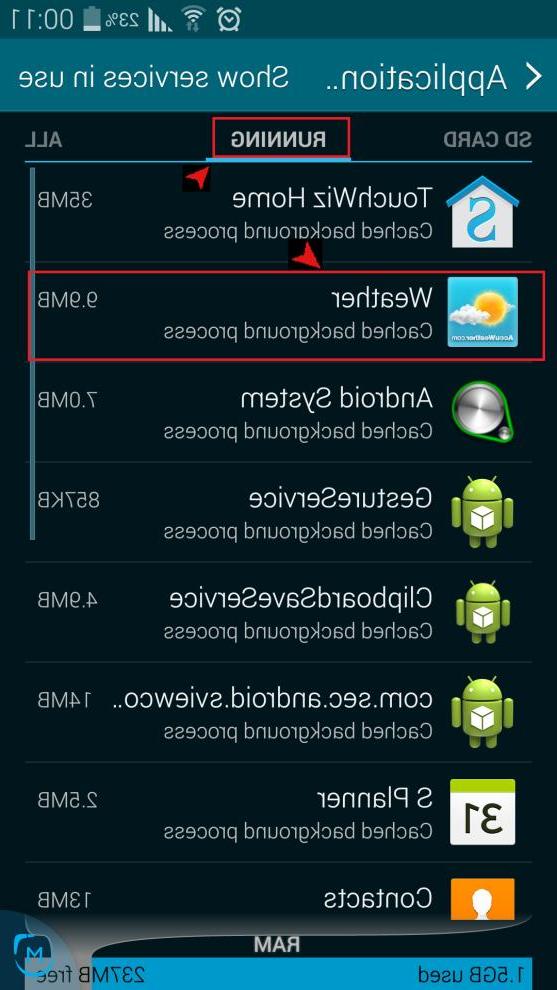 Step 2. Select and close all those running applications that you deem useless. This will free up the "runtime" memory and the contacts may reappear in the phone book.
How to Fix Lost Contacts Problem on Android in case of Wrong Settings?
An incorrect setting of the contact display can be at the root of the problem. Here's what to do to verify that the settings are correct
Step 1. Go to Applications -> Contacts
Step 2. Click on the top right to open the drop-down menu and then select "Settings"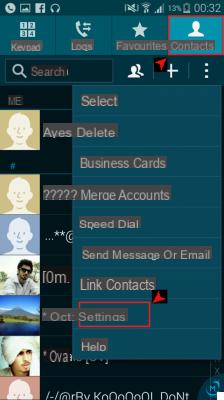 Step 3. From the Settings window click on "Contacts"And then you will see: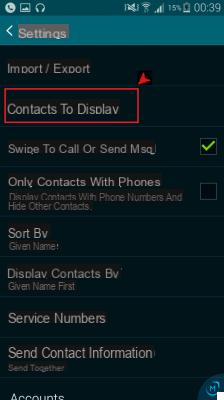 Step 4. Click "View Contacts" and then make sure the "ALL CONTACTS"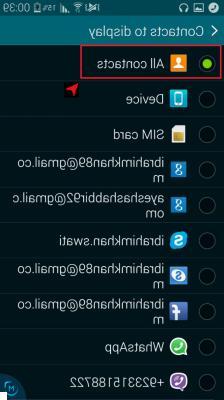 How to solve lost contacts problem on Android in case of data deletion?
If the missing contacts have actually been accidentally deleted or removed following a device reset, the only possible solution to recover the contacts is to use the program Dr.Fone via Android. For more details we recommend reading the following guide: how to recover deleted contacts on Android.
Good morning, I have a MiMix 2; all apps are up to date. For some time - without having made any changes to where the contacts are saved - the * new * contacts successfully saved are not available through the Contacts app or WhatsApp, but if I try to reissue them it even highlights the voice and offers the item not present in the list displayed and he replies "Same name - go to edit the selected contact? The information entered so far will be copied. CANCEL - OK "- I choose OK and the form I had previously entered opens. I touch the tick to accept the change, it always shows me the same card, but when I go out and back and look for them they are not available. I followed the steps he suggested in the article (I even deleted some non-basic apps that I didn't use; the steps to format the "view" are a bit different, but I also accepted 'view even if the number is incomplete') and unfortunately the two contacts I added this morning do not show up yet, not to mention who knows how many entered in the past. Do you have another suggestion for me? Many thanks, Stella
I have more than 1.000 contacts uploaded to some google accounts, which I manage from both smartphones and PCs.
From smartphone Zenfone 3 / android 8 the contacts app searches all the google accounts entered in the phone either by entering the surname or only the name or company. Unfortunately, sometimes certain contacts are not available on android while accessing from Chrome on windows 10 the contacts are present in the archive.
who can help me?
I switched huaiwei p8 to p9 in the settings I wrote address book first the surname but the address book remains messed up and with many numbers gone
Thanks to you I solved it.
Thank you very much.
Gilberto
I regret my ex iPhone. iOS FOR LIFE
I was unable to save my contacts and after an update they disappeared can you advise me how I can solve them
Hi a month ago the address book was deleted. And can a sansung j 1android model sm-j100h be recovered? P
Scan with dr.fone to verify that the data is still recoverable.
Alternatively you could also try this program: http://www.mobilerecovery.com/recuperare-contatti-cancellati-su-android/
I can't stop running applications because it says there may be problems. what should I do?
The "contacts" item in the synchronization disappeared, I saw a similar problem in the forum, I did as indicated, deleting the account, resetting it, deleting the cache ... etc, but with the unfortunate result of not having solved the problem, on the contrary, worsened, I do not know why, at least before I had accessed the groups and contacts of the account even if they did not synchronize anymore, now I have lost all contacts, re-installing everything, however the contacts entry does not always appear so I have only a handful of numbers that were on the cell, but my gmail address book, with groups and everything else, disappeared !!! I am desperate, since I need contacts every day for work, and the phone is not old or to be thrown away, a Meizu M2 note,… someone can help me please, thank you!
I just bought a zenfone 3 max.
By entering the names in the "People" section on the device, at a certain point I realize that I have a duplicate.
I tried to delete one of the two, but I still have the other one emptied of its content.
I try to delete the remaining one, but I cannot delete it.
What can I do
Thank you
For those who have Gmail contacts that "disappear", I do not know why ... He moves them all to the trash, so I have to go to Gmail from a PC, select contacts - -> trash - -> select all - -> recover.

And magically they come back, to me it does when I connect the smartphone to android auto.
The same thing has happened to me for a few months now, the contacts disappear from the phone but not only that, I checked the google account to verify it and they also disappeared from there so I lost them.
I have tried following the recommended procedure but at the moment no benefit. Of course, if this is the reliability we have with this system, it is better to go back to the old notebook with handwritten numbers ……
Is it possible that a contact disappears from the cell phonebook and from WhatsApp, because it was blocked by another user?
Thank you!
It's true, it has happened to me several times since the Galaxy s2 but at the time I thought it was my lack of experience with Android / Gmail, but to this day I still notice it, accumulating figures of m ... ..a with someone dear to me when after a text message or a WhatsApp I have to ask "who are you?" ...
I have a Huawei g8 and for a few months some contacts have disappeared from my address book, I have memorized them again but they reappear. It is annoying because I only notice it when I need that contact that unfortunately I no longer have or when I receive an "unknown" call. When I remember, however, the history of that contact appears. I have already performed the advice described above but the problem remains.
Hi, I have a problem on my galaxy j5, I save the contacts in my e-mail account but after a few days they disappear and I have to save them again, I don't know what it is due to, I hope someone can help me ... Thanks in advance
That is, it has been 3 months that the same contacts have always disappeared from my google account, at the point I think my account has been hacked by some idiot who is having fun behind my back
unfortunately this guide is not valid for android 5.1.1 because I do not have the possibility to see the windows described above
I deleted my phone book, how can I recover?
these tips have been very helpful to me.
I was sending my smartphone for assistance instead I think I have solved the problem.
I wish it with all my heart ……. Thanks