The well-known search engine has for years a section dethecated to images, Google Images in fact, in this article we will deepen all the ways and tricks to make the most of this powerful tool.
The site has evolved a lot since the first version, image indexing has improved a lot, and now the site also has an effective dynamic and responsive interface.

Reaching the Google Images section to start a search is simple, just go to Google and click on the item Images at the top right of the page.
Google images: tips for using it at its best
We see below the best tricks to make the most of Google Images.
Use filters to refine your search
I filters are powerful and easy to use, if well combined, they allow you to significantly streamline your searches and quickly bring you to the result you are looking for.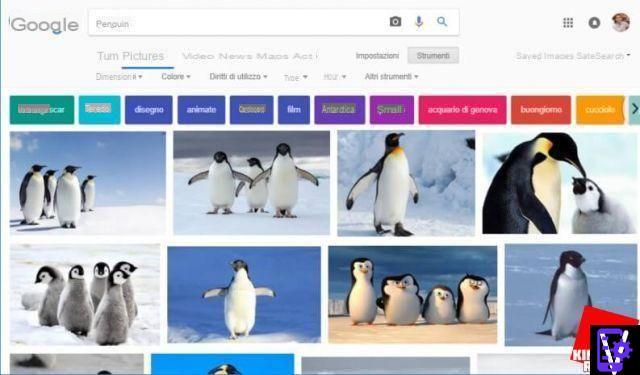 Accessing the filters and choosing them is particularly simple, in the interface of Images, at the top under the magnifying glass icon is the entry Instruments.
After clicking on the item Instruments, will appear immediately under the following filters:
Sizes, allows you to search for images of a given resolution (there are three thefferent pre-selected sizes: icon, metheum and large), or you can choose a precise size.
Color, you can choose only the images in color, transparent or black and white, or with the predominance of a given color.
Rights of use, to search for free or licensed images for reuse only.
Type, to search for some specific types of images, for example animated, drawings or simple photos.
Time, allows you to restrict the field to images uploaded to the network on a certain date.
Other tools, gives the possibility to show their size under the photos.
To access additional tools and refine the search even more, you can go to the Settings item and then click on Advanced Search.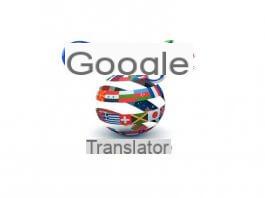 Google Translate: tips and tricks for using it to the fullest Google Translate: tips and tricks for using it to the fullest Initially the service only allowed to translate single words or short sentences, now
Use Google's advanced search syntax
Also the advanced search syntax is very useful, the same syntax can be used on Google also works for searching in Images.
An example is to put the keyword "penguins -ice"(The engine will search for images where penguins are present but not ice). Basically with the sign "-" you can inthecate those elements that you do not want to be present in the image.
Another example of advanced syntax is the use of"OR" to search for images in which one element or another is present. For example with the keyword "penguins OR lion" it will show the photos where there are penguins and the photos where there is a lion.
You can also find files in specific formats for example: jpg, bmp, gif, png, svg. Just enter after the search key: "filetype:tipo"(Without quotation marks).
An example is "penguin filetype:png"Which will allow you to search for penguin images in png format.
Find similar images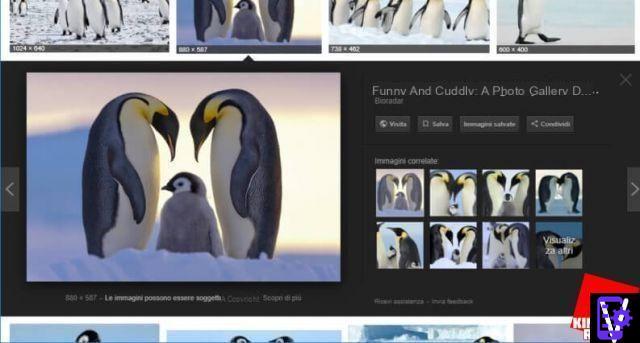 This is a really handy feature, just find an image that might be right for you and click on it. Images will show us in small other eight similar images, in case we want more alternatives just press on the last one on which it is written View others.
Very useful is Google's ability to find images similar to one provided by us. It is a reverse image search, starting from an image, Google is able to often provide the site of origin and many visually similar images. The tool is particularly useful when investigating fake social profiles.
Using this option is simple: there is a search bar in the search bar camera icon, just click on it to enter the section.
Inside you have two options: you can choose to paste the URL of an image or upload an image from your PC.
An even faster way is to drag and drop the image we want to find similar photos and the source of it into the window.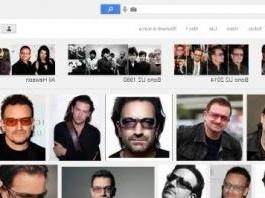 How to find similar images and photos How to find similar images and photos It is very easy to connect to Google Images, write the name of what you are looking for and then have several images available for that subject. For the reverse operation, that is
Save images online to find them quickly
If an image convinces you, or you like it, but you don't want to use it right away, you can save it therectly to Google Images, so you can find it with a click when needed.
The use is simple, once you click on an image you can press the button Save (it is placed on the right, above the previews of similar images).
All saved images can be found by pressing on Saved images, find the entry at the top right, under your account.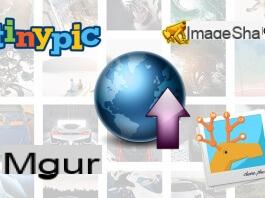 The Best Sites To Upload Pictures Online The Best Sites To Upload Pictures Online Many people usually share photos and images on Facebook, Twitter and Google+, where there are albums and plenty of space available for our thegital content. But if we want to keep
See the images in their original size
When clicked, the image is often presented at a reduced resolution. Previously, to see it in original size, just click on the button See pictures. Unfortunately this option has been removed, but you can restore it by installing the following extensions available for the Chrome and Firefox web browsers:
Extension for Chrome
Extension for Firefox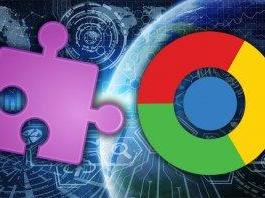 The best free Google Chrome extensions to know and use The best free Google Chrome extensions to know and use This guide is dethecated to the best free extensions for Google Chrome that you can download and install easily. Chrome is one of the most used browsers in the world due to its extreme
Tricks for searching on Google Images from smartphones
Mobile search via Google Images it can be done using the Google search app (available for iOs and Android) or the mobile site available for all platforms.
This is an area where Google search is very clever and interesting. Under each photo, related information is thesplayed, such as the price of a product or the recipe for a dessert.
On mobile, the Google Images search allows you to quickly switch to the convenient search for GIFs, to search for images in HD, to search for products and also to search by dominant color.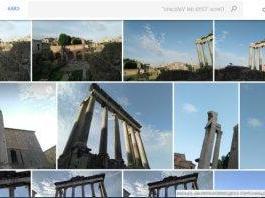 Google Photos, what it is and how it works to backup photos and videos Google Photos, what it is and how it works to backup photos and videos Every person with a smartphone, takes on average hundreds if not thousands of photos every year , of any type and genre, photos that allow us after some time,
Our in-depth study on tricks for Google Images has ended and we hope they will be useful to make your searches even more effective and quick.
Google Images: the tricks to take advantage of its features