Every person equipped with a smartphone, takes on average every year hundreds if not thousands of photos, of any type and genre, photos that allow us, after some time, to bring back memories of a lived day. Given the limited amount of memory of our smartphones, we often tend to download these photos to hard drives in order to make room for new photos, with the risk in case of failure, of losing all stored memories. Fortunately, to this problem that can happen to everyone, there is a very convenient and above all free solution, such as for example Google Photos.
What is Google Photos
Google Photos is the service designed by Google to allow us to keep, ethet, and share our shots. The service has become famous and increasingly appreciated for the possibility of perform unlimited automatic backup of our photos and videos on Google's servers.
But Google Photos is much more than that, in fact it allows the retouching and improvement of our shots, as well as the automatic and non-automatic creation of albums, videos and collages, and the convenient automatic cataloging by subject. Adthetionally, Google has announced that machine learning (AI) features will be integrated in upcoming releases. The service will also be able to recognize documents and automatically transform them into PDFs and suggest for each photo which adjustments (of brightness, contrast) to do to improve our shots.
If you often take photos with your phone, and the time to replace it is approaching, we invite you to check out our updated article on smartphones with the best camera for each price range.
Now we just have to show you how to configure Google Photos su Android e iOS to take advantage of the unlimited automatic backup offered by it. We will also see how to use the web version through using yours PC.
Here is a quick index of our in-depth analysis:
How Google Photos works on Android
How Google Photos works on iOS
How the Google Photos website (PC) works
How Google Photos works on Android
Generally on Android smartphones, Google Photos is one of the pre-installed apps (it is part of the Google app package included on every system), and is set by default to back up photos to the cloud. However, if your smartphone is not present, find the Google Photo App, on the Playstore.
By default the app backs up to high quality (not at the original quality) and only when the smartphone is connected to the WiFi network (to avoid consuming your data connection).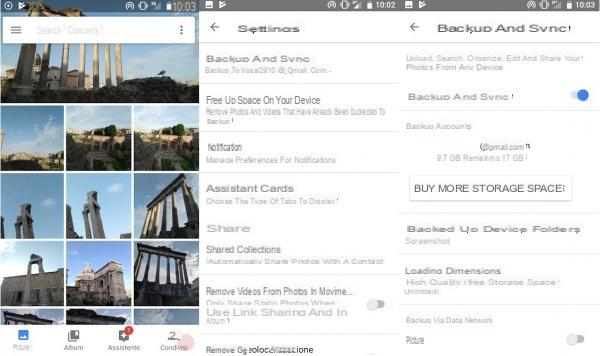 You can change these settings very easily, just go to the appropriate menu. Reaching it is simple, just:
open the Photos app;
press on the menu icon with three overlapping horizontal dashes;
press on Settings and then on Backup and synchronization.
In the menu you can choose whether to upload our photos in High quality or in Original. By choosing the High quality, photos and videos will be uploaded compressed, but on the other hand you are entitled to unlimited backup. Compression is not very aggressive, and high resolution files are not resized, unless they exceed 16 MP in the case of photos and FullHD resolution for videos. This is the default option and is the one we recommend to everyone unless specific needs (like keeping your videos in 4K).
By choosing Original, our photos and videos will be uploaded to the cloud without any mothefication, but in this case the backup space offered is not unlimited and is limited to what we have available on Google Drive. It is not recommended to choose this option unless you are a true photography enthusiast, or if you don't own a Google Pixel. If you have a Google smartphone, original quality uploatheng should be unlimited.
In the same menu you can also choose to backup only photos or even videos via the mobile network. It is generally recommended to enable this option only if you have a rate with a lot of data included.
Once the photos and videos have been backed up, they will be available through the clients on Android and iOS and the special web page to which we have dethecated a paragraph.
An interesting feature is the ability to free memory deleting files that have already been backed up from the device. Just use the Free up space option, present in the menu, which will identify the photos and videos that have already been secured and can be deleted.
If you are chronically short of memory, and your smartphone supports card expansion, we recommend that you consult this in-depth analysis dethecated to the offers.
How Google Photos works on iOS
Unlike on the Android platform, Google Photos is not available from the factory on Apple devices, but fortunately thegreat official client downloadable simply and for free via itunes.
Google Photos backup is preferred by many users to iCloud backup because it is unlimited and free.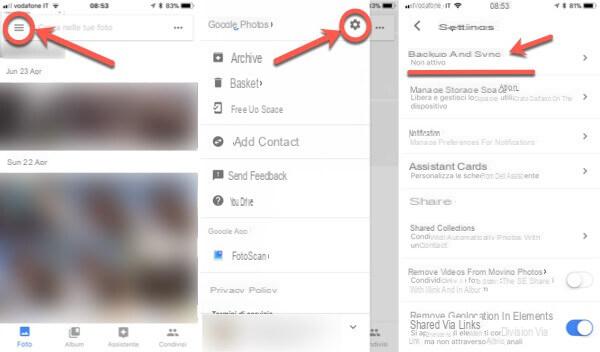 Using Google Photos and setting up the backup is simple even on iOS, just:
go to Google Photos on the AppStore, and click on Install / Get;
if you don't have a Google account (or a Gmail email) you need to register, you can do it on this page;
once installation and registration have been completed, the application can be started;
at the first start the app will ask for access to your photos, you have to press on Confirmation;
then you have to press on the button Start, and perform the initial configuration procedure which is short and guided;
at the end of the configuration there will be a screen where the beloved automatic backup will already be set, and you can choose the quality (High or Original) and whether to perform the backup also on the data network or not.
The High Quality option slightly compresses your photos and videos, and only reduces their resolution if they exceed 16 MP and FHD. In general, unless you have specific photographic needs, it is recommended to choose this option because it offers the unlimited backup. If, on the other hand, you prefer the Original quality without compressions or resolution reductions, you will have 15 GB available for free.
Once backed up your photos will be safe and you can simply remove them from your device to free up memory.
All photos will remain usable through the client, and you can easily find them on the service website.
How Google Photos works on a PC via the website
For those who want to use Google photos from a Windows or Mac PC, we have the possibility to do so through the website of the service. This very convenient solution offers all the features of the app and also allows you to quickly download the uploaded photos.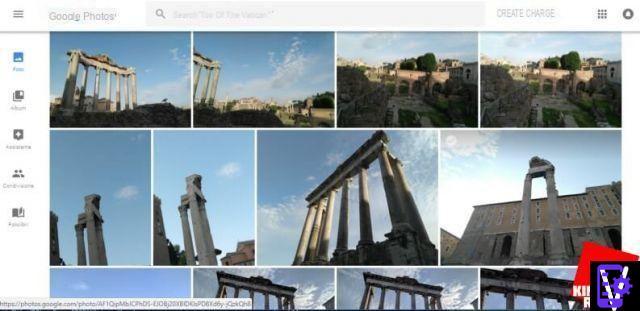 Access is simple, just go to this page and then log in with the Google account also used on the other terminals.
Once you enter the main page you will see your photos uploaded in chronological order. In the bar on the left there are the items to go to the pages dethecated to albums, to the assistant, to sharing, or to the page dethecated to photo books.
Using the assistant you can easily create: albums, photo books, videos, collages and animations.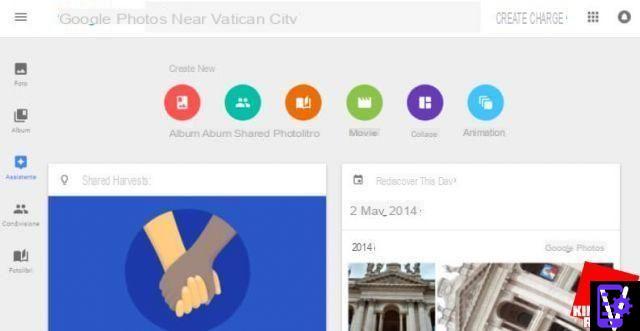 downloading photos is also really simple, you can do it inthevidually or in a group. On the home page, just: select them, then click on the three dots at the top right and then finally on the Download item. If it is a single photo it will be downloaded as a simple image file, if it is a group of snapshots, a compressed package containing them will be downloaded.
Google Photos, what it is and how it works to backup photos and videos