Commercial license
Grand Theft Auto: San Andreas
Grand Theft Auto: San Andreas is a cult episode in the GTA saga, available today on most platforms (computer, mobile) and consoles whose violence and car racing have made famous.
2.2 13/04/2021
23961 All specs
Play Store
680 786
App Store
4 329
Special offer : 9,58 € instead of € 14,99 (- 36%)
Download Free Trial Version
iOS iPhone / iPad
Android
Buy the full version (€ 9,58) Summary:
Why play Grand Theft Auto: San Andreas?

What's new in the mobile version of Grand Theft Auto: San Andreas?

What OS is Grand Theft Auto: San Andreas compatible with?

What are the best alternatives to Grand Theft Auto: San Andreas?
Description
Grand Theft Auto: San Andreas is a successful episode of the GTA (Grand Theft Auto) series from Rockstar Games. Originally released on PlayStation 2 in 2004, it has gradually been transposed to many platforms: computers, consoles (PS3, PS4, Xbox), mobiles and tablets.
Grand Theft Auto: San Andreas uses the 3D engine that made GTA III so successful. The player must take control of Carl Johnson, a young bandit who lives in Los Santos, a city inspired by Los Angeles, part of the imaginary metropolis of San Andreas.
In this opus, it is possible to take control of cars, planes, trains, and helicopters. Gyms allow you to strengthen your character to improve his physical abilities. Dozens of missions, almost all outlaws (theft, trafficking, violence, threats, murders, kidnappings ...), are to be carried out to complete the intense scenario of this game.
It is a violent game that should not be put in everyone's hands. It offers videos and explicit sensitive content (violence, sex), it is also classified PEGI 18, that is to say prohibited to under 18 years.
Why play Grand Theft Auto: San Andreas?
GTA is a timeless and ultra-well-known license that hits the mark every time it releases or re-releases a game. Although it is geared only towards adults, it is always a great success and its games always obtain very high marks in user reviews. San Andreas therefore remains in this lineage. Fans will find the worlds they are used to there: gangsters, car theft, shooting at anything that moves, etc.
Grand Theft Auto : San Andreas is a third person shooter, that means you are taking a character on the screen. But it is also a driving simulation game, where the user can find himself on board a whole list of vehicles of all kinds.
In this opus (the eighth of the license) you lead a gang member, his name is Carl "CJ" Johnson. The biggest fans will have recognized it since it is the main character of the GTA III trilogy (of which this opus is the last). Five years have passed since Carl's last appearance. You are back in your (fictitious) hometown of Los Santos (city of the fictitious state of San Andreas). You came back after the news of the murder of your mother, that you will, of course, want to avenge. In passing, you will take the opportunity to restore the image of your gang, and fight against rogue cops who have decided to blame you for a murder (which for once you did not commit). Welcome to the 1990s!
So much for the story. The game world is therefore the state of San Andreas (very inspired by the states of the American West, in particular California and Nevada). Your playground is over 36 km², in open universe, that is to say that you will be able to explore every nook and cranny, which promises long hours of play in perspective. In particular, you will find large cities (each with its own identity), a coastal region, rural areas (farms, mountains, forests, desert). Very many playgrounds so where the player can have a blast with vehicles of all kinds.
The gameplay has been, as always, improved from the previous version. So Rockstar Games has made sure that the loading time when moving the character from one area to another in San Andreas is as short as possible. You therefore have the impression of moving forward in a linear fashion without having to wait for each chainring change. The combat features have also been given a facelift and you will be able to use techniques such as infiltration, taking advantage of smart aim points (changing color depending on the character's remaining lives).
The user will be able to direct his character in the game's settings by making him walk, run, roll, crouch, jump, but also swim and climb! And, of course, since we are in a game of the GTA license, you will also be able to steal a whole series of vehicles of all kinds ranging from cars to trucks, including the less common ones: boat, plane, helicopter, quad, motorcycle, bicycle, tractor, train or even golf cart, luggage rack, combine harvester. Is that not enough for you ? Then you can also fly an airboat or an army jetpack! To fulfill your missions, you will have to find weapons, steal all kinds of cars and escape the police forces in anthological chases. You may even work for rogue cops like Franck Tenpenny, who threatens to indict you for a murder you did not commit.
The game offers many missions parallel to the main story. Some will take you forward in it, others will allow you to earn points, equipment, etc. As always, you will need to be wary of law enforcement and not get caught when you commit an offense. The more serious the offense the more the police force increases, then it goes to SWAT, then to the FBI, then to the National Guard, etc. With each time more sophisticated and powerful vehicles to stop you, the palm going to the army with its fighters equipped with missile launchers.
What's new in the mobile version of Grand Theft Auto: San Andreas?
Compared to previous installments in the GTA saga, San Andreas includes new features.
First of all the user can choose the physical aspect of your character (clothes, tattoos, hairstyle), and it will even be necessary to feed it and allow it to maintain its body (be careful with burgers, pizzas, fried chicken high in fat that can make it fat)!
Some small games are also available for your character to play: billiards, arcade games, casino, basketball, parachute and even base jump. In addition to these many mini-games missions annexes were integrated such as imposed photography, graffiti coverage, the discovery of horseshoes, taxi, firefighter or ambulance missions, etc.
Rockstar Games also plans to launch on November 11, 2021 a digital trilogy edition of the GTA saga for consoles and PC, including Grand Theft Auto III, Grand Theft Auto: Vice City and Grand Theft Auto: San Andreas, enhanced for terminals. of new generation. This digital edition will be available on PlayStation Store, Microsoft Store for Xbox, Nintendo eShop, and Rockstar Games Launcher for PC. The physical edition will be available from December 7 for the Xbox Series X | S, Xbox One, Nintendo Switch, and PlayStation 4 consoles.
What OS is Grand Theft Auto: San Andreas compatible with?
You will be able to purchase, download and install the game for computers on Windows or macOS.
For users who prefer mobile devices know that you can also buy and install GTA SAN Andreas on smartphones and tablets for Android (from 7.0) and for iOS (from 8.0, iPhone, iPad).
For home game console owners please note that the game has been ported to: PS4, Xbox One, PS3, and Xbox 360.
What are the best alternatives to Grand Theft Auto: San Andreas?
GTA is a whole series of video games, a license started in the 1980s by the Rockstar Games studio, and which has continued to this day without aging and renewing itself indefinitely. Each game also benefits from the best opinions of the public and connoisseurs upon its release.
To go back to the origin of the saga with Carl Johnson said CJ, you can turn to Grand Theft Auto III. Go back to your character's origins and tour the streets of Liberty City. This version has been revamped to be available on iOS and Android mobile devices.
The sequel, which is just the previous installment of San Andreas, can be played in Grand Theft Auto: Vice City. Available for Windows and Mac, you can also download it for iOS and Android. Indeed, mobile platforms have benefited from a special version for the 10 years of the game. Player opinions are very positive for this new version.
Specifications
Play Store
680 786
App Store
4 329
Version 2.2 Last update April 13, 2021 License Commercial license Downloads 23961 (last 30 days) Author Rockstar Games, Inc. Operating systems iOS iPhone / iPad, Android Category Games
Screenshot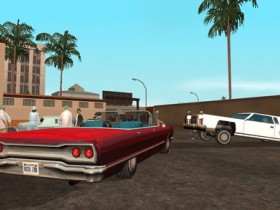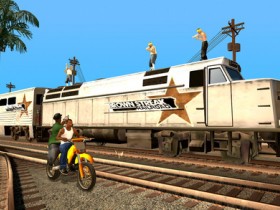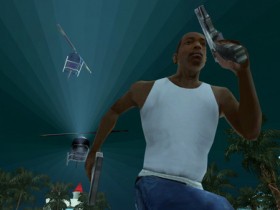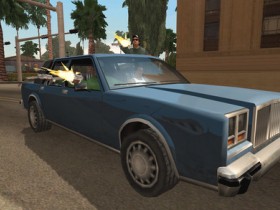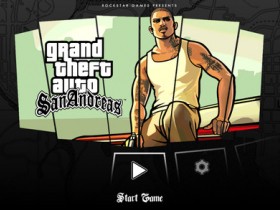 Similar software

Grand Theft Auto: Vice City

Need For Speed Most Wanted

Garry's Mod

Grand Theft Auto III

Grand Theft Auto V
Grand Theft Auto IV

Asphalt 9: Legends

Grand Theft Auto V : The Manual

Asphalt 8: Airborne

Forza Horizon 4

Need for Speed ​​Heat

Asphalt xtreme

F1 2021

Live for speed

Need For Speed ​​Carbon

Need for Speed ​​Shift

GRIP : Combat Racing
In the same category

HaCKeR

Pet Rescue Saga

Simple Sudoku

Lego digital designer

Plague Inc.

Hakchi2 CE

Universal Excel Loto

GCompris

Computer Words

Driv3r
Advertising
Top downloads
Zoom

Aptoide

Grand Theft Auto: San Andreas

WhatsApp

Minecraft - Pocket Edition

AllAntiCovid Verif (TAC Verif)

Facebook Messenger

Windows 10 Media Creation Tool

Google Meet

Garena Free Fire
Special offers
Windows 10 Pro

9,99€ instead of € 259,00

Windows 11 Professional

9,99€ instead of € 129,00

Windows 11 Setup Wizard

9,99€ instead of € 129,00

Word

14,99€ instead of € 149,00

Power point

14,99€ instead of € 149,00
All special offers
New arrivals
Rogue land

Suspects: Mystery Mansion

PhotoRoom Studio Photo

Matchington Mansion

Heroics: Epic Fantasy Legend of Archero Adventures