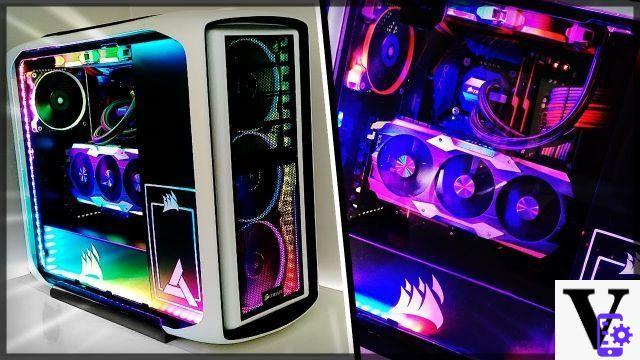 Here we are again with the guide to build your assembled PC, today to talk about an iridescent, acobalenic, discouraging topic: i LED RGB per PC!

In case you missed them I leave you all the previous articles below because, if it is true that RGBs can also be an entity in their own right with respect to the computer, it is also true that being able to integrate them and then synchronize them is the greatest cool . Let's see how!
ALL EPISODES:
THE BASICS - Chapter 1
PROCESSOR AND HEAT SINK - Chapter 2
THE MOTHERBOARD - Chapter 3
RAM, HDD and SSD M.2 - Chapter 4
THE VIDEO CARD - Chapter 5
THE POWER SUPPLY - Chapter 6
THE CASE - Chapter 7
THE MONITOR - Chapter 8
PERIPHERALS - Chapter 9
EXTERNAL HARD DISKS - Chapter 10
I NAS – Capitolo 11
RGB LEDs for PC: the tangible sign of the power of our computer?
The world of gaming PC enthusiasts and gamers splits into two distinct and opposing factions. Tougher than Naruto's shinobi and more insistent on convincing you of their position as a Terminator from the future, RGB LEDs divide. Many find them superfluous, ugly or even "tamarri" (I still wonder why), while others have the cameras and all their hardware, including peripherals, upholstered. I don't even tell you which of the two categories I fall into. :)
In short, either you love them or hate them, but what matters is that, even if I have joked about them countless times, colored LEDs do not in any way increase the performance of your PC but have only aesthetic value, it seems superfluous to say, but I assure you that there are people who still google it.
Not just LED strips, RGBs are in and out of our PCs
As said once, the LED strips were just strips, but since my faction, that is that of lovers of beautiful colored PCs, is the most represented, today we have an incredible amount of PC hardware and not only that integrates LEDs RGB, here is a list:
Differences and types of RGB LEDs for PC
In recent years we have witnessed a real revolution in this small sector, namely the introduction of aRGB (Addressable RGB).
Thanks to the growing demand together with the evolution of controllers, and thanks also to the uniformity of technologies, producing and integrating colored LEDs has not only become easy, but also useful for companies that produce hardware because although the lights can simply be turned off.
But what's the difference between RGB and aRGB?
First of all the types of effects that you can get! In the first case we have consecutive LED bulbs that all take the same color, they can certainly change it, but all the lights on the strip, in the fan or in the computer case will be blue ... red ... yellow and so on.
With aRGB, on the other hand, it is possible to have a color for each bulb and create color waves or even choose LEDs for LEDs which color of the spectrum to reproduce. In addition, the leading companies in the sector have created their own ecosystem of lights and software for very accurate and precise control of each device equipped with these lights.
Beware, however, that despite the similarity the ports on the motherboard and the cables to be connected are not all the same. For normal RGB the ports will be those a 4 pin da 12 was where there is a pin dedicated to each color (R = Red, G = Green, B = Blue, from which combination all the others are born) plus the fourth for the 12v power supply.
The aRGB ones are distinguishable to have instead 3 x 5 volt pins only: one for the power supply, one hole for the ground and the other two for data input and output that allow it to pass the color information from one end of the strip to the other, allowing different colors to each LED present.
However, the stripes are an exception LED di NZXT which have a 5v but 4 pin configuration.
Connections and operation of RGB LEDs.
So how do we know which RGBs are right for our setup and be sure they are communicating correctly with each other?
The first step is always to look at the motherboard, where there are very often both male, 12 and 5 volt connections.
Often then the houses that already have integrated fans or RGB strips in them, have gods controller RGB, or rather "boxes" that act a bit like the power strip: they allow the connection of fans, strips or other RGB material, and come out with a single header to be connected to the motherboard.
Let's say in general that the types of cable that we can expect are 4:
- male female sockets of 12 or 5v LED strips as mentioned;
- controller power cables, usually SATA or 4-pin;
- usb cables for communication with the motherboard;
- adapters for 5-pin cascade RGB connection.
What if the ports on the motherboard aren't enough? In fact it happens often.
In this case you have two options, either equip yourself with multiple cables that increase the number of sockets (always pay attention to the voltage!), Or buy aftermarket ECUs that do the one described above.
Among the best I point out those of Cooler Master, compatible with almost everything on the market and the interesting possibility of making the cables male / female with pin adapters.
[amazon_link asins='B0719QY63M,B07HQBCX9L,B078BH7RRQ,B071JY88NX' template='ProductCarousel' store='gamspri02-21′ marketplace='IT' link_id='bf5f6f17-2278-435a-a5ee-2969187ee803′]
If you want to briefly see two simple video tutorials made by Cooler Master on the connection of the control units, you will find here the one related to the ARGB Control Box and its younger brother Mini Wired ARGB Controller.
A valid and well-functioning alternative comes from who is the exception: NZXT that with its LED strips, its fans and its AIO heatsink create a small ecosystem with their proprietary controller Hue+.
[amazon_link asins='B01B23WX08,B01N9TAFXO,B01IFGFTJ2,B01M04LYHM,B06XYSVXYX' template='ProductCarousel' store='gamspri02-21′ marketplace='IT' link_id='f75bf784-6f5b-4b23-88b1-519698ff927d']
Lots of peripherals, few standards, lots of software.
No small question is to understand how to control all this pop of lights! Yeah, how to do it?
"The answer to give is difficult!" Master Yoda would also admit.
The control software are in fact very useful and give a series of exclusive functions, here are some of them:
- Create waves of color, rainbow or a pre-determined group of repeating colors;
- Decide the order in which to illuminate the components;
- Make the LEDs change color according to the internal temperature of the PC;
- Synchronize lights with specific apps for smartphones and tablets;
- Turn the LEDs on and off to the beat of the music (and here Vegeta's scouter would explode for the tamarria level reached!)
To protect yourself from the spectrum of incompatibility, often only making a PC that integrates all the hardware of a single brand, can give you the certainty of using a single program that controls all but all the RGB components.
The reality is that each brand offers its own management software and only some isolated companies such as GSkill, Deep Cool and the aforementioned Cooler Master, they "let themselves be controlled" by third party applications.
Anyway, here are the 6 main RGB LED control software for your PC (with download link if you want to try them) but remember: the fewer brands you have inside your computer, the less software you will have to open to control them!
Finally, I quote Philips Hue e Nanoleaf, we had already talked about it in the article on peripherals and, even if they are not strictly related to the functioning of the PC, they can constitute a valid external echo system to complete your gaming build!
[READ ALSO: Guide to building your assembled PC: PERIPHERALS]
That's all for this week too, see you always here on the pages of Tech Princess, with new articles and insights from the PC world!
Mata ne !!!
Tagscontroller LED rgb led lights software Guide to building your assembled PC: RGB LEDs for PC