Hisense A7500F review
Italians like big televisions. We can pretend that this is not the case, we can say that there is nothing on TV that deserves a big polliciaggio, we can argue that the spaces have shrunk and explain that there is no room in the house for a large television. But then we always fall back. In the end we try to buy a large product because, even if the programs are in HD, even if we use it for a few hours, even if the space is cramped, we want to fully enjoy the moments spent in front of the TV.
The problem is usually the price. More inches means more euros and not everyone can and wants to spend huge amounts.
Thus begins the hunt for compromise, for that product that can fit into our budget but that, at the same time, can proudly reign in our living room.
Hisense A7500F responds precisely to this need. It's a Large Smart TV - ours is 65 ″ but also exists in 43, 50 and 55 inch sizes - sold exclusively on Unieuro at a price ranging from 499 euros for the smaller variant to 999 euros for the more demanding one. All this while offering good picture quality, Alexa integration and all the connectivity you need.
But let's go in order and try to understand how it is Hisense A7500F, how it behaves in daily use and to whom it is suitable.
Simple installation and solid design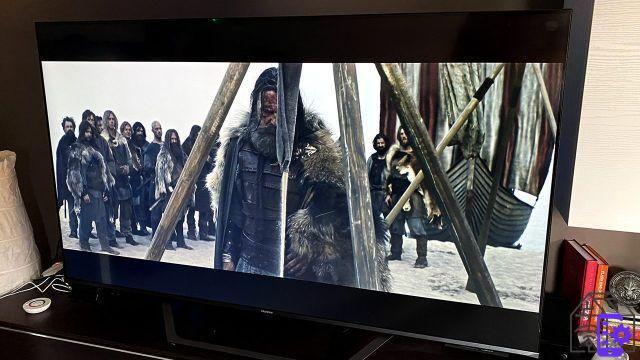 In recent years, we have come under the spell of OLEDs: they are thin, they are beautiful, they are probably the best technology for a TV. At least as far as I'm concerned. But they are also more delicate. Hisense A7500F, with its LED panel, is the opposite. Once extracted from the box and screwed to the base - an operation that takes a few minutes -, you will have it in your hands a rather solid and resistant product.
Don't expect premium materials though. The TV is mainly made of plastic, without leaving room for annoying creaks or a particularly cheap look. Overall, the glance is more than satisfactory, also thanks to the very thin edges which we find on the short sides and on the long upper side. The lower edge, on the other hand, is slightly thicker, it houses the logo of the Chinese multinational and the LED that signals the status of the TV.
On the back we find the power cable on the right and the inputs on the left. Available 2 HDMI 2.0, 1 HDMI-ARC 2.0, 2 USB 2.0, 1 digital optical output, 1 audio input, 1 Composite and 1 Ethernet LAN. There is no shortage of dual-band Wi-Fi, Bluetooth connectivity and the Anyview Cast.
Finally, we arrive at the base, elegant and with a symmetrical design but not suitable for pairing with a soundbar. In fact, you cannot insert the latter under the TV, due to the invasive presence of the stand. It is not a real flaw, mind you. This is just one factor to consider if you want to associate a dedicated sound system with your television.
Hisense A7500F review: video and audio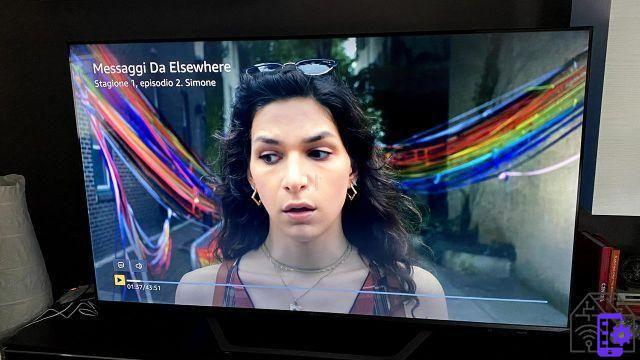 Hisense A7500F shows up, in our case, with a 4-inch, 65Hz 50K Ultra HD panel with lighting Direct LED. This means that the LEDs are scattered all over the screen to ensure greater uniformity but, on the other hand, we lose something in terms of contrast and sharpnessespecially if you are not perfectly in front of the TV.
Don't worry though. If you are not super fussy and extremely experienced, these small deficiencies are unlikely to ruin your viewing experience.
And the colors? We have the technology Wide Color Gamut which returns rather colors vivid and realistic, especially if you opt for the right Mode. At your disposal you have Standard, Night Cinema, Day Cinema, Dynamic, Sport and Automatic. Personally I preferred the two Cinema variants because they allow to enhance the different shades and offer truly remarkable chromatic fidelity.
By default, however, you will have heavier colors and more distant from reality. Let's be clear: it's not necessarily bad. It really depends on your personal taste.
Let's not forget the support for Dolby Vision and HDR which improve the image and make it more realistic. Don't expect miracles though: we're always talking about a relatively cheap smart TV.
Before moving on to audio let's talk about upscaling, that is how the images in SD, HD and Full HD are converted into 4K frames. Ultra HD televisions in fact use different technologies to adapt the image and avoid that the content is grainy and not very usable, which would mean watching only 4K movies without being able to enjoy traditional TV or all those sources that do not reach the resolution of the TV. How does Hisense A7500F perform? Much better than expected. The image processing is more than decent and allows you to enjoy all kinds of sources without worrying too much. In short, from RAI to Blu-ray there is nothing you cannot watch.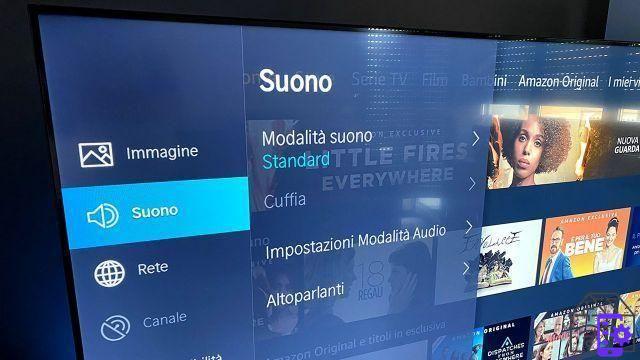 Finally, we want to spend a few words on audio. Hisense smart TV uses two speakers from 10W with DTS Virtual-X and Dolby Audio. Questa combinazione offer quite a high volume with the possibility of activating the Bass Boost to improve the bass. In addition, you can choose the most suitable mode between Standard, Theater, Music, Dialogue, Late Night, Sport and Automatic, but also to activate the surround or TruVolume technology to reduce drastic volume changes. Finally, there is no lack the equalizer, useful if you want to balance everything independently.
How smart is it?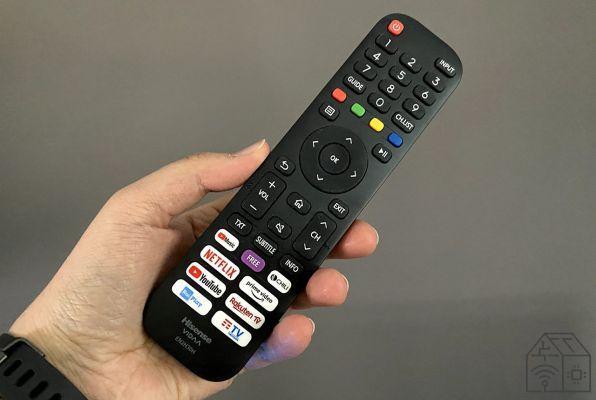 Hisense A7500F is a smart TV and, as such, comes with its own operating system. In this case we have VIDAA in version 4.0 and yes, we liked it. In some ways it resembles Android TV but, contrary to what we saw with the Google operating system, here we have an OS snappy, ready to react to your every command. Then everything is at your fingertips: there are the recommended contents, the apps you have installed, the ability to reach the store to download others and to open settings and sources in a few moments.
Then we have all the most used services: Netflix, YouTube, Amazon Prime Video, DAZN, RaiPlay, Rakuten TV, Chili and many more.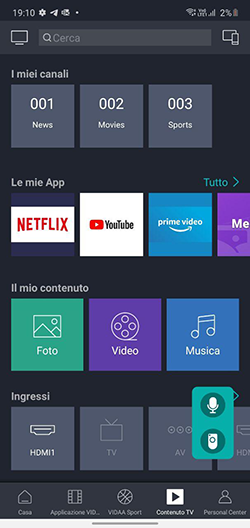 To navigate this sea of ​​software you have three possibilities: the remote control - with shortcuts dedicated to the most famous services -, the app RemoteNow e Alexa.
This is where Hisense's A7500F gets even smarter. On the AppStore and Google Play Store you will find the aforementioned application with which you can fully manage your TV: channels, sources, volume and apps are all at your fingertips. You even find a list of recommended content that you can send to your TV or watch directly on your smartphone.
Finally, there is also the possibility of using Alexa voice commands with which you can turn the TV on / off, open apps or control the volume. A nice convenience if you already have an Amazon Echo at home.
Hisense A7500F review: the smart TV for everyone
Almost.
If you are a fan of picture quality, if you want all possible settings and control of every single aspect, then this TV is clearly not for you.
However, it is suitable for all others. To those looking for a large television, that allows you to see anything without too much difficulty, while enjoying a good volume without having to resort to external devices. Its being intelligent, compatibility with Amazon Alexa and the convenience of the app - perfect for those who never find the remote control - make it an interesting product, definitely worth considering if you are considering changing your TV.
Is 999 euros too much? We remind you that there is not only 65 ″. If you want you can take home the 50 ″ for 629 euros or the 55 ″ for 749 euros,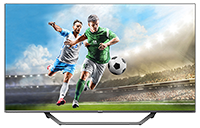 Hisense A7500F
Pro
Good color fidelity
High volume
Intuitive operating system
App and Alexa available
Great price
Cons
Some artifacts due to Direct LED
No room for the soundbar