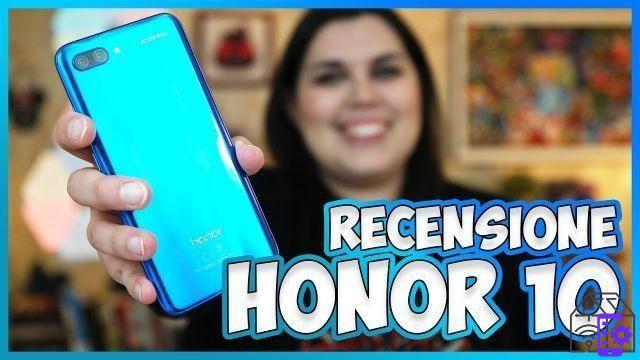 Honor 10 he managed to conquer me right away, obviously thanks to the top-of-the-range performance but also to the well-kept design and a camera that really managed to surprise me. I'll tell you everything you need to know about Honor 10 in our video review that you find at the beginning of this article.
Honor 10: the technical specifications
Before finding out what I loved about this Honor 10, let's see the technical characteristics together.
Dimensions: 149 71.2 x x 7.7mm
Weight: 153 g
Display: 5,84 inches - FullView with 2280 × 1080 pixel resolution and 19: 9 aspect ratio
CPU: Kirin HiSilicon 970
GPU: Mali-G72 MP12
RAM: 4GB
Memory: 64 or 128 GB
Network: 4G LTE – Dual SIM
Connectivity: Wifi 802.11 a/b/g/n/ac, Bluetooth 4.2, USB Type-C, NFC
Battery: 3400 mAh
Rear camera: 24 MP + 16 MP
Front Camera: 24 MP
Videos: 4K @ 30fps
Operating system: Android 8.1 Oreo + EMUI 8.1
The charm of the Phantom Blue
Aesthetically Honor 10 is not very different from Honor 9. We are thus faced with a device with metal frame and rear glass which, unlike its predecessor, comes with the slightly protruding camera module. What makes the difference, however, is the choice of colors. Next to the versions Black and Silver in fact we find those Phantom Blue e Phantom Green, which stand out thanks to a series of fascinating plays of light that will truly bewitch anyone.
To enrich the whole we have the 5,84-inch FullView display, accompanied by the now inevitable notch. You do not like? No fear. In the Settings, under the heading Display, you will find the settings dedicated to the notch, so you can choose whether to keep it or darken it with a black band.
Finally, I would like to point out the presence of a lfrontal fingerprint reader, placed this time under the glass. How does it behave? It actually generated me mixed feelings. On the one hand, in fact, you can use it even with dirty or wet fingers, which is really comfortable, while on the other it was sometimes a bit imprecise and above all inconvenient to configure. The problem arises above all for those who do not have flush nails, since to register the upper part of the footprints you will have to work hard and insist a lot. However, don't worry. Honor 10 indeed integrates unlocking via facial recognition, a function that I particularly appreciated for its simplicity and the speed with which it allows us to access the device.
A true top of the range
There is very little to say about the performance of this Honor 10. On board in fact we have the excellent Kirin 970 which it guarantees top-of-the-range performance and a truly enviable fluidity. The only flaw is, as always, the software. Don't get me wrong: the EMUI 8.1 it is full of convenient and useful functions, but unfortunately aesthetically it is perhaps a little too old compared to the competition. In short, a refurbishment wouldn't hurt her.
The autonomy of this device is to be commended. Honor 10 is in fact able to take us to the end of the day without too much difficulty even after being mistreated. For those who make an average use of it, there should be no problems covering almost a day and a half.
Finally, I spend a few words on the storage space of this smartphone. Honor has in fact decided to delete the microSD card and leave only the double SIM slot. A decision that has been criticized for a long time but which in reality did not affect our use. The 128 GB cut is in fact on the market at an overall low price and allows you to host all the data you need, not to mention that the notoriously heavier files - i.e. photos and videos - can be uploaded to Google Photos in order to free memory in case of need.
A smart camera
The photographic sector of Honor 10 really left me speechless. Not for the hardware available, consisting of a 16 megapixel RGB sensor and a 24 megapixel monochrome sensor, but for the presence of artificial intelligence. THEREI Camera of this Honor 10 is in fact able to distinguish 500 different situations, then divided into 22 macro categories. The purpose? Optimize your shots in any situation and light conditions. The result is there and you can see that most of the images will seem the result of the efforts of a professional. Of course, some flaws are present. Sometimes, in fact, the artificial intelligence exaggerates a little, as happens for example with the lawns that become almost phosphorescent, but in general you will get really incredible photos.
Good also the front 24 megapixel camera. To accompany it we have the Portrait mode, now inevitable, and the 3D effects. The latter are used to manage the lighting to get higher quality selfies. In short, even in this case you will have a quality similar to the professional one.
Honor 10: buy it or not buy it?
[
All this at an incredibly competitive price. The 64GB version is in fact sold at 399 Euros while the 128GB one comes in at Euro 449. In my opinion a real deal.