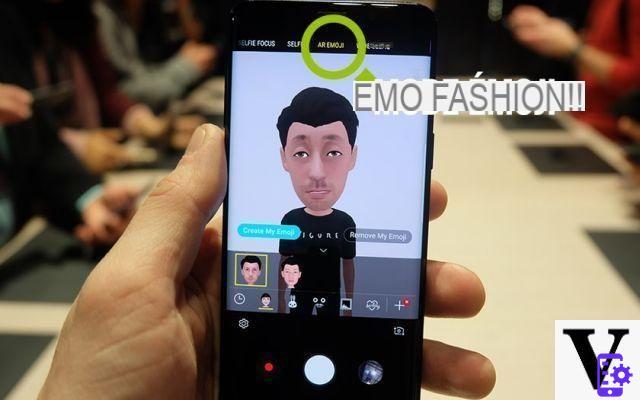 During the Unpacked conference which unveiled the Galaxy S9, Samsung also lifted the veil on 3D emojis. True competitors of iPhone X animojis, Galaxy S3 9D emojis use augmented reality to create a mini caricature of your face and emotions. Once it's done, you can share your creation with your friends! How do 3D emojis work? We will explain everything to you !
The Galaxy S9 is now official! In addition to its photo sensor with variable aperture and its Intelligent Scan, the smartphone of Samsung is equipped with a novelty borrowed from Apple: the émojis 3D. Thanks to the feats of augmented reality, the Galaxy S9 creates an animated digital image of your face.
A priori, the Animojis of the iPhone X therefore have nothing to envy to the 3D emojis of the Galaxy S9 and yet: Samsung goes even further than its rival. Here you can customize, modify and personalize the augmented reality emojis produced by your S9 as you wish. If you don't want to use your own face for your experiments, you can also choose a 3D copy of a famous character, like Mickey Mouse or the Incredibles.
How to use the 3D emojis of the Galaxy S9?
To create your own 3D emoji, follow the few steps given below:
first meet in l'application photo du Galaxy S9
scroll through the modes to the right until you come across the mode AR Emoji / Emoji 3D.
Choose "Create my emoji", on the left of the screen.
Take a picture of your face by centering it right in the center of the circle, as if you were taking a selfie.
Select your gender: male or female
Click on "Following"
The Galaxy S9 will then design your 3D emoji by automatically locating key areas of your face, such as your eyes, nose and hair.
Once your 3D emoji is complete, use your Galaxy S9's front sensor to record funny faces and phrases. Your emoji will follow these facial expressions.
Share your 3D emojis on WhatsApp, Facebook Messenger or any instant messaging app.
What do you think of the 3D emojis unveiled by Samsung? Can you imagine using them on a daily basis and sharing them with your friends? To learn more about this new Samsung, check out our getting started with the Galaxy S9 at MWC 2021.
Share
Tweet
Share
Envoyer à un ami