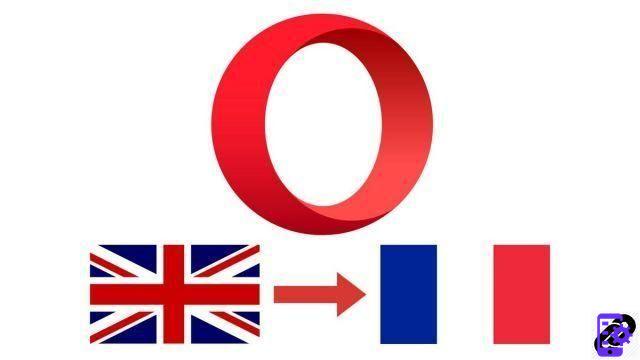 Update error, disruptive software... for various reasons, Opera can switch to English without it being a choice on your part. Sometimes it is simply the browser that has adapted to the operating system, the version of your download is then in English.

Because it is not necessarily easy to configure a browser in a language that is not ours, we have prepared a short tutorial to explain how to properly configure Opera in the language of Molière:


Skip Opera in French
Open the Menu by pressing the small red circle of Opera located at the top left of your browser and then clicking on Settings (settings) in the drop-down panel.



In the left column, choose Advanced (advanced) then click Browser (browser) that appears just below.


Scroll down the page to Languages (language) and click the drop-down panel of Language.


Then press Add languages (add languages) that appears in blue.


In the small window that opens, place your cursor in the frame at the very top where is written Search languages (search for a language) and type ''fr'' to speed up the search for French.


Then select French - French that appeared in the list, then click Add (to add).


You can see that French has been added to the list of available languages. Click on the icon representing three vertical dots on the far right of French.


In the dialog box, check Display Opera in this language (Display Opera in this language).


To complete the operation and directly apply your new language to Opera, click on relaunch (to restart).
The browser will close and actually restart in French! If you want to switch your browser to another language to improve yourself or to relieve boredom, it's exactly the same way!
Find other tutorials to help you configure Opera properly:
How do I remove a synchronized device from my Opera account?
How to create and synchronize an Opera account?
How to synchronize its settings on Opera?
How to activate or deactivate the synchronization of my account on Opera?
How to install a theme on Opera?
How to update Opera?
How do I set Opera as my default browser?
How to remove Yahoo from Opera?
How do I remove Bing from Opera?
How to change the home page on Opera?
How to change the search engine on Opera?
How to reset Opera?