When you find that your trusty computer is starting to slow down for no apparent reason, then it might be time to clean your PC of unnecessary files. Obviously there are ways and ways to do it and, before I teach you, I want to thespel an urban legend: doing this will certainly help you make your computer more performing, but it certainly cannot work miracles. If the slowness of the PC is due to the presence of little RAM, an underpowered processor or too heavy programs running, the cleaning operation will certainly improve things but it will not give you a snappy car again. If this is your case, I recommend that you proceed to update your hardware.
One of the main components leatheng to slowdowns and bottlenecks for performance is the hard drive. SSD-type hard drives have been on the market for a few years at bargain prices, just replacing this component is enough to greatly increase performance, in fact the hard thesk is the main component on which data is written and read and in the case of SSD we talk about access to data up to 1000 times faster than normal and old hard drives, for more info you can still consult the article you find below.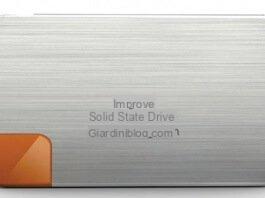 Best SSD Hard Disk of August 2021 to buyBest SSD Hard Disk of August 2021 to buy less important [...] Read on
Returning to us, if you have noticed small but progressive slowdowns and if you are aware that you have a powerful enough computer to bear the load of your programs but, at the same time, you do not explain why these slowdowns occur, then I can tell you that cleaning your PC of useless files can improve your user experience and increase "lost" performance again . So in case you are looking for a guide to teach you how to clean your pc of unnecessary files know that you have found it; thanks to three thefferent tools we will go, together, to act on three thefferent types of files: temporary files and the cache of the operating system, files that are too large and "everything else". Without getting lost in further talk, let's find out together how to proceed.
How to clean your PC of unnecessary files
Step 1: Disk Cleanup, System Cache and Temporary Files
To clean your PC of unnecessary files in the operating system cache and in the temporary files folder, you can use a tool that Windows itself makes available to you, without having to download any additional programs: it is the thesk cleaning utility. This way you will be able to delete all those files created by the operating system that it no longer necessarily needs.
To access the Cleaning thesk
On Windows 10, double click on This PC (or computer), then right click on your system thesk (which is usually C :) and then click Properties.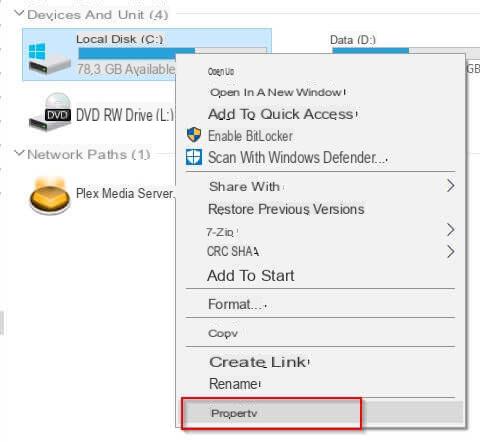 Click on your button Cleaning thesk.
Su Windows 7 - 8.1 to access the function Cleaning thesk:
Click on the Windows Start Button
In the field immediately above write "thesk cleaning"
You should now see the "Cleaning thesk", Click on it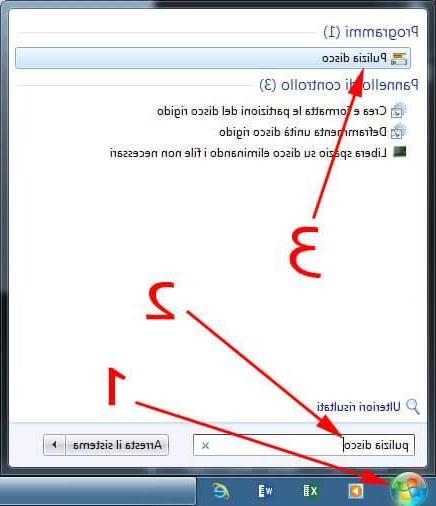 Once the tool is open Cleaning thesk, wait for the system to analyze your thesk. When completed, a window similar to this will appear: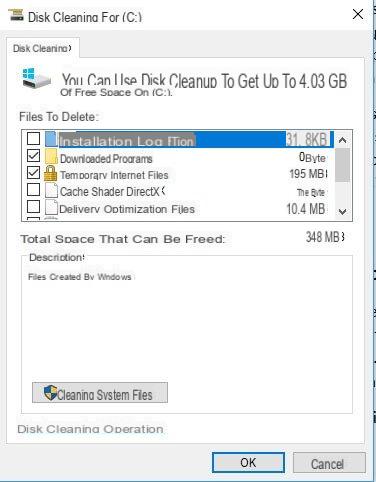 From here you can choose all the elements that the operating system will have to delete; I personally recommend that you delete especially the temporary Internet files, the contents of the recycle bin, temporary files and preview files: these usually take up more space. If you want, however, you can select or deselect all the options you want. However, remember that the deletion is final and that the files cannot be recovered.
Once you have completed your choice, click on OK to confirm the deletion of these files and confirm the deletion by clicking on the appropriate button.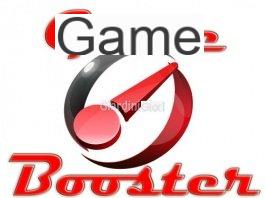 How to speed up your pc to play
If you want, with Disk Cleanup you can also delete other system files, such as installed driver packages, the Windows Update registry or outdated Defender definitions. To do this, return to the Disk Cleanup utility again and press System File Cleanup.
From this window, you can also also delete all restore points (except the most recent), bearing in mind that this will also delete shadow copies of the files. To proceed, from the System File Cleanup screen, click Other Options and then Run Cleanup under "System Restore and Shadow Copies". Always remember that once deleted, these files cannot be recovered.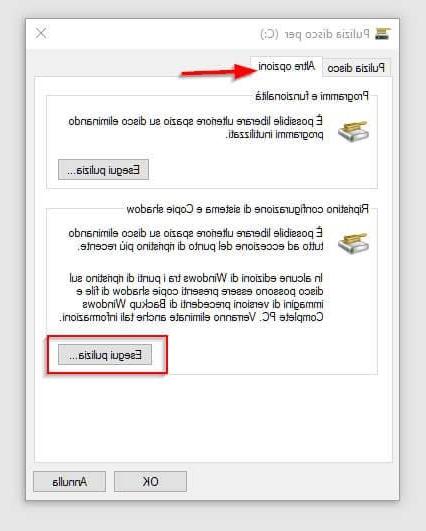 NOTE: : You can also perform the same operation on the other thesks on your computer.
Step 2: files too large
Think about it carefully: how many times have you downloaded or copied things that, in reality, you only needed at that moment ... and then remained there on your thesk to unnecessarily occupy space? If they are particularly large files, their presence can be felt: imagine you have forgotten the backup of a Bluray rip, that is GB and GB of data that you will never use again!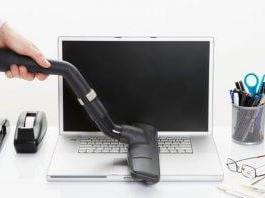 How to clean up the PC on the software and hardware side .
To clean up your PC from useless files of this type, that is, from those "weights" that are there and that you have forgotten, you will need to use a third-party program; personally I recommend you to use WinDirStat, which you can download therectly from the link below.
DOWNLOAD | WinDirStat
Install the program as usual, then run it: through the first screen you can choose whether to analyze all the thesks for large files, whether to analyze only one or whether to analyze a folder. When you have made your choice click on OK.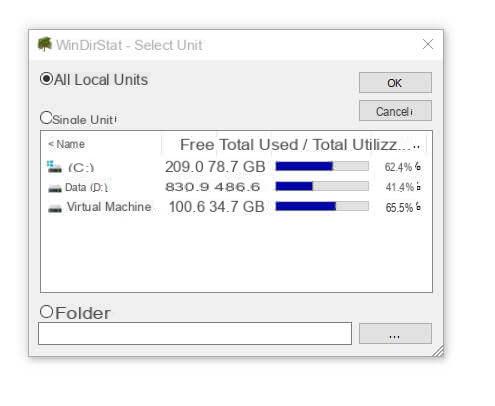 Now wait for the analysis of the selected thesk or thesks: the program will present you with a list of files and folders, sorted from largest to smallest, in which you can browse for large files. In adthetion, in its lower part, you will also have a graphic confirmation of the structure of the thesc.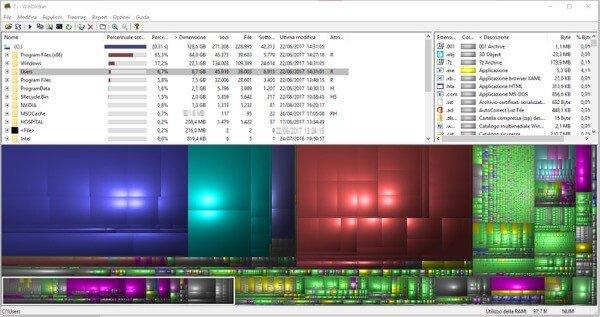 At this point you just have to go through the various folders in search of giant files, and then delete those you no longer need: just right-click on the file and choose Delete (recycling folder) to move it to the trash or Delete to delete it definitely.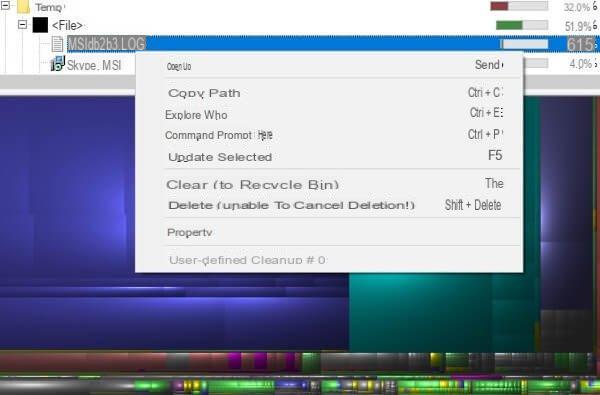 Before proceetheng, however, I invite you to do not touch files in system folders (such as the Program Files folder, the Windows folder, and so on) ea be very careful what you decide to eliminate. Always remember that this is a permanent operation and that permanently deleted files cannot be recovered.
Step 3: CCleaner
If you want to clean up your PC from useless files, you cannot fail to consider all the other types of files generated by the operating system and programs and which, often, remain forgotten on a part of the thesk to sleep for years. For example, I'm talking about traces of programs no longer installed, the cache of your browsers, temporary files created by programs and apps on the system and many other types of similar files.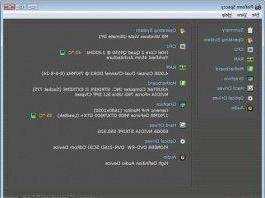 The characteristics of the PC with Speccy (Windows) The characteristics of the PC with Speccy (Windows) If you want to know the hardware of your PC in detail or if you do not know the technical characteristics and you want to know which processor, motherboard, ram or other peripherals it mounts your [...] Read on
There is a remedy for all of this, and that remedy is CCleaner! This is a Piriform application that, in a few clicks, will allow you to clean your PC from unnecessary files of thefferent types, inclutheng those I mentioned earlier. To get started you will need to download and install CCleaner: you can do it using the link below.
DOWNLOAD | CCleaner
Click on Install, then on Start CCleaner.
Go to the Cleaning tab and, if you are undecided on what to do, leave all the default settings and click on Analyze. Alternatively, you can choose the elements to be analyzed and then click Analyze.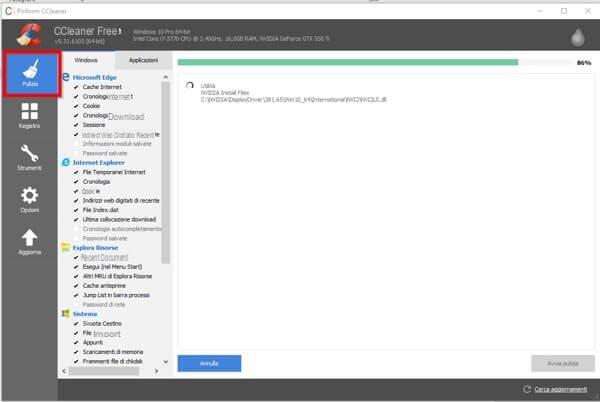 Wait for the program to be analyzed, take a look at what you will be deleted and then click on Start cleaning.
If you feel safe, and aware that the operation will permanently delete all selected files, click on OK in the next warning: the PC will be cleaned of unnecessary files in this way.
If you want (but I advise you to act only if you know what you are going to do), you can also clean the registry by going to the "Registry" tab ...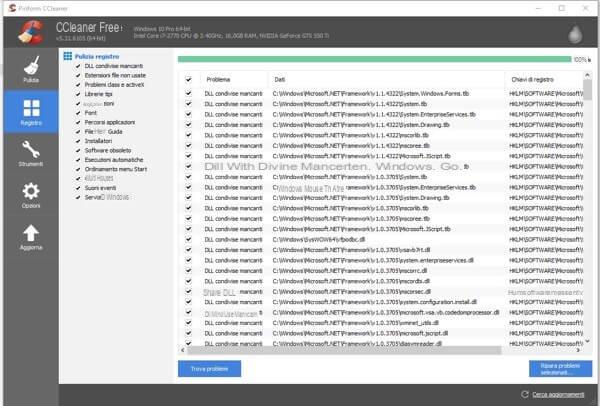 ... or proceed to safely and permanently uninstall the programs from your computer, without them leaving traces, using the "Tools" tab.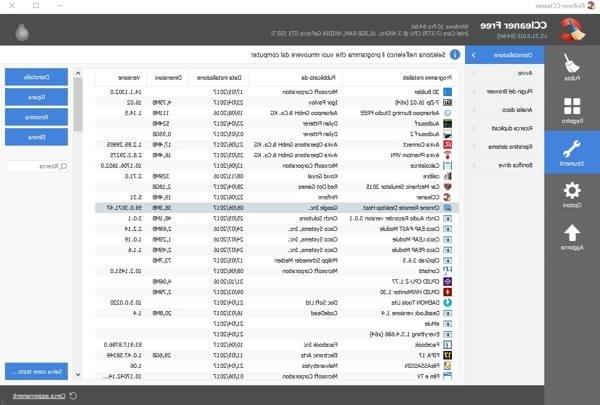 Passo 4: Wise Disk Cleaner
Another very powerful resource to use, done really well is Wise Disk Cleaner. To get started you will need to download and install this program, you can do it using the link below.
DOWNLOAD | Wise Disk Cleaner
Once you have downloaded and installed the program Avvia Wise Disk Cleaner.
Here's what its interface looks like, consisting of 5 main sections: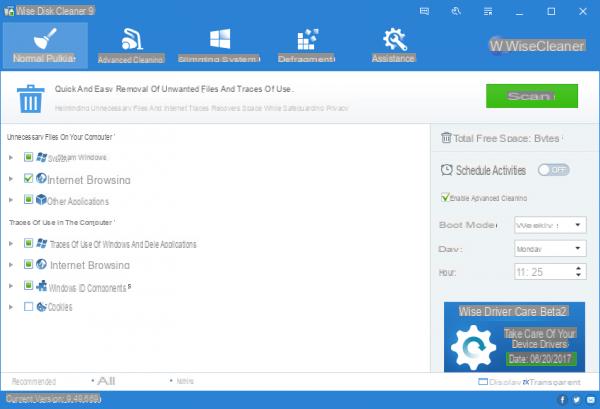 Normal Cleaning, this is the main tool, click on the green button "Scan" at the top left, to start the search for all the useless files that can be deleted. During the scan you may be asked to close your browser to clear your browser's temporary files, you can also say no and repeat this procedure later. Once the Scan is finished, the "Clean" button will appear instead of the green "Scan" button. Click on it to start cleaning your computer.
Advanced Cleaning, in which to delete temporary Windows files, as for Normal Cleaning, same procedure.
System streamlining, is the useful section to delete Windows images, music and video samples, that is all those demonstration files that have no use, windows update installation files that once installed are useless, this section is also very useful.
Defragment, this will speed up old hard drives with a spinning platter, while you can skip if you are using a new hard thesk type SSD, for more information you can consult this article: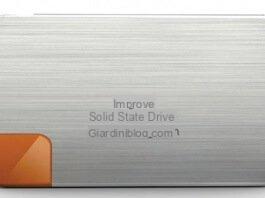 Best SSD Hard Disk of August 2021 to buyBest SSD Hard Disk of August 2021 to buy less important [...] Read on
Quick, where registration is required for assistance.
Step 5: Uninstall unnecessary programs
Over time, we find a myriad of programs installed on our computer, many of which we may no longer use or which have been replaced by programs that do the same things but in a better way. Also many of these start processes that weigh down the computer every time we start it, so why keep them?
To uninstall unnecessary programs:
We click on the Windows Start button
We write in the "application installation" bar
And click on the item that will appear with written Application Installation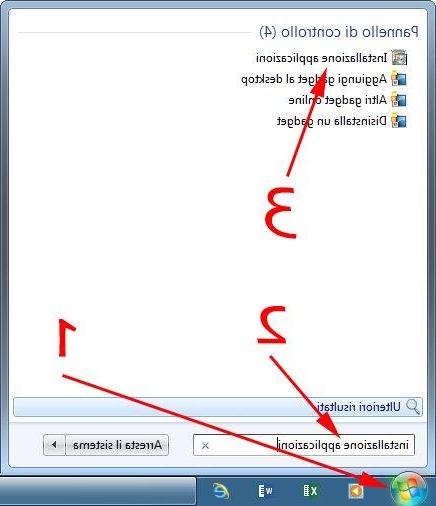 In the next window that opens, click with the right mouse button on the program you want to delete from your computer, a button will appear that says "Uninstall", Click on it to uninstall the program.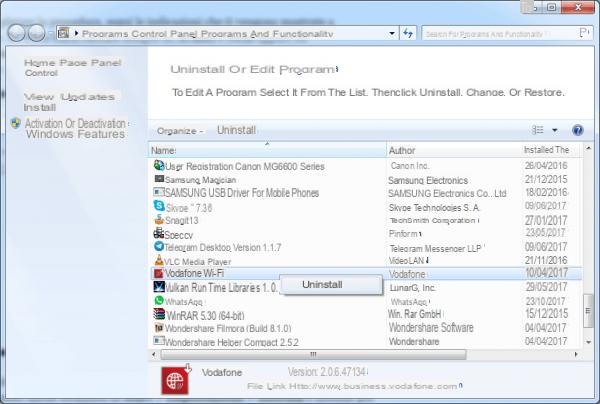 How to clean your PC of unnecessary junk files