Have you tried connecting your Android smartphone or tablet to your Mac via a USB cable but nothing happened? It is true. The Mac cannot detect and recognize the Android phone or tablet, and it doesn't even see it as an external hard drive. In cases like this, it is not possible to transfer music, playlists, movies, photos and other files to and from your Android phone using your Mac! But is there a solution?
The answer to this question is yes. It is possible to use software that allow you to connect Android to Mac and make it recognized. Here are the software we recommend:
Solution 1. dr.Fone for Android (Mac)
Dr.fone is an application that has dozens of features for the management, recovery and data transfer of mobile devices. Below we see how to use this program to connect Android to mac and make it communicate without problems so that you can manage all the data in comfort.
The first thing to do is download and install the app on your Mac. Here is the download link for the demo version:

Open the app and from the main screen click on the "Telephone Manager"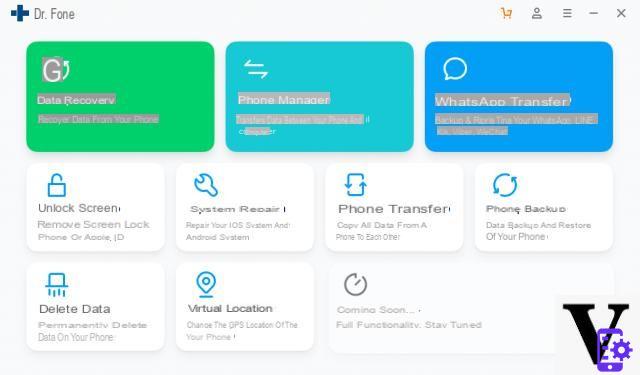 At this point the program will ask you to connect the Android device to the computer via USB cable. Make this link and then on the Android device go to activate the option USB debugging. This option is activated (in general) by going to Settings -> Phone information and clicking 7 times on the "Build Version" item. Once this is done, the Developer option will be activated (in the Settings) and from here you can activate the option Debug USB.
Once the Android device is recognized by dr.Fone you can start viewing and managing music files, photos, videos, applications, contacts, etc ...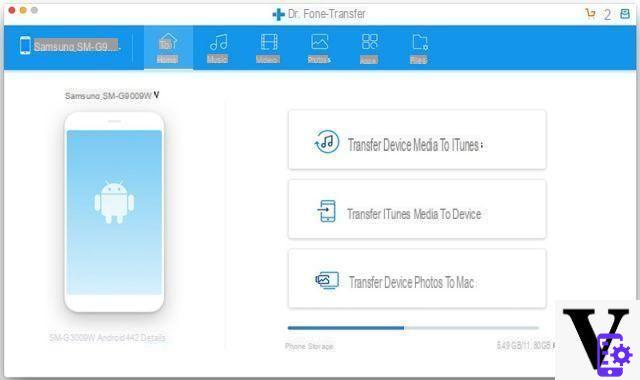 For example, by clicking on the tab PHOTO you can view the photos in your mobile phone and proceed to transfer photos from Mac to Android (by clicking on "Add") or vice versa export photos from the device to the Mac by clicking on "Export".
The same procedure can be done for the other types of data.
Solution 2. TunesGo for Android (Mac)
If you have ditched your iPhone, iPad or iPod to switch to an Android device, such as Samsung, Huawei, LG, Google Nexus, Sony or others, but you have kept tons of songs, movies in iTunes that you don't want to lose, TunesGO (Mac) it is the best solution to keep using iTunes to manage all your media files and import playlists and videos from your Android device to it. With TunesGo (Mac) you can even without iTunes, connect your Android device to the Mac and sync Android with Mac in a simple and intuitive way. Download TunesGO (Mac) in free demo version by clicking on the button below:

Features:
Copy photos, music, videos and other types of files from Mac to Android and from Android to Mac via drag & drop.
Sync entire iTunes library to Android with just one click
Sync or transfer songs, playlists, movies and more from iTunes to Android
Transfer media files from Android to iTunes.
Connection type: All you have to do is connect your Android device to your Mac via USB cable. Then install and launch TunesGO for Mac.
The program will ask you to activate the USB Debug mode on your Android device so that it can be detected. Once this is done you will see the image of your Android mobile in the program screen: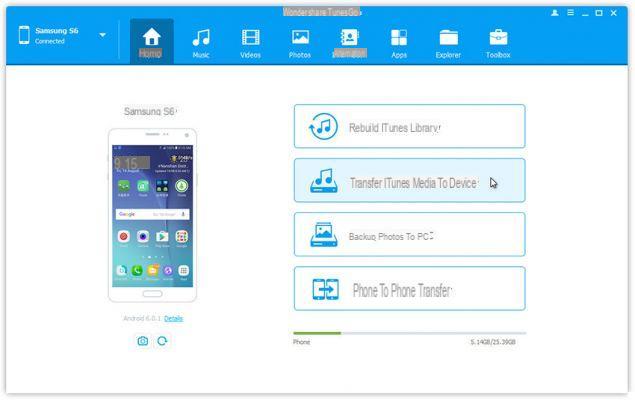 From the program's home screen, you can immediately perform one of these three operations: copy songs from Android to iTunes, transfer music from iTunes to Android or move songs, photos, videos from Mac to Android or vice versa, yes Android and Mac.
For example, if you want to transfer music files from your Android to Mac, click on "MUSIC" at the top to see all the songs saved on your device. Then select the songs to export to the Mac and finally click on "EXPORT" at the top.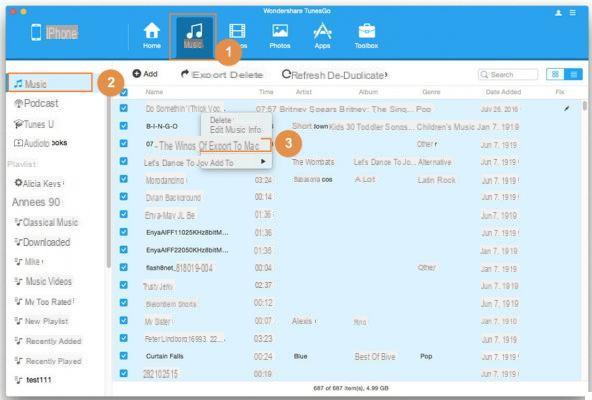 In the same way you can transfer photos between Android and Mac, copy videos from Mac to Android and vice versa, install or uninstall applications or access the system files and folders of your Android, directly from your Mac OSX computer.
PRO:
1 It has a simple interface.
2 Easy to use.
3 Supports over 2000 Android devices, including Samsung, Sony, Google, HTC, Motorola, LG, Huawei etc ...
4 It is fully compatible with Android (from Android 2.1 to the latest versions).
Against: It is not free and does not allow you to manage contacts and messages on Mac.
Download the free demo version from below:


NB: TunesGO for Mac is also available in a version for Windows PC, thus allowing you to connect Android to your PC and use iTunes to transfer music, videos, etc ...
Solution 3. Backuptrans Android Transfer
Another powerful program to install on the MAC is Backuptrans Android Transfer per Mac. Simple and intuitive application for backing up and transferring or saving data from Android to MAC. Unlike TunesGO, this program also allows you to manage contacts and messages (SMS / MMS) on the Mac.
Let's see the main steps to be able to use this program. First download the Trial version program from the following button:

Install and open the application and at the same time connect the Android device via USB cable to a USB port on the MAC.
(PS. There is also the possibility to connect via WiFi by clicking on the Tools-> Connect via Wifi menu)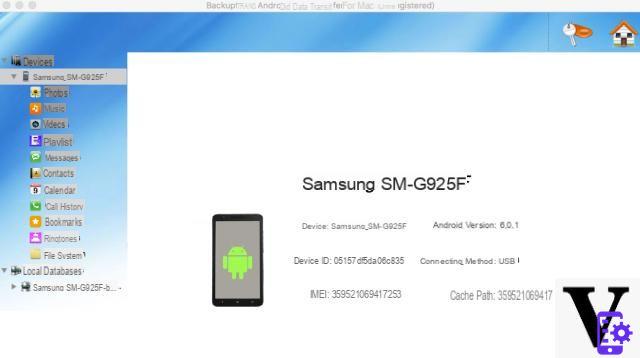 As you can see in the figure above, when the device is detected, all the data will be listed by category (Photos, Music, Videos, Messages, etc.) and for each of these categories you can export the data to your computer or make a backup or transfer them directly to another android phone.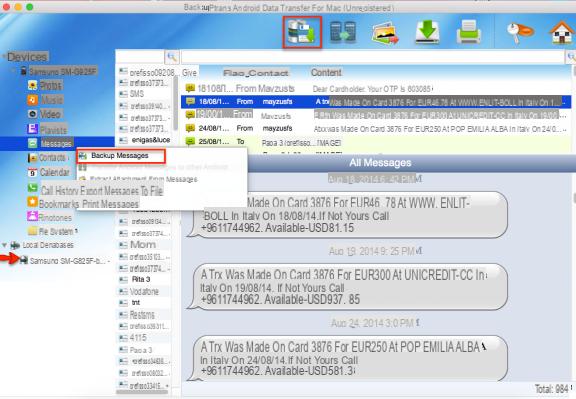 Solution 3. Android File Transfer
Android File Transfer is a tool created by Google, mainly used to manage and connect Android devices to Mac. With it, the Android device can be used as an external hard drive, so you can transfer data from Android to Mac and vice versa.
Features:
1. Makes your Android device like an external hard drive.
2. Open any folder or file saved on the SD card of the Android device.
3. Transfer music, videos, photos and documents to and from Mac.
Connection Type: Allows you to connect Android to Mac via a USB cable.
Pro:
1. It's free.
2. Simple access to the SD card of the Android device.
Against:
1. Cannot be used when Samsung Kies is installed.
2. It often fails to detect the Android device.
3. Only supports up to Android 3.0 version.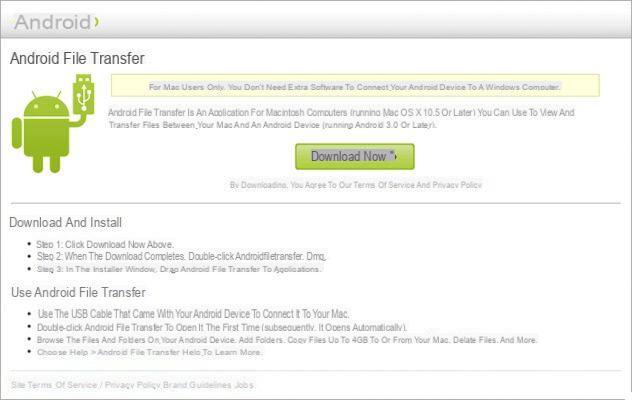 Solution 4. Samsung Kies 3 for Mac
Samsung Kies 3 for Mac was created by Samsung, to help you manage your Samsung device on Mac for free. With it, you can transfer your contacts, music, videos and contacts to and from your Android device, backup and restore your phone data, and upgrade the firmware.
Features:
1. Import and export of music, videos, contacts, photos and podcasts.
2. Backup your Samsung device to Mac and restore data securely.
3. Allows you to purchase apps from Galaxy Apps for your Samsung Galaxy device.
4. Update the latest firmware for the Samsung device.
Connection type: Connects the Android phone to the Mac with a USB cable.
Pro:
1 It is totally free.
2 It has many useful features to manage your Samsung device.
Against:
1. Only supports Samsung devices.
2. Often fails to connect Samsung device to Mac.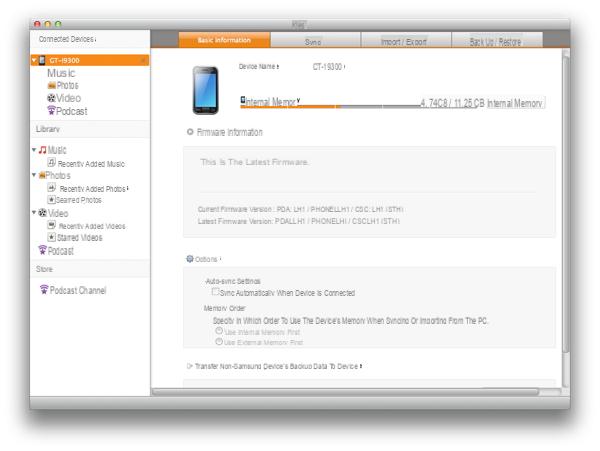 Please can someone help me:? with my new Huawei mate 10 pro .. I can send photos to my Mac, but from the Mac I cannot send photos .. files .. to my Huawei. Ps. first with my old samsung, I was able to transfer .. with both options. Thanks.
discovered, thanks: just go to the sw site and read ...
Android File Transfer: what does «3. Only supports up to Android 3.0 version. »?
doesn't support older versions?
or is it not compatible with the following ones?
thank you
Hello, I would like to know if anyone knows the procedure (if any) to connect my huawei to the ipad via cable and then use my cell with tethering using it as a modem. Thanks, Paolo.
Sen provo a usare Android file manager, invece, mi esce questo messaggio: If your device's screen is locked, disconnect its USB cable, unlock your screen, and then reconnect the USB cable. Come posso fare?
Why can I only export three photos at a time with the Android for Mac backup transfer? I select them all then right click and choose export, I choose the folder to export them to but it exports only three ...
The demo version has that limitation.
It is necessary to purchase the program license in order to have no limitations in data transfer.
i want to connect my huawei p8 light to mac air pc. How to proceed? Thanks
How do I activate USB Debug mode on my Android device ???
Here's how: http://www.mobiletekblog.com/2015/02/come-si-attiva-il-debug-usb-su-android/
The first and second do not detect the device as insured and give connection problems, the third does not even install
Try to activate USB Debug mode on your Android device and then try connecting again.