Very practical for exchanging documents, the PDF format, invented by Adobe, makes it possible to retain the formatting of the source document while offering interactive content through multimedia files, annotations or forms.

However, a PDF file can quickly become large and reach several tens of MB, which complicates its sending by e-mail. To solve this problem, it is then welcome to use software or a web service to reduce the size of one or more PDF documents. Let's review the different free solutions available.
We will use a reference file of approximately 11 MB to carry out its tests and see the size gain for each software or service: PDF24 Creator under Windows, the tool
Preview
under macOS and the web service
PDF Compressor
.
With PDF24 Creator on Windows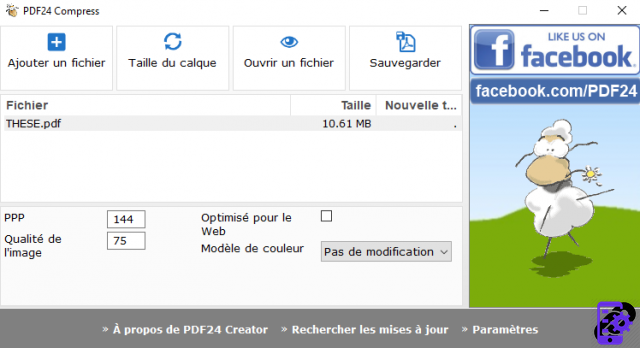 Select option Compress PDF files in the main window;


Choose option Add file to import a PDF;


Define quality options, the number of dots per inch, the optimization for the web or the color model


Click on Save to save its compressed PDF
PDF24 Creator allows us to pass our PDF from
11MB to just under 5MB
with average image quality.
With the Preview tool in macOS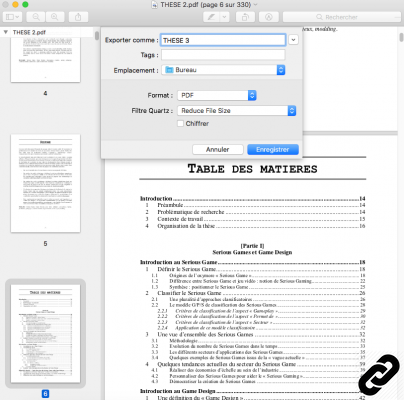 People who use macOS will find a solution directly integrated into their machine called Preview

Open a PDF file in the tool Preview


Select tab File then the option Export


A pop-up window will appear, just select the PDF Format then choose the option Reduce File Size in the field Quartz filter


Click Save
However, the size reduction is only 10%.
Online with PDF Compressor service
PDF Compressor
is an online service that offers to compress PDF documents in batches. Here is the procedure to lighten a PDF:
Go to the online tool PDF Compressor ;


Upload one or more PDF files and the process will start automatically;


Once the file is compressed, it is possible to preview it or download directly to disk.
PDF Compressor
lightens our PDF document by 30% for a final size of 7,6 MB.