Although Sosh has the best network coverage in Spain, some remote areas of French territory are still insufficiently covered, while others unfortunately do not benefit from any network. Your Sosh plan allows you to overcome this constraint thanks to the VoWifi functionality, in other words calls using the Wi-Fi network.

The VoWifi - Voice over Wi-Fi - feature comes in handy when your mobile network shows its limits. If the areas where the mobile network is absent are now very few, it is not uncommon for the coverage to be insufficient to make well intelligible calls with good line quality and without the conversations with your correspondent being interrupted.

Whether at home or anywhere you can connect to a Wi-Fi network, Wi-Fi Calling allows you to bypass poor network coverage and enjoy quality communications through the Internet.

To take advantage of it, all you need to do is have a compatible mobile and be connected to a Wi-Fi network.


Wi-Fi calls: Which mobiles are compatible?
The first thing is to check if your smartphone is compatible with the VoWifi functionality. Indeed, not all mobiles offer the possibility of taking advantage of it. Sometimes a simple update to your smartphone's operating system is enough to bring support for Wi-Fi calling, so make sure your phone is up to date, otherwise it's best to download the latest one. operating system version.
The good news is that the Wi-Fi calling service is an integrated feature in mobiles, so there is no need to install an application or have to activate any offer in your Sosh customer area. In addition, all Sosh offers are compatible with Wi-Fi calling, except for blocked plans.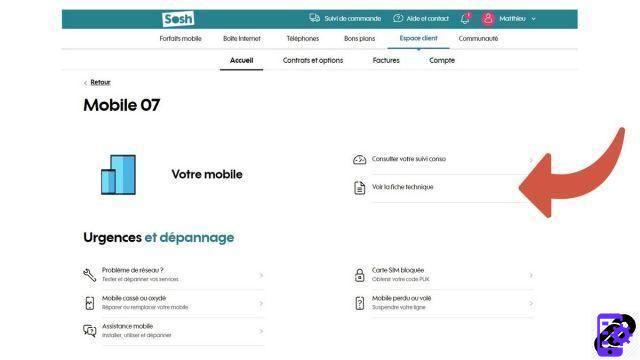 To find out if your mobile supports Wi-Fi calls, you can go to the Sosh customer area. From Home, head to Mobiles > Manage & Troubleshoot, then Mobile > View Datasheet.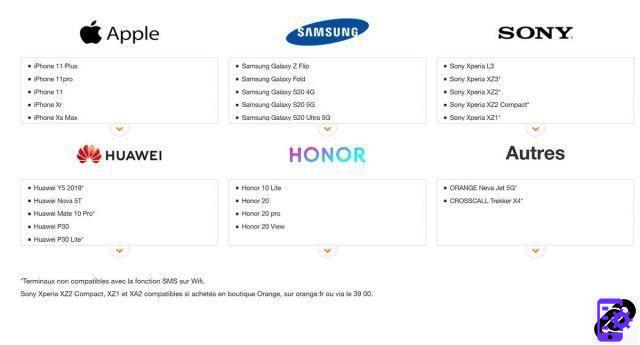 Above, this screenshot shows us some compatible mobiles, but the list is actually much longer. For example, all iPhones can benefit from it as long as you have iOS version 13 or higher. You will find the entire list of compatible smartphones at the end of this article.


Make your first Wi-Fi call
To send SMS, or start making calls via a Wi-Fi network, it is simply necessary to activate the "WiFi calls" parameter of your smartphone. The method is significantly different from one smartphone to another, but in general it is enough to go to the mobile network settings to activate the feature.
Once activated, all you have to do is be connected and authenticated on a Wi-Fi network. Note that all types of Wi-Fi networks work here, both public hotspots and all internet boxes from different providers. . As long as you remain connected to the Wi-Fi network with the option activated in your smartphone, the calls made go through the Wi-Fi network.
However, some limitations should be observed:
Wi-Fi calling is only available in mainland Spain


Depending on your mobile, you will be able to make calls, but not send and receive SMS


The multi-SIM option is incompatible with Wi-Fi calling
Wi-Fi calls at Sosh: the list of compatible mobiles
At Apple:
iPhone 6, 6s, 6s Plus and 6 Plus (6 Plus does not support Wi-Fi SMS)
iPhone SE and SE 2020
iPhone 7 and 7 Plus
iPhone 8 and 8 Plus
iPhone X, Xs, Xs Max et Xr
iPhone 11, 11 Pro and 11 Plus
At Samsung:
All Samsung Galaxy, from J4 to S10 through Galaxy Note
At Sony
Sony Xperia 1, 5, 10 and 10 Plus
Sony Xperia XA2
Sony Xperia XZ2, XZ2 Compact
Sony Xperia XZ3 et Z4
Sony Xperia L3
It should be noted that among all these Sony smartphones, only the Xperia L3 is compatible with the SMS function over Wi-Fi at Sosh.

Chez Huawei
:
Huawei Mate 20, 20x, 20 Pro, 20 Lite, 30 and 30 Pro and Mate 10 Pro
Huawei P Smart Z et P Smart 2019
Huawei P20 and P20 Pro, P30, P30 Pro and P30 Lite
Huawei Nova 5T
Huawei Y5 2019
At Honor:
Honor 10 Lite
Honor 20, 20 Pro et 20 View
Useful information from Sosh:
Sosh mobile network: what is the Orange network coverage worth in Spain?
Sosh mobile network: what 4G, 3G and 2G speeds for the telephone operator?
Expertsconnecting accompanies you during your steps at Sosh:
Sosh sponsorship: How do the advantages of the offer for mobile plans work?
How to connect to your Sosh customer area and manage your account?
How to configure your Sosh answering machine?
How to unlock a smartphone at Sosh?
How to migrate from Orange to Sosh?
Comment configurer l'APN Sosh sur son smartphone ?
How to activate call forwarding at Sosh?
How to retrieve your RIO code from Sosh?
How do I contact Sosh customer service?
How to activate your Sosh SIM card?
How to cancel your Sosh mobile plan?