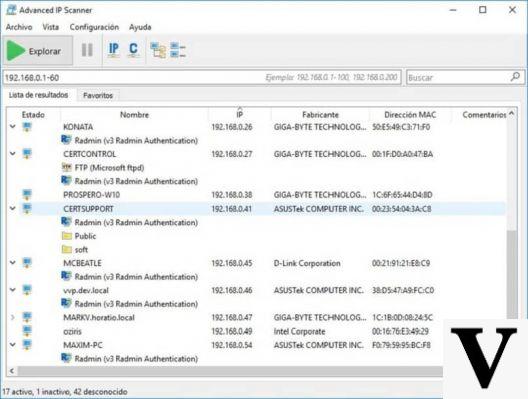 ---
IP address on Windows
Let's start with Windows 10 which extremely quickly offers a complete picture of all the parameters relating to a specific connection. In fact, it is sufficient to select the network symbol located at the bottom right of the graphical interface and then access the Network Settings link and Advanced Options, a panel that shows in addition to the simple IP address also other parameters relating to the connection.
In Windows 7, 8 and 8.1 this information is available by accessing the menu dedicated to Network Connections from the control panel. Then selecting with the right button the network card we are interested in we can act on "change network settings" and then on the "Status" button which in a convenient panel offers a complete picture of the configuration parameters of the card.
For those who want to stick to the Command Prompt instead it is sufficient to type ipconfig and you will get the information relating to the IPs and not only of all the network cards on the system.
IP address on Mac OS X
With Mac OS X accessing the configuration parameters of the single network is even easier. In fact, simply hold down the "option" key and select the Wi-Fi icon with the mouse to view the IP, router address, name of the network to which you are connected and other parameters.
A different display of the same parameters is available through the System Preferences, Advanced, TCP / IP panel. The MAC address can be accessed from Preferences and selecting the General panel.
IP address on iPhone and iPad
To view the IP address of an iPhone or iPad you need to access the Settings panel, then select the Wi-Fi item and tap the letter "i" that appears next to the name of the wireless network to which you are connected. The information shown is for the IP address, subnet mask and router address.
The MAC address, on the other hand, can be found through the General / About panel in the Settings tool
IP address on Android
Even on the operating system Android it is quite easy to access the IP and MAC addresses: just select the Settings app, then the Wi-Fi item and the Advanced menu to get a complete list of the configuration parameters of your network adapter.
However, there may be differences from device to device as the various manufacturers customize the versions of the software loaded; in addition, other differences may be found when the version of Android installed on the device varies.
IP address on Linux
In the case of operating systems Linux there are small differences between one distribution and another even if in principle it is sufficient to select the icon relating to the connection and hence the entry Connection Information. The MAC address is often referred to as the Hardware address, followed by an IP address, DNS information, etc.

As mentioned in the case of Windows, the option of also can be chosen with Linux use the shell by typing the command ifconfig through which all the information relating to the various network cards will be available.





Netgear D1500 Modem with Integrated Router





TP-Link Archer D2 Modem Router Wireless





How to find the IP and MAC address of each device on the network