If you've ever wondered that character type o font is used in text, in a logo or in an image, there are various ways to find out through online services and smartphone applications. In this article we see how to thescover the font present in an image and other tips, which can be quickly reached from this menu:
How to identify a font through online services
App to recognize fonts (iOS and Android)
Sites to download free fonts
How to install Font
How to identify a font through online services
WhatTheFont, is the service that allows by uploatheng an image (therefore also a screenshot or a clipping of writing) to recognize a font with extreme precision or in any case to find someone very similar.
Start by connecting to the site you find here:
Link | WhatTheFont
For the most accurate recognition possible, the site suggests having an image with the text horizontally, of at least 100 vertical pixels and making sure that the letters do not touch each other. The more characters the text has, the easier it will be to identify the font accurately.
Let's start with:
Load the image we want to identify the font by clicking on "Choose file"
Click on "Continue"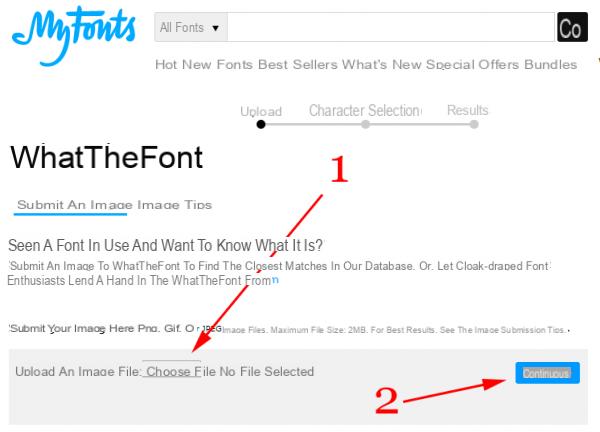 The image that can be uploaded can be of the following formats: PNG, GIF, or JPEG and with a maximum size of 2 MB.
For example, we thed a test with the logo of Facebook.

At this point, we verify that the characters have been identified correctly. If not, we change the correspontheng letters or leave blank spaces if the identification is wrong (there is no character in the image).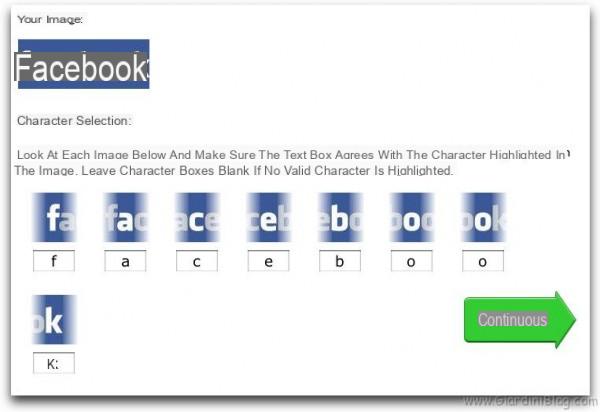 We always go on with "Continue". A list of possible fonts will be presented. We choose the one that seems "closest" to the original one. It is not always possible to trace precisely the same font used, especially when there are few characters in our image.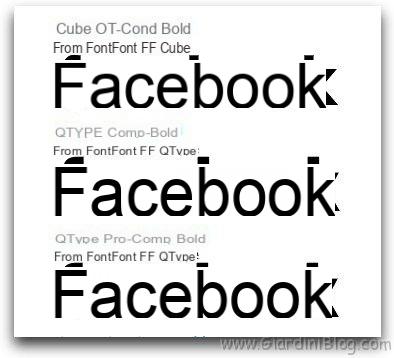 At this point we will be shown the name of the font used or the one that most resembles us, to download it you will find more info in the next paragraphs below.
How to recognize a font: Alternative sites
If with WhatTheFont you are unable to recognize the font used in an image, here are some alternative sites:
Whatfontis works in the same way as previously illustrated, while Identifont gives you the possibility to find the writing font based on appearance, name, similarity, on the basis of specific figures or on the basis of the designer.
App to recognize fonts (iOS and Android)
For those who want recognize fonts via app, we recommend using the app WhatTheFont which can identify fonts from an image in your gallery or from a photo to be taken with your camera. The application is available at the following links:
Android App Link | WhatTheFont
iOS App Link | WhatTheFont
Once the application has been downloaded and installed, operation is very simple. The interface has only three buttons: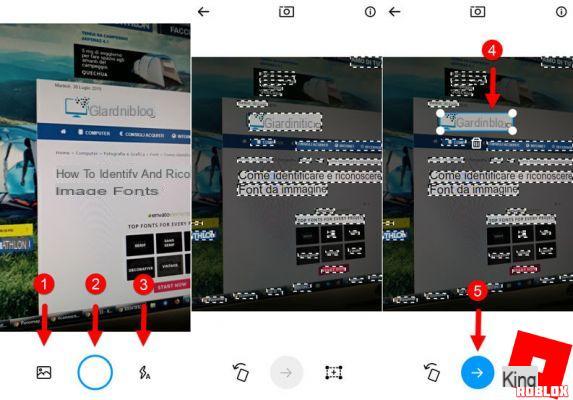 At the end of the procedure, a series of fonts will be listed, among which you may find the one used in the scanned image or fonts very similar to it. It is also possible through the pencil icon, write a new text and have a preview of how it looks and take a screenshot manually in case this is useful for you.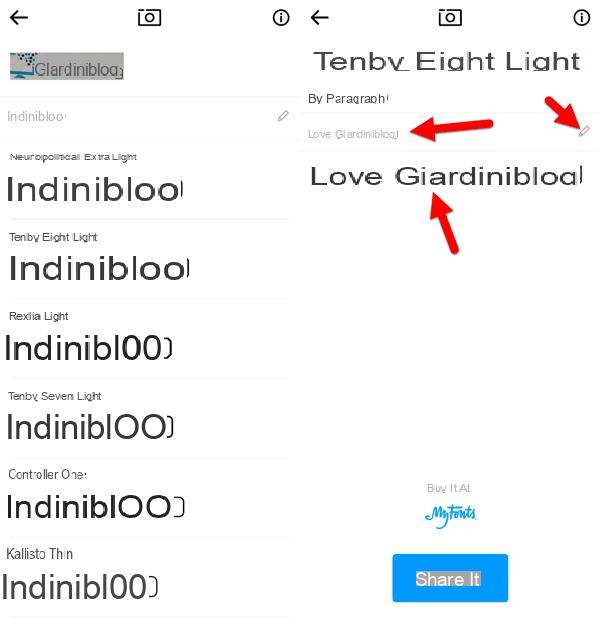 A valid alternative, if this app does not satisfy you Find My Font instead, downloadable from the following links:
Link App Android | Find my Font
iOS App Link | Find my Font
Sites to download free fonts
Many fonts, due to their particular nature, are often paid, but there are many sites from which they can be downloaded for free.
To help you we have collected all these sites in our article: Sites to download free fonts
How to install Font
Once you have found the font, you just have to install it on your computer, to have it available on all your programs, from Wordpad to Office to Photoshop.
To install fonts you can follow this very quick guide: How to install fonts
How to identify and recognize a Font from an image