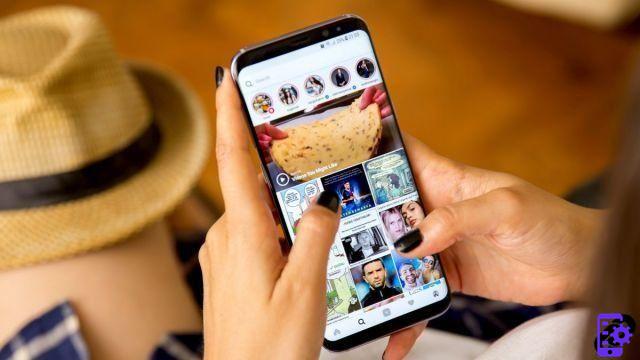 Instagram is the social network for fans of photographs, videos and images of all kinds. The principle is indeed to communicate via, not text or articles, but images, rather worked elsewhere, that the user can create and edit directly from the application and then publish in different ways. In addition to managing his publications, the interest for the user is to follow the account of the Instagrammers he likes and to see the latest photos posted by his friends.

Instagram therefore differs from Twitter, which is a news-oriented medium and works by broadcasting small sentences, and from Facebook, which is more general. To be able to use the social network correctly and enjoy it, you must already know how to take control of Instagram, then learn how to create publications and manage their content.


Manage your posts on Instagram
There are several ways to create and post content on Instagram, but they basically follow the same rules. First of all, a publication is only made from a mobile device: it is not a planned action on a computer. It can go very quickly, since it is possible to take a photo and post it just a few seconds later. You can also choose an image from your smartphone's gallery to share. A distinction must be made between permanent and temporary publications - called "stories" - which only remain visible for 24 hours.
During a classic post, the image appears in your subscribers' news feed and then remains on your Instagram profile, a profile that other users can consult whenever they wish (or only your subscribers, if your account is private) . Of course, you remain in control of all your publications and can delete them from your account at any time. To find out how, you can consult our tutorial "How to delete a post on Instagram? ". The advantage being that you can find all these files very easily. You just need to know how to download all the photos and videos from your Instagram account.
Pictures and photos
Images and photos are the main content that is published on Instagram. They can be cropped, but also enhanced with filters and light effects. An image can also be accompanied by a small text, a caption or hashtags and can even be geotagged. Instagram does its best to post photos in the best possible quality, and thus displays images at maximum 4x5 size. On Insta, you can also post what are called "animated photos", these short videos that run in a loop and which often have the most beautiful effect.
It is also possible, like a photo album, to create publications comprising several images. In order not to spam your subscribers, you can therefore use these ingenious multi-image posts. To find out more, do not hesitate to read our short guide: "How to post several photos in one publication on Instagram? ".
Videos
The second most popular type of content on Instagram is video. The length of each post should be between 3 and 60 seconds. Videos can also be embellished and benefit from lighting effects. You can also tag a person in your post, complete it with a caption or even provide information about the place (by geolocation or not). Again, it is possible to create a video publication with several clips, all of which must not exceed the famous 60 seconds. To create longer videos, look to the IGTV app, which is an appendage of Instagram that allows content ranging from 1 to 60 minutes.
The stories
Stories are ephemeral content that stays online for 24 hours from the time they are posted. They are displayed at the top of the newsfeed, in the bubble of the profile concerned. They can be single or multiple content, and can mix images, photos and videos. Stories are really there to amuse Instagram users, so that they have fun and let their creativity speak.
Indeed, the application provides a whole host of tools as diverse as they are varied which allow you to obtain aesthetic, funny or original visual effects. You will be able to draw on your photo, add stickers, emojis, challenge your friends via a challenge or a survey... The possibilities are really immense! By consulting our tutorials dedicated to this type of publication, you will be able to discover how to add music to an Instagram story, how to add stickers to an Instagram story but also, quite simply, how to publish a story on Instagram!
The video lives
Instagram also allows you to film yourself live to create a special event by bringing together subscribers at a given time. Your followers will indeed be notified that you are live. During this live, you will have access to many features. You can, for example, receive questions from your viewers, leave a comment yourself or add as many effects as you want. As on Periscope, you can invite a friend to do this live with several people. Once your video is finished, you can choose to keep it on your story: it will therefore be available for 24 hours. You can also share it on IGTV (as long as it's longer than a minute) and also download it to your mobile. To find out more, you can consult our article "How to create a live video on Instagram? before you start.
Manage content on Instagram
If it is essential to manage your own publications, it is also important to know how to behave and interact with the content of others. When you like a photo you can like it (via a "heart" icon) and comment on it. If a photo or video caught your eye, you can save it so you can easily find it later. On the other hand, if an account posts content that you don't like, you can choose not to see its publications in your newsfeed (while remaining a subscriber).
Backup Instagram contents
Have you seen a beautiful shirt on Instagram, but are afraid of not remembering the brand? Did you just see a funny post that will make your spouse laugh? Good news, Instagram lets you save an image so you don't have to search for it again. It will then appear on your personal page in a section specially dedicated to recordings. The social network also allows you to download photos or videos uploaded via the application. This is very practical for keeping a publication that you like for a long time. Indeed, the recorded images remain dependent on the account that published them and can therefore disappear at any time if the latter withdraws them from its publications. To avoid seeing images you love slipping through your fingers, find out how to upload a photo to Instagram and how to upload a video to Instagram.
Mastering your publications will allow you to create and distribute everything you want and how you want. You will be able to have fun with the multiple features that Instagram offers. By knowing how to manage the different content, you will discover beautiful publications on which you can discuss and which you can even keep.
To read also:
How to secure and manage your privacy on Instagram?
How to manage your Instagram account?