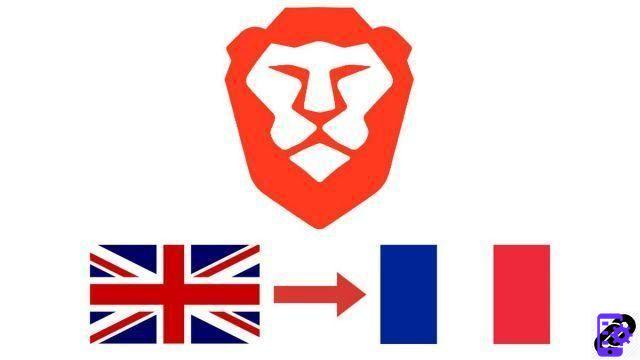 Installed by default in English regardless of the language settings of the PC or the country of download, Brave can scare Internet users who are not comfortable with the language of Shakespeare.

However, the browser preloads many dictionaries. We tell you how to properly configure Brave to switch it permanently to French.


Skip Brave in French
Unfortunately, you will have to navigate through Brave's settings in English before you can switch the browser to French. We help you find your way if you have trouble handling foreign languages.
Click on the icon representing three superimposed bars, at the top right of the browser. This is the customization and control center, here called Customize and control Brave. Then click on "Settings".






In the new window that appears, pull down the "Additional settings" menu from the left panel, then click on "Languages".


Pull down the "Language" menu in the main window. Here you find all the languages ​​installed for Brave. For now, only UK and US English dictionaries are available. Under this list, click on "Add languages".


A dialog box opens. Scroll to find the "French" entry, or enter your query in the dedicated search field.


Check the box corresponding to the language you wish to install. Be careful to select the French dictionary corresponding to the country in which you live: Spain, Canada, Switzerland. Certain terms may indeed vary from region to region. Click "Add".


French now appears in the list of installed dictionaries. It must now be activated as the default language. Click the three dots next to French, then check the box to "Display Brave in this language."


Finally click "Relaunch" to restart the browser and apply the language change.
Brave is now permanently configured in French. As long as you do not completely uninstall your browser, French remains the language activated by default on Brave, even if you perform the various browser updates.
Find our tutorials to help you properly configure Brave:
How to install a theme on Brave?
How do I update Brave?
How to synchronize your Brave configuration?
How to set Brave as default browser?
How to remove Yahoo from Brave?
How do I remove Bing from Brave?
How to change the home page on Brave?
How to change the search engine on Brave?
How do I reset Brave?
How do I set up rewards on Brave?
How to withdraw rewards on Brave?
How to import and export favorites on Brave?