Neil Druckmann, the Director of The Last of Us Part 2, revealed that the original ending of the title would have made the story even darker and darker. Let's find out why the Director and Head of Fiction decided to change their minds midway through production.
READ ALSO: Our review of The Last of Us Part 2
The original ending of The Last of Us Part 2?
Neil Druckmann and head of fiction, Halley Gross, spoke with Game Informer about the end of the game. The two discussed how, up to about half of the production, the producers were sure that Ellie would have actually killed Abby at the end of the game.
Gross revealed that Ellie would kill Abby, causing a particular and intense twist. Halfway through the production, however, they decided to change course and showed small shades of Ellie: the old Ellie, the one influenced by Joel, a young girl with a shred of humanity etc.
The sudden change of mind occurred when the narrative team was working on the fate of Lev e Yara, who also lived / died in earlier drafts of the story. Once he decided that Lev would survive, Druckmann felt the right decision was to make sure Ellie didn't really kill Abby and complete his story of revenge.
Gross was surprised that this was even an option, but it allowed Ellie to retain some of her humanity and avoid getting lost completely. Druckmann argued that letting Abby live wasn't entirely fair at first. But later they preferred to be honest towards the character they were writing and creating.
Discount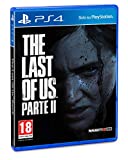 The Last of Us 2 - Playstation 4
One of the most famous and loved franchises in the PlayStation world with excellent sales results in Italy
Revolutionized gameplay system that makes every challenge, every fight more realistic, engaging and satisfying
Standard edition of the game
74,99 EUR −51% 36,90 EUR Acquista su Amazon Tagsfinale Naughty Dog Neil Druckmann The Last of Us Parte 2 The Last of Us Part 2, the original ending was much "darker"