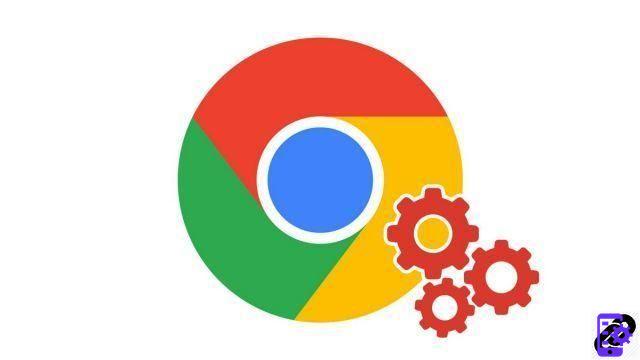 With uncompromising control over other web browsers, Google Chrome offers many possibilities in terms of navigation, customization and performance. Before going into details on the features and how to optimize the Google browser, let's look at the settings and the good reflexes to have to exploit Chrome to its fullest.

This guide aims to present the different ways to configure Chrome and to discover the different features and options to customize your browser and benefit from a stable, bug-free installation optimized by or for the user.


Download and Install Chrome
Google's flagship browser is available for download from the official Google page and Expertsconnecting available for Windows, macOS and Linux. Even if we strive to offer healthy and updated software, it is generally good advice to always download your software, in this case Chrome, from the official website in order to be guaranteed to download a healthy and updated version. software update.
Once downloaded, the installer file then downloads the rest of the files to complete the installation. After installation, user should set Google Chrome as default browser instead of Microsoft Edge/Safari.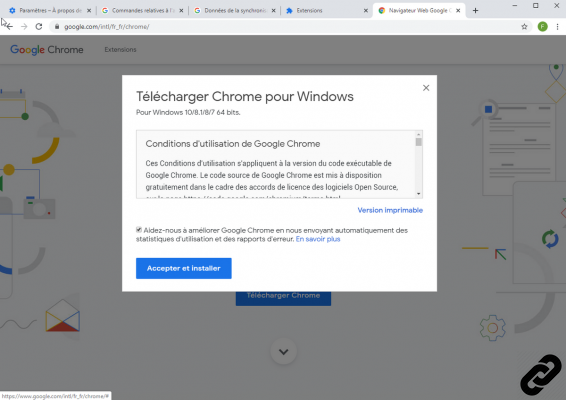 Google Chrome download page

Keep your browser up to date, always!
As with all applications and other software, updates are very important to ensure the stability and above all the security of solutions, Google Chrome is no exception. Regular updates allow the browser to close security holes, reduce the number of bugs and slowdowns, but also to be compatible with new web technologies. In short, the user has every interest in updating Chrome to benefit from the new functionalities.
Securing your internet browsing
A clean and up-to-date installation is not enough to surf the web without risk. The Chrome browser incorporates a wide range of features dedicated to protecting privacy and confidentiality. This is because web browsing can be affected by online bad guys, ad trackers, and personal data leaks.
To guard against this, the browser provides a synchronization of Chrome with its Google account, the browser offers the management of passwords, history, favorites and extensions between all devices. The user is invited to be aware of information such as cache and cookies which collect a lot of personal browsing data.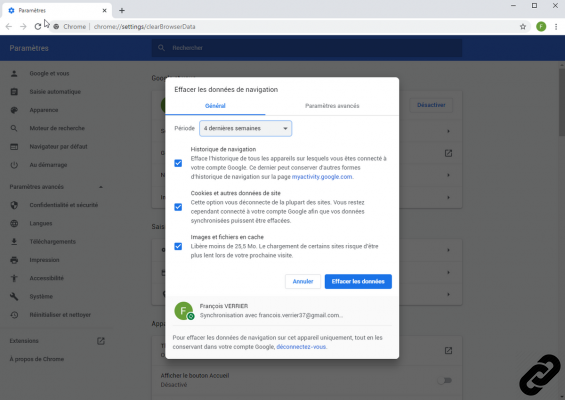 Delete browsing data on Chrome
Extensions dedicated to security are also essential to guard against tracking tools with, for example, Ghostery and Adblock to fight against advertisements or even a VPN extension allowing user anonymity.
Customize Google Chrome
Since its inception, Chrome has been a modular web browser that offers plenty of customization options like homepage, default search engine, themes as well as extensions to customize the web experience as needed.
The home page
Configured by default, Chrome opens, as well as new tabs, on the page named "New tab". Here the user can change the background, the available shortcuts as well as the general theme of Chrome. It is also possible to change the home page of Chrome by the website of his choice, a group of tabs, a blank page or the last pages opened by the user.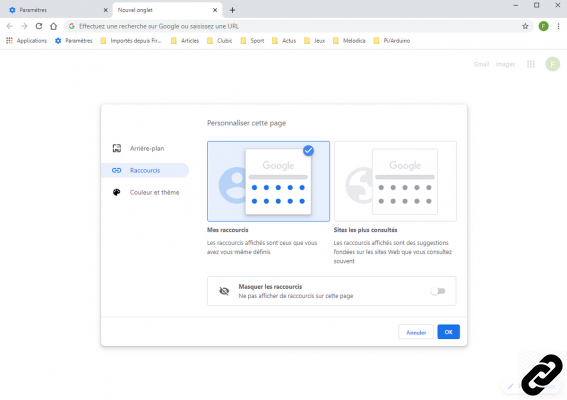 Customizing Chrome's New Tab Page
Chrome and search engines
A search engine is unique to each user according to their habits, needs and convictions. If Bing, Ecosia, Qwant and DuckDuckGo are trying to find a place for themselves, Google represents an overwhelming majority of uses in Spain and around the world.
By default, Chrome offers Google as the default search engine and has a list of Yahoo! Spain, Qwant, Bing and DuckDuckGo. The user also has the option to change the search engine on Google Chrome to one of their choice.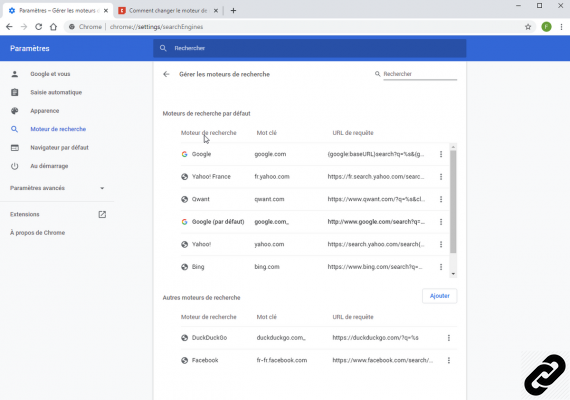 Chrome Search Engine Management
When the user installs software, the latter can offer a check option that allows you to change the default search engine and replace it with other search engines such as Yahoo and Bing. These search engines are not appreciated by Internet users, so we have written two simple tutorials to remove Yahoo from Chrome and remove Bing from Chrome.
Google Chrome themes
If the sleek and intuitive design of Chrome and its dull colors can tire some people, the browser offers many customization options like themes. The Google Web Store has hundreds of Chrome themes to install to change the color of the New Tab page window and background. To help you, we have prepared a small tutorial that will guide you step-by-step for How to install a theme on Google Chrome.
The catalog offers themes dedicated to space, minimalist themes or even with patterns, the choice of the catalog is plethoric. Besides the aesthetic aspect, some themes are adapted to the comfort of the eyes with dark themes.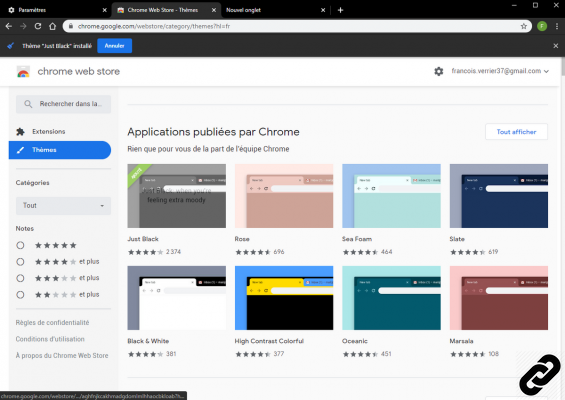 Chrome Theme Catalog
Sync your Google Account to Chrome
Connecting your Google account to Google Chrome on the different instances allows you to find your settings and browsing data on Windows, macOS, Linux computers and Android and iOS mobile devices. It thus becomes possible to synchronize its Chrome extensions or to synchronize its Chrome settings.
There are also scenarios, such as when using a public PC, or changing devices, in which disabling or enabling Google Chrome synchronization may be relevant in order to import/export data from navigation.
The synchronization menu
Issues and bug fixes
Even if Chrome's performance is there according to the benchmarks carried out in our 2020 browser comparison, the Chrome browser can encounter many problems between crashes, slowdowns, untimely closings or excessive RAM consumption.
These inconveniences can be caused by the presence of too many extensions, a virus, too many cache data or greedy web applications for a modest hardware configuration. New web technologies and especially very high resolution videos can put the stability of the browser at fault on some PCs.
To avoid all these problems, it is important to know how to properly optimize Google Chrome, especially with regard to the configuration and management of installed extensions. Deleting unnecessary or questionable modules is a good example here.
If the situation seems inexorable and the problems are encountered repeatedly, one of the best methods is to reset Chrome. This option still allows you to keep settings, favorites, passwords and history.
Parameter reset
Finally, if the version of the browser you are using is in a foreign language, it may be useful to switch Google Chrome to French in many cases: if the PC is geolocated abroad, the executable is in English or if the PC used is configured in another language.
To read also:
How to manage Google Chrome extensions?
How to Protect Your Privacy on Google Chrome?
How to optimize your navigation on Google Chrome?