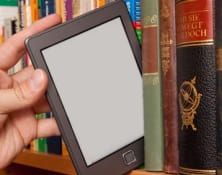 Now available for download from many online bookstores, digital books are making progress in the digital uses of Internet users. Among the reading materials, did you know that touchscreen tablets can act as electronic e-readers. They are adapted to the different formats of digital books. How to use it?
Tablet or e-reader?
Download applications
Understand the three main formats
Enrich your virtual library
Tablet or e-reader?
The electronic e-reader is appreciated for its reading comfort. A screen without backlight that allows reading even in the sun, energy efficient, a slim design and light weight ... Most e-readers have a Wi-Fi connection to download new titles on the Internet.
The tablet is more intended for multimedia use but it can act as an e-reader for occasional reading. An attractive all-in-one if the budget does not allow for multiple purchases. Generally heavier, it has a larger screen, a plus for reading. On the other hand, the backlit screen is less comfortable.
Download applications
On e-readers, reader applications are installed by default.
To read a digital book on a tablet, it may be necessary to download an application that will support the main formats (ePub, pdf, AZW ...)
iBooks: application that allows you to read ePub formats. It also gives access to the iBookstore, Apple's digital bookstore.
Bluefire: Available for iOS and Android, this app reads ePub formats and also provides access to Feedbooks, a free bookstore in the public domain.
Kobo: application linked to Fnac which offers an electronic e-reader of the same name. You must create an account at Fnac or on the Kobo portal to have access to downloading titles. Available on iOS and Android. Supported format: ePub.
Kindle: like Fnac, which offers an application in addition to the e-reader, Amazon has its application for iOS and Android. It gives access to the Amazon catalog, provided you create an account. The supported format is AZW closed format.
Understand the three main formats
EPub is a standard file format for digital books. The text automatically adapts to the screen size. The file size can reach several megabytes.
PDF is also a format used for digital books. Pay attention to the file size, which can sometimes be up to 100 MB. Text does not automatically adjust to the screen when reading on a tablet or e-reader.
AZW is the format offered by Amazon. It is intended for reading only on Kindle, that is, e-readers from Amazon. This is a closed format.
Enrich your virtual library
Digital books can be chosen from online bookstores. Some publishers also offer this service online on their own website.
Some digital books are offered free of charge. This is the case for works that have fallen into the public domain, such as those by Conan Doyle, Jules Verne, Jack London or Rousseau ... They can also be books by authors who have opted for a free download. to showcase their novels.
The price of a digital book is barely less than the price of a paper book. It takes on average 15 to 20% less.
Once purchased, digital books can be downloaded either over Wi-Fi on the e-reader or tablet, or transferred to a PC. They can then be saved by connecting the tablet to the computer with a USB cable.
Photo: © Markus Bormann - Fotolia.com