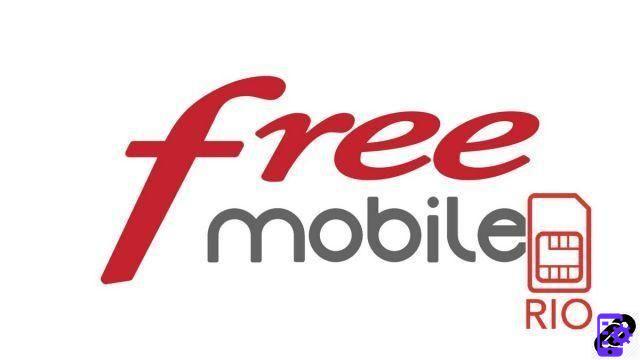 Do you want to cancel your Free Mobile subscription, but you don't want to change your mobile phone number? We explain here how to recover your RIO number, an essential code for the portability of your mobile phone number.

The RIO stands for Record of Operator Identity. It is a 12-digit unique identifier assigned to a mobile phone number. When you subscribe to a new mobile plan with an operator, you are asked if you want to provide your RIO in order to keep the mobile phone number you had on your old plan.

With the transmission of this code, the portability of the mobile number is automatic, you can choose the date on which the transfer must take place. Your mobile plan from your old telephone operator will be automatically terminated on the said date.


Retrieve your RIO Free Mobile code
The operator Free offers several solutions to recover your RIO. This allows everyone to use the method that seems most practical to them. These different methods all have the same result, there is no additional cost if you choose one or the other of these solutions.
Retrieve your RIO code by calling 3179
A quick and efficient method of obtaining your RIO code with a Free mobile plan is to call the customer service number
3179
with the Free Mobile SIM card whose number portability you wish to obtain. Once this call is made, you will instantly receive an SMS including your RIO code.
Very easy to apply, this method is quick and easy if you still have the SIM card associated with your Free Mobile account.
Recover your RIO code on your subscriber area
On your subscriber area, you can also retrieve your RIO code. To do this, go to the "
My orders
">"
SIM commands
and display the details of the mobile number whose RIO code you want to retrieve by clicking on the "
+
».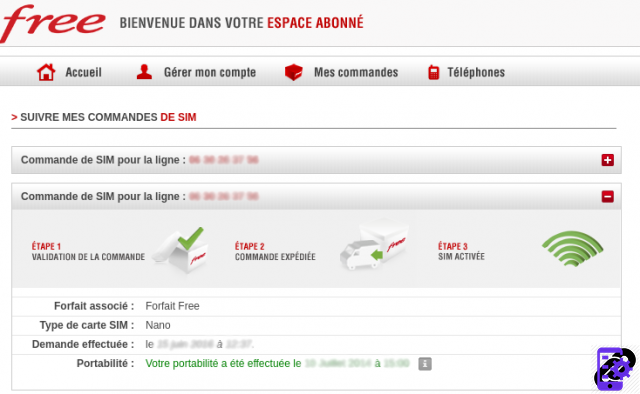 Details related to a Free mobile telephone line
Once your mobile phone line details are displayed, all you have to do is drag your mouse to the small " Information " on the line " Portability ". A small window will open, in which you will find the associated mobile phone number and your RIO code.

With this method, you don't need to have your phone handy to find your RIO code. Wherever you are, all you have to do is connect to your customer area to retrieve it.



Retrieve your RIO code from the subscriber area

What to do with the RIO code?
By providing your RIO code, linked to your telephone line, your new operator will take all the steps to keep your mobile phone number and cancel your old subscription. This greatly facilitates your change of operator without sending your new phone number to all your contacts.
In general, a mobile phone line portability takes between three and 10 days to complete.
Small important detail, with Free and its package at €19,99/month (or €15,99/month for Freebox subscribers), you can rent a mobile phone. We advise you to close this rental before terminating your subscription at the risk of continuing to pay your mobile phone rental, with a monthly increase of €5.
Useful information about Free Mobile:
Free Mobile network: what 4G, 3G and 2G speeds for the telephone operator?
Free Mobile network: what is Free phone coverage worth in Spain?
Expertsconnecting accompanies you during your steps at Free Mobile:
How to activate Free Mobile call forwarding?
How to configure the APN Free Mobile on my smartphone?
How to configure your Free Mobile answering machine?
How to contact Free Mobile customer service?
How to connect to your Free Mobile customer area and manage your account?
How to recover your RIO Free code?
How to activate your Free SIM card?
How to cancel your Free mobile plan?