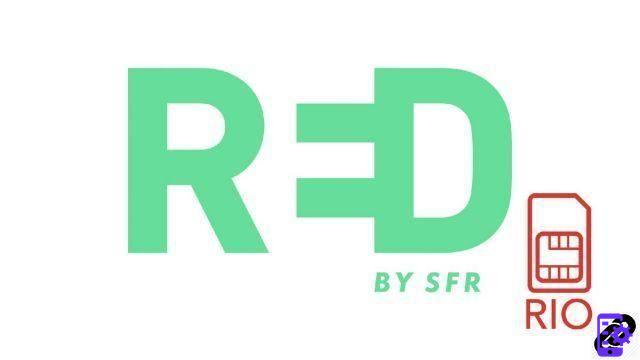 Your RIO RED by SFR code is requested by your new operator when you wish to take out a subscription while keeping your old telephone number. This code is essential for portability. We tell you how to get it.


What is the RIO code?
An RIO code (operator identity statement) is a sequence of 12 digits and letters which is assigned to each telephone number (mobile and landline). It is thanks to it that operators can open a new line in your name while keeping the number you used before, even if you change provider. It is therefore important to know it in order to be able to communicate it to your new operator. Remember that requesting the portability of your number allows you to avoid canceling your mobile plan yourself, it is then your new provider who takes care of it.
Get son code RIO chez RED by SFR
Before leaving RED to see if the grass is greener elsewhere, it is therefore important that you find out your RIO code from the operator. There are several solutions for recovering its RIO code. It's up to you to choose the one that suits you best according to your situation.
Get your RIO code by phone
This way is probably the easiest way to find out your RIO code. Also, it is universal. So it works not only for RED customers, but also with those of any other operator. All you have to do is call 3179 from a smartphone fitted with a SIM card associated with the telephone number for which you wish to port.
You will then come across an automatic message service which will dictate your RIO code. You can write it down, but the easiest way is to hang up immediately since an SMS will be sent to you giving you your full RIO code.
Get son code RIO par RED
If the above method is preferred, it can sometimes be impractical (if you can no longer call from your number for example). In this case, you will have to request your RIO number directly from your operator. Unfortunately, unlike some competitors, RED does not make it directly available to its users from their customer area.
You must therefore make sure to contact customer service and an advisor will give you the code. You have several choices for doing this. RED mobile customers cannot call customer service, but can write a query via chat. This is probably the quickest solution. Another possibility: go through the RED forum or send a private message to the brand's profile on social networks: Facebook, Twitter and Instagram.
What to do with his RIO code?
Now that you have your RIO code, you can subscribe to any mobile plan with another operator (except SFR, RED's parent company) and request the portability of your telephone number by entering your RIO. The advantage of such manipulation, apart from the fact that you keep the same number of course, is that you only have to take care of choosing your new subscription formula, since it is your new operator who will take care of termination of your contract with RED. Don't worry, there is never a hitch with this method. Your new provider is obliged to ensure that your line is no longer managed by RED, otherwise it is impossible for them to open a new one for you with the same telephone number. Of course, the operator in question must be French because this system is incompatible with foreign telecommunications services.
Useful information at RED by SFR:
RED network by SFR mobile: what 4G, 3G and 2G speeds for the telephone operator?
RED network by SFR mobile: what is the RED network coverage worth in Spain?
Expertsconnecting accompanies you during your steps at RED by SFR:
How to cancel your RED by SFR mobile plan?
How to activate your RED by SFR SIM card?
RED sponsorship by SFR: how do the advantages of the offer for mobile plans work?
How to connect to your RED by SFR customer area and manage your account?
How to contact RED by SFR customer service?
How to configure your RED by SFR answering machine?
How to configure the APN RED by SFR on your smartphone?
How to unlock a smartphone at RED by SFR?
How to activate Wi-Fi calls at RED by SFR?
How to activate call forwarding at RED by SFR?
How to migrate from SFR to RED by SFR?