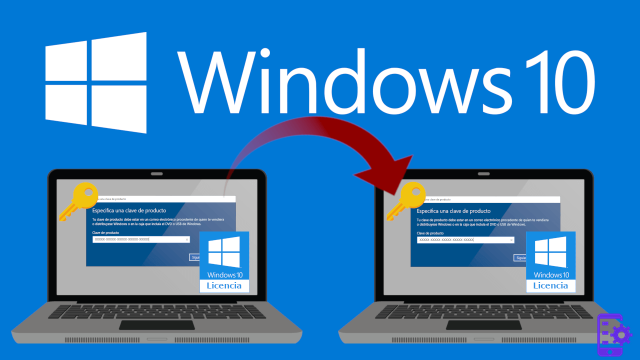 ---
First of all you need to check what type of license is present on your current computer and whether it is possible to transfer it or not.
How to check if you can move your Windows 10 license
There are only two types of licenses that most users own: licenses Retail are those purchased individually, while licenses Original Equipment Manufacturer (OEM) are those pre-installed on the products purchased ready to use.
If you have a Retail license available, obtained by purchasing it directly for Windows 10 or having upgraded your version of Windows 7 or 8.1, you have the right to being able to move your active Windows installation as you please, as long as you disable it on old PCs that you are no longer using. There is no limit to the number of times a single Retail license can be transferred, as long as there is only one active computer at a time using that operating system license.
If you are using a product purchased with pre-installed Windows 10, you are using an OEM license. This license is not transferable and use on other devices is not authorized.
How will I recover my own product key from Windows 10
There is a great chance that you have no idea what the activation key (product key) of your Windows 10 license is, that you have lost the email that contained it or you simply never entered it manually and therefore do not have it there. 'have available.
Don't worry, before you rush into installing Windows 10 on your new PC you can extract your personal product key from the old computer, this as long as it is still functional.
Thanks to the ProduKey software it is in fact possible to view the activation code of your Windows 10 license, so that you can mark it and insert it when requested on the new computer on which you will install the Redmond operating system.
Digital license (Microsoft account)
If your license has been linked to your Microsoft account, the operation of activating the operating system on the new PC will be easy, fast and painless. Once you have installed Windows 10 on the new PC or moved your hard disk on which Windows 10 is installed to the new hardware, just follow these steps:
Open the Settings
Go to the section Update and security> Activation
Click the link Troubleshooting next to the icon with the shape of a wrench
A wizard will open, click the link I have changed hardware on this device recently
Microsoft will show you a list with your other PCs you want to get the license from (no need for old computers to be turned on)
Select your old PC from the list and check the item This is the device I am using right now
Click Attiva and wait for the procedure to finish
By following the steps correctly you will have notified Microsoft that your license is now in use on the new hardware and must be disabled on the computer that has been selected as the source for the activation code. No further steps are required.
Classic license (product key)
The classic license activation by manually entering the product key is possible right from the first steps of the installation of Windows 10. The first fact that the Windows installer requires is the license!
In case you have installed Windows 10 without a license, Microsoft allows you to do so, you can activate the system using your personal code from the terminal:
Click Home
Seek Command Prompt and start it
Enter the command slmgr / ipk xxxxx-xxxxx-xxxxx-xxxxx-xxxxx , substituting your license key for the "x"
Check the activation with the command slmgr / dlv
In the popup window that will be opened verify that the entry License Status is followed by the value Licensed
Again, Windows 10 activation does not require any additional steps you'll be ready to use your new PC with your old activation key!
In case you are having trouble activating with this method don't despair, you can contact Microsoft for assistance with the procedure:
Click Home
Seek Command Prompt and start it
Enter the command slui 4
A will be activated Windows 10 activation wizard with the support of Microsoft staff. The digital operator will ask for yours Installation ID (IID) which is displayed in plain sight in the wizard window, and then returns you a new code called Confirmation ID which will be inserted in the space provided.
Once the code has been entered correctly, your Windows 10 installation will be activated and fully functional.
Do you need a Windows 10 Pro license for your brand new gaming PC? The Retail version is available on Amazon, don't miss it.
How to transfer Windows 10 license