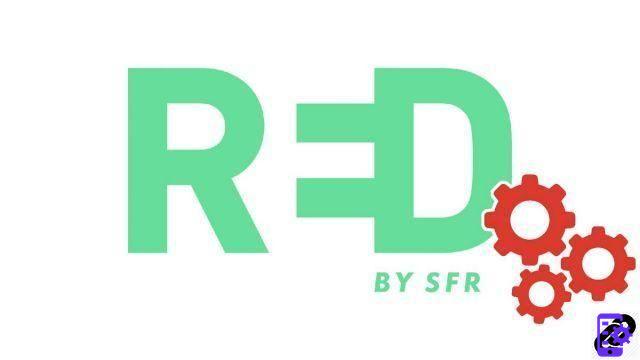 Your mobile is simlocked? Then you can only use it with the operator who sold it to you. To break this annoying limit preventing you from changing operators, you've come to the right place. If you have acquired your smartphone from RED by SFR, then you will have to retrieve an unlock code that only RED is authorized to provide you.

The simlocking of smartphones by operators is a less and less common practice. At SFR and RED (the latter being the subsidiary of the former), it has already been a good number of years (since 2015) that mobiles are no longer sold locked, except for iPhones which can still be locked. But if you purchased your Android smartphone from RED before this decision was made, your device may be locked. We explain in this tutorial how you can get the unlock code to use your smartphone with any SIM card, even from another operator.


Prerequisites for unlocking your RED mobile
If you haven't checked it yet, start by making sure your smartphone is properly simlocked. Insert a SIM card from another operator (that you got from a relative for example) in your mobile and try to connect to the network. If you can't and your device asks you to enter a network unlock code, the device is, as you suspected, locked.
Before proceeding to the next step, make sure you have the IMEI (International Mobile Equipment Identity) code of your device. This is a unique identification number associated with your phone. It is composed of 15 to 17 digits. There are several ways to get it. The easiest way is to type the combination "*#06#" on your mobile keyboard. The IMEI should then appear. If this does not work or you are unable to turn on your device, be aware that the IMEI is usually present under the battery. Simply check if it is removable: do not open your smartphone and risk damaging it just to retrieve the IMEI code. The latter is also indicated on the box of the smartphone, so if you are still in possession of it you can take a look at it. Finally, you can obtain the IMEI via the purchase invoice of the device.
Unlock your RED smartphone via the customer area
It was previously mandatory to contact your operator to obtain your unlock code. But handling has now been simplified so that the user can take care of the procedure independently. Connect to your customer area via the Red by SFR website or the RED & Me application. Then look for the "SIM cards and mobile" category and select the device you want to unlock from the list that appears (or type its IMEI number in the available input field). Follow the instructions on the screen, you should receive your unlock code by email or SMS in a few minutes. The code will appear directly on your phone. Finalize the procedure described in the message sent to you by RED and insert a SIM card from another operator into the mobile to check that everything is working correctly.
Unlock your RED smartphone with the help of an advisor
If the step described above does not work, contact RED customer service. As a mobile subscriber, you do not have the possibility of communicating with an adviser by telephone, it is one of the disadvantages of RED compared to SFR, a disadvantage compensated by more attractive tariffs at the first. Fortunately, there are plenty of other ways to get in touch with your carrier.
The simplest and most effective is to seek help via chat. You can access it by going to the "Help" section when you are connected to your customer area from the website or the application. This is the best way to get a quick response. Do not forget to explain your situation well from your first message to avoid back and forth between you and the agent, this will save you time. Alternatively, you can send a private message on the operator's social networks: the Facebook page is called Red by SFR, as is the Twitter profile. An advisor will respond to your request and guide you through the process.
Useful information at RED by SFR:
RED network by SFR mobile: what 4G, 3G and 2G speeds for the telephone operator?
RED network by SFR mobile: what is the RED network coverage worth in Spain?
Expertsconnecting accompanies you during your steps at RED by SFR:
How to cancel your RED by SFR mobile plan?
How to activate your RED by SFR SIM card?
How to retrieve your RIO code from RED by SFR?
RED sponsorship by SFR: how do the advantages of the offer for mobile plans work?
How to connect to your RED by SFR customer area and manage your account?
How to contact RED by SFR customer service?
How to configure your RED by SFR answering machine?
How to configure the APN RED by SFR on your smartphone?
How to activate Wi-Fi calls at RED by SFR?
How to activate call forwarding at RED by SFR?
How to migrate from SFR to RED by SFR?