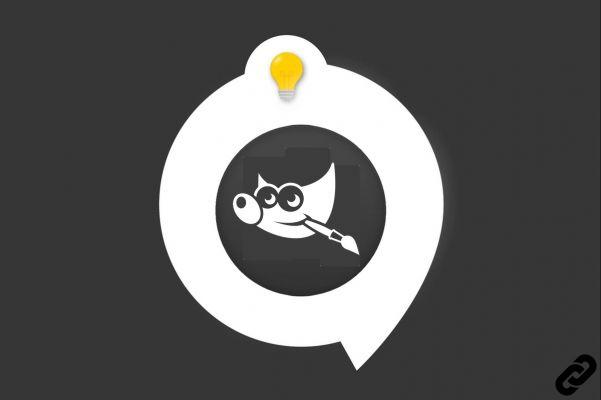 Like any good graphics editing software, GIMP can play on the colors of an image. One of the most used tools in this area is probably the pipette, as simple as it is effective. How it works? It can extract a color from the image. The latter appears in the palette editor and can be reused at will. One can also know its hexadecimal code.
Classic image editing, the pipette is in the GIMP toolbox. To learn how to activate and use it to extract a color from an image, follow the steps in this tutorial.
Enable Eyedropper Tool in GIMP
There are several ways to access the eyedropper tool:
1 method
1. In the main menu of GIMP, click on "Tools."
2. Select the "Color Picker."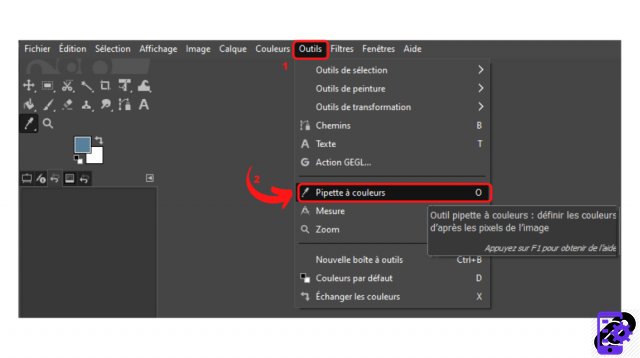 © GIMP
3. The tool will be activated in the left column of the editor.
2 method
1. In the toolbox, look for an eyedropper icon: it is usually in the third line of the menu.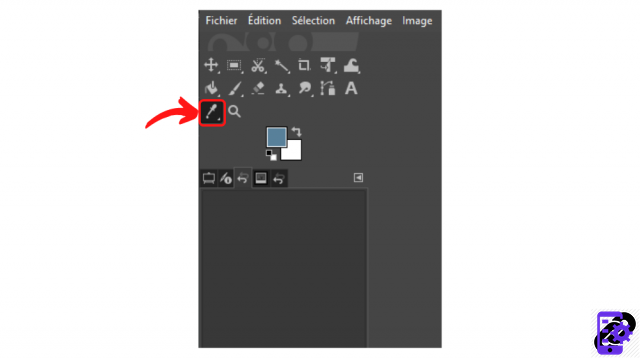 © GIMP
2. Click on the icon to activate the function.
3 method
1. Click on the letter "O".
2. The tool is activated under your very eyes!
Using the Eyedropper Tool in GIMP
Once the eyedropper tool selected, click on a point of your image to extract color. The latter appears just below the toolbox in a small square. Pressing the double arrow next to this item, you can change the foreground color to the background.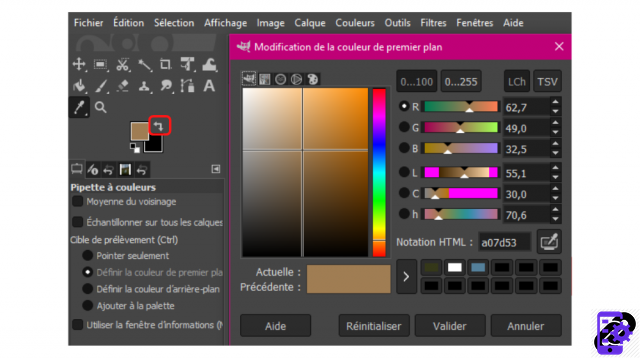 © GIMP
By clicking on the colored square, a pop-up window will appear. It contains additional information (RGB values, hexadecimal, etc.), but also a pallet. Here you have several options:
You can change the color by adjusting the marks available in the module. It is also possible to move the intersection visible in the Color panel.
You can insert the picked color into the palette by clicking on the arrow icon available on the left of this tool.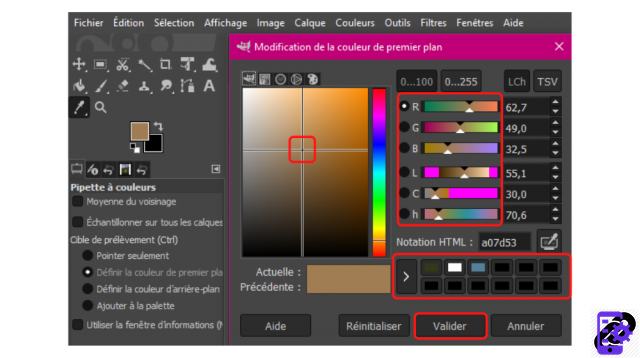 © GIMP
Do not forget to click the "Submit" button to save your changes.
By selecting the Eyedropper tool, you can also access advanced settings: sampling on all layers, modification of the sampling target (foreground and background color, addition to the user palette, etc.) .).
Find all the tutorials to act on elements in GIMP:
How to select or deselect an element in GIMP?

How do I move an element in GIMP?

How do I delete an element in GIMP?

How to use the magic wand in GIMP?

How to Use Smart Scissors in GIMP?

How to Use Paint Tools in GIMP?

How to use transformation tools in GIMP?