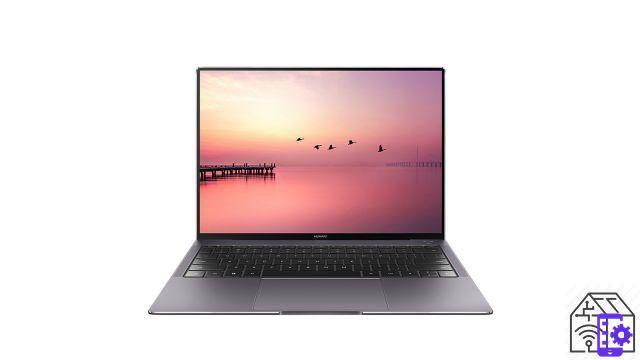 We have tried for a long time the latest portable PC to arrive at Huawei: it is Huawei MateBook X Pro, the successor to MateBook X which - already at the time of its launch - had surprised us in a very positive way. How has the Huawei ultrabook evolved? Let's try to explain it to you in our review.
Huawei MateBook X Pro: design and strengths
Huawei MateBook X Pro it is presented as a very solid product that is not afraid to compete with the competition. It's amazing how a company like Huawei that has always produced smartphones, has decided overnight to throw itself headlong into the overcrowded world of portable PCs. It did so with great fanfare, fearlessly challenging Apple with its Mac Books. We confirm the unfortunate choice of the name by Huawei, which with the name MateBook creates an easy assonance - on the one hand confusing, on the other perhaps a bit wanted - with the product of its direct competitor.
That said, Huawei was able to create a solid and robust 13-inch product capable of accommodating a 14 "touchscreen display with 3.000 x 2.000 pixel resolution, completely eroding the edges (which reach about 5 millimeters) and going against the trend on the aspect ratio: we are faced with a display with 4: 2 aspect ratio. But never mind, the display is still very bright and unfortunately quite reflective. In short, it will give you a hard time if you decide to use it outdoors. In this case, turn up the brightness to the maximum and you will see that everything will be for the best.
[
The keyboard is complete and consists of black keys with a very short stroke and which will facilitate you in writing. The backlight is a bit "drowned" by the color of the key. Performs well in very dark environments but outdoors so-so.
We haven't told you about the presence of the webcam because the latter disappears from the top of the screen to be magically hidden in a key on the keyboard. Once the button is pressed, the webcam will appear as if by magic. The idea is a good pity that when it comes time to frame yourself for a Skype call, your double chord will dominate. Everyone knows that shots are never made from below. Double chin aside, this solution will definitely protect your privacy.
I really like the fingerprint sensor integrated inside the on and off button, the track pad is also good, very large and responsive. With this MateBook X Pro, Huawei has been very good at exploiting the available space in an intelligent and functional way.
As in all ultrabooks, the inputs are few: a USB (which was not present in the previous model), 2 USB Type.C and a 3.5 mm audio jack. Totally absent any slot for reading SD or Micro SD cards. For this you will have to rely on a hub like one of those you find below, absolutely essential for all those who work intensely with their laptop.
Not bad also the audio reproduced by the speakers - with Dolby Atmos support - positioned next to the two sides of the keyboard.
[
How does it go in everyday use?
We squeezed this Huawei MateBook X Pro every day through article writing and video editing with Adobe Premiere. Let's start by saying that Huawei has announced three total configurations of this device even if on the market for now there are only two: with processor Intel Core i5, 8 GB of RAM and 256 GB of internal memory e Intel Core i7, 8 GB of RAM and 512 of internal memory.
The version we tested is the "medium" version with Core i7 processor and 8 GB of RAM that you can find today on Amazon at the same price as the "entry level" version or 1499 euros.
This Huawei MateBook X Pro behaves very well in all situations: the performance practically never drops and above all it does not suffer even with the use of video editing software. It is not a splinter in video rendering but I usually use it when I am at some event and I just have to edit some short videos dedicated to product previews on the fly. For the rest I have used it by writing many articles, browsing and occasionally watching streaming videos.
The battery allows you to comfortably reach the end of the day, quantifying it in 8 working hours. Even during trade fairs, where the stress of such a PC is taken to the extreme, it has never shown signs of abating.
In short, this Huawei MateBook X Pro it turns out to be an ultrabook for everyone, constructively excellent, light enough with a compact battery charger and that will not disappoint most. However, if you need to have top performance (such as halving video rendering times) you can easily throw yourself into other brands that offer laptops even at lower prices.
Generally speaking this Huawei MateBook X Pro met our high expectations. Highly recommended. Keep an eye on it because in this period it could be further discounted on Amazon.