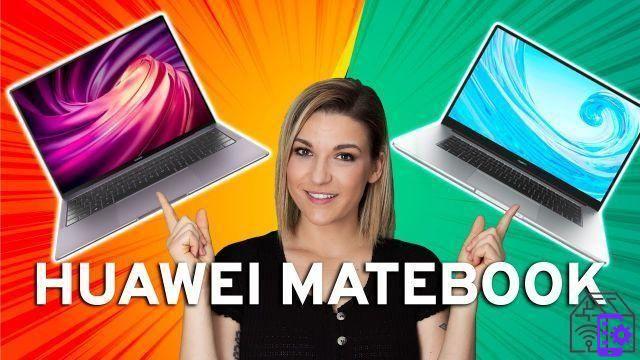 Huawei MateBook D15 e Huawei MateBook X Pro they are two similar but very different notebooks. Aesthetically, they have several elements in common but everything changes under the body. And this obviously affects the final price of the two laptops: MateBook X Pro starts at € 1.699 and MateBook D15 costs € 649. The question now is only one: which one do I buy?
To find out, we compared them using two Fjona.
Huawei MateBook X Pro: the review in brief
Huawei MateBook X Pro is the super top of the range from Huawei. It is compact, weighs approximately 1,3 kg and is equipped with a solid but lightweight aluminum alloy body. All elements that make it a faithful travel companion without weighing too much bags and backpacks. To facilitate portability is also the power supply that you find in the package. Do you know the classic chargers? Those composed of two elements, one of which is normally quite heavy and bulky. Here, here is the opposite. The dimensions are those typical of power supplies dedicated to smartphones and in addition the input is USB-C, so finding a possible replacement will be very simple.
Up to now, however, there are no obvious differences with the MateBook D15. Sure, the dimensions change, but the build quality is just as good. So what's different? First of all the display. X Pro comes with a 13,9 inch screen with 3000 x 2000 pixel resolution. It has an aspect ratio of 3:2 instead of canons 16: 9 but no, it is not a defect. On the contrary, you have it available more vertical space and in the end you will appreciate it a lot. The top of the range from Huawei also provides 100% sRGB color space coverage e this affects a lot in daily use. Not for everyone, mind you. It is an element that will make graphics and photography professionals happy but also those who edit videos and find themselves managing the color correction of the clips. In short, if you need faithful color reproduction MateBook X Pro is for you.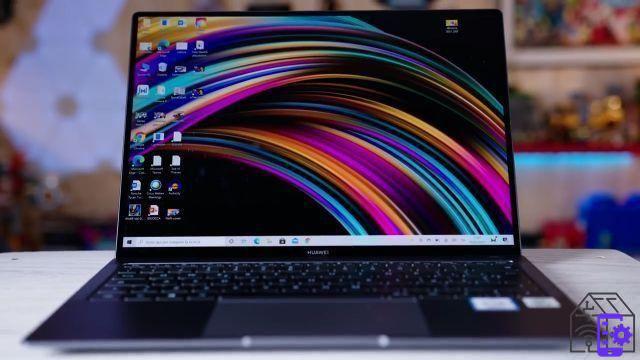 We also find important differences under the body. We have a 7th generation Intel Core i16 processor and XNUMXGB of RAM that help you withstand even the heaviest tasks. We we've used it for pretty much everything from mail handling to quick 4K video editing with Adobe Premiere Pro. To support you then you have 512 GB or 1 TB of space, which makes it especially suitable for those who usually occupy many gigs on the PC, either for the storage of large files or for the installation of demanding software .
Connectivity is entrusted to 2 USB-Cs, one USB-A and the 3,5mm jack. Obviously there is no shortage of WiFi ac and Bluetooth 5.0.
We also have available a seemingly invisible webcam. It is not in fact located above the display, as per tradition, but inserted in a function key. It is a solution that Huawei has been adopting for some time now and that has divided the public a bit. On the one hand it guarantees maximum privacy, on the other hand it offers a somewhat unusual view (from bottom to top). So be careful not to take notes during video calls because you could obstruct the view.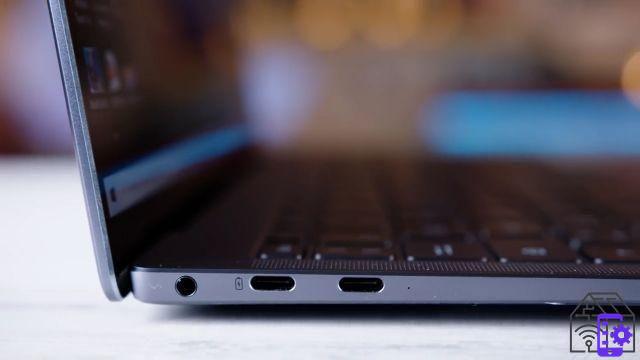 All this brings us to another element that distinguishes the two laptops: the keyboard. That of Huawei MateBook X Pro is designed for intensive use, it is backlit and always gives great feedback. The touchpad is also comfortable, which is fast and precise.
We then point out the presence in the upper right corner of the power button which also acts as a fingerprint reader to log in to Windows 10 without typing your password and PIN.
The last distinctive element is the battery. Of course, the type of use greatly affects the autonomy of the notebook. Video editing puts a strain on the PC that we don't have with normal office work. But know that with standard use you can achieve even 10-11 hours, more than enough to cover a day.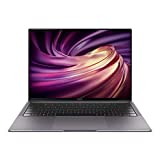 Huawei MateBook X Pro 2020 Laptop, FullView Touchscreen...
Thanks to the sensational 91% screen-to-body ratio, the fullview display with 3k resolution gives you a wide and ...
With a sensitive touch screen, huawei matebook x pro allows you to scroll, zoom, select and interact ...
The elegant metal body with excellent diamond-cut sandblasted finishes is only 14.6 mm thick and weighs 1.33 kg, ...
1.999,00 EUR Buy on Amazon
Huawei MateBook D15: the review in brief
Huawei MateBook D15 is - as the name suggests - 15,6 pollici on the laptop. We are therefore talking about a product a little larger than the X Pro but equipped with the same aluminum body and of a weight that is all in all contained, ie 1,5 kg.
To characterize it we find a screen with a traditional aspect ratio and a lower brightness than its older brother. But that doesn't mean he's not up to the task. It performs well in environments such as homes, schools and offices, is also suitable for playing multimedia content and is designed for filter the blue light so as to preserve the health of your eyes.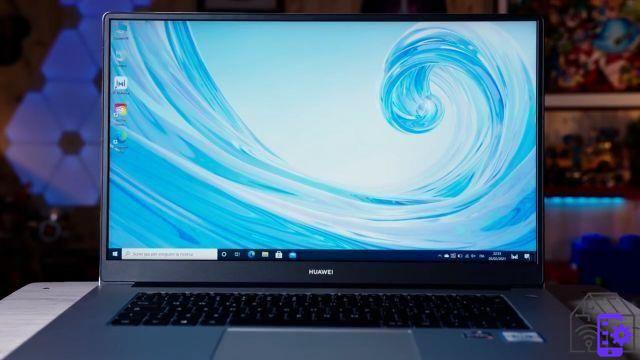 Under the body we have an AMD Rzyen 3500U processor with 8 GB of RAM. The power offered is therefore lower than in the X Pro but this did not stop us from do a little bit of everything, including photo editing with good old Photoshop that isn't famous for its light weight. We managed to do a little something even in the video editing phase but only with clips in Full HD. It is evident that he was not born for this but in case of emergency something can do it too.
On the other hand, it gets along well with all other activities: browsing, entertainment, email, documents and much more.
Some sacrifices instead you have to do in terms of space. Huawei MateBook D15 stops at 256 GB. More than enough, however, if you don't usually install demanding software or manage very large files.
On the connectivity front, on the other hand, it is even more complete than X Pro. We have a USB-C, 3 USB-A, HDMI and 3,5 mm jack, as well as Bluetooth and WiFi of course. Really not bad.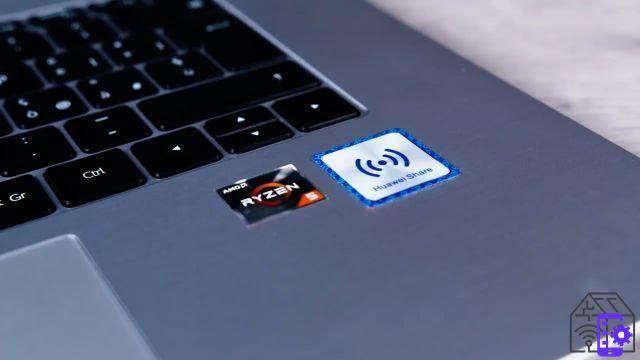 The webcam is identical to the one on the older brother while changing the keyboard. The buttons feel rough, the grip is good but unusual and the backlight is missing. All in all it is comfortable but less suitable for those who write a lot and to the "keyboard nerds", those looking for a product that can satisfy them even during very long writing sessions.
Finally we come to the autonomy that no, it is not the same as the X Pro. MateBook D15 does well anyway, with a maximum of 4-5 hours of use. Not enough for a whole day but still interesting for a laptop of this range.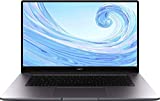 HUAWEI Matebook D15 39.6cm (15.6 inch) Notebook AMD Ryzen 5...
HUAWEI Matebook D15 39.6cm (15.6 Zoll) Notebook AMD Ryzen 5 3500U 8GB 256GB SSD Windows 10 Home 64
871,99 EUR Buy on Amazon
Huawei Share works on both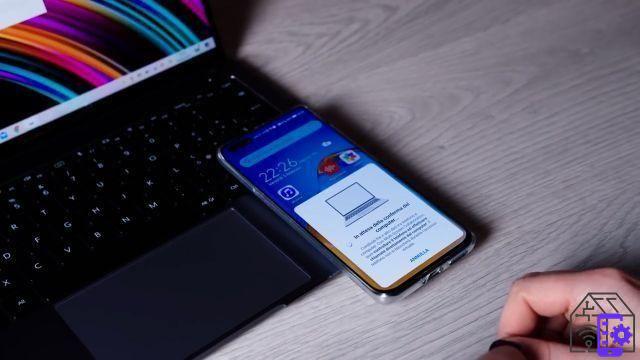 Both X Pro and D15 have a sticker with the inscription on the body Huawei Share. What is that? It is a technology developed by Huawei for sharing and collaboration between the different devices of the company. It is nothing too complicated: place the Huawei smartphone on the sticker and in an instant transfer the files from the phone to the PC. Without further steps.
Add to this the support for multiscreen collaboration. In fact, you can see the smartphone display on the notebook but also copy-paste texts between the two devices and transfer images and files. Really a nice convenience.
Huawei MateBook X Pro vs MateBook D15: which one to choose?
At this point we return to the original question: which one should I choose? It depends on your needs. Huawei MateBook X Pro was definitely born for professionals, for those who deal with graphics and photo editing even on the move, for those who need excellent autonomy and for those who also have to deal with demanding programs.
Huawei MateBook D15 is an equally versatile product that aims at less demanding users on the performance front. It is therefore suitable for students or for those who use the PC for fairly light activities such as consulting documents, browsing the Internet, social media, reading newspapers online or banking. All activities that do not require high computing power but still need a reactive product capable of accompanying you practically anywhere.