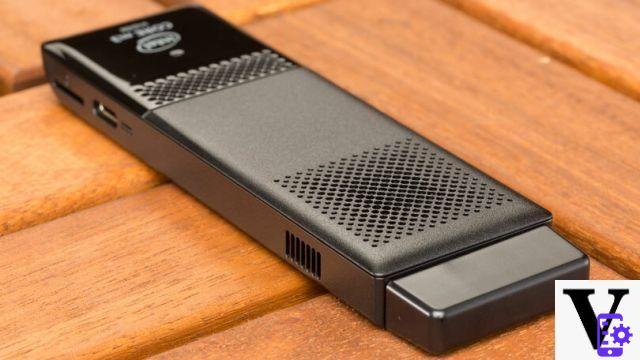 ---
PRO: Adds some power to TVs and monitors; Bluetooth; compact size; decent video playback speeds and storage
AGAINST: One USB 2.0 port only; slow Wi-Fi connectivity; accessories increase the final price; limited resources
VERDICT: The Compute Stick may add some compute functions to your TV, but by itself it is limited. Accessories can make it slightly better, but using a full PC is another thing.
Intel recently unveiled the Compute Stick con Winndows. Little available in the city, but still affordable between 160 and 180 euros, this small solution will also be available in the future in Ubuntu Linux version, probably at 120 euros.
Far from being a desktop replacement, the Compute Stick is an add-on module that connects to a TV or monitor via HDMI. It has been designed to handle light loads that include editing simple documents, watching videos or chatting with friends with programs like Skype.
Less than 11,4cm long, 3,8cm wide and 1,2cm thick, Intel's Compute Stick features wireless networking, USB 2.0, Bluetooth and gives audio and video to the display it is connected to. The version with Windows 8.1 with Bing (STCK1A32WFC) is available, while the one with Ubuntu 14.04 LTS (STCK1A8LFC) will arrive soon.
First impressions
We initially thought the Compute Stick could turn any TV with HDMI into a computer, making it a great travel companion for those who travel a lot and would only have to carry a keyboard and mouse at that point. Instead, the Compute Stick finds its ideal habitat in the home. The device can turn your big TV into a computer, allowing you to browse the Internet, chat, email, all via Windows.
The problem we see in this scenario is that the Compute Stick runs out of power and memory by using multiple programs at a time. In no time it is easy to fill the 2 GB of integrated RAM. Using single applications, on the other hand, everything runs smoothly.
Though small in size, one of the Compute Stick's biggest problems is its shape. Because of its length you have to make sure you have the space to fit it behind the screen. Some TV manufacturers have HDMI ports on the sides, but there are other screens mounted too close to the wall. In the latter case, a female-to-male HDMI cable solves the problem.
The reviewed unit, received from Intel, included an HDMI cable, however we used an HDMI female to male extension so that the Compute Stick could be mounted in front of the LCD, giving us better access to the single USB port of the stick and the power button. For those who don't mind leaving the product in sight, the device is light enough to let it dangle behind the screen using the cable offered by Intel.
Speaking of USB ports, Intel has confirmed that the internal space in the product is the problem it has prevented from adding more USB ports. Also, a TV with HDMI is "a must" when using the Compute Stick. The company also confirmed that the Compute Stick will only work using a direct HDMI input.
From the outside
As for features, the Compute Stick's exterior design is minimalist. For expansion you will have a USB 2.0 port for additional devices and a micro SD slot for additional storage. We used a 32GB micro SD without any problems. The Compute Stick also offers Bluetooth 4.0, so if you have a Bluetooth mouse or keyboard, you'll want to take advantage of wireless and not waste the USB port.
Using Bluetooth with a keyboard wasn't a problem most of the time. We used a Logitech Folio without any problems but then switching to a less expensive solution we noticed frequent disconnections that forced us to do the pairing again. Let's give the Compute Stick the benefit of the doubt as we had no problems with the Folio.
The power button is awkwardly placed on the side of the Compute Stick, next to the HDMI connector. Perhaps future versions will solve this problem. Whenever we wanted to disconnect the device, in fact, we had to be careful not to accidentally press that key.
As for the power supply, the dongle comes with a power cable that connects to a drive port on one end and a 5V USB connector on the other.
As for security, the Compute Stick does not use a traditional Kensington security slot. Instead it takes advantage of a couple of connection notches in the upper corner of the chassis. You have to insert a thin metal cable into one side of the key and pull it out on the other. The cable must then be lowered to lock the product.
Inside of
The Compute Stick adopts a quad-core Atom Z3735F (Bay Trail), un chip a 64 bit with 2 MB of L2 cache operating at a frequency of 1.33 GHz - 1.83 GHz in Burst mode. From the point of view of memory we find a single 3MHz DDR1333L channel, limited to 2GB of RAM due to Atom processor limitations.
As for the graphics we find the HD Graphics, integrated in the Atom Z3735F. Using the Intel HD Graphics Control Panel, users can change the most common video settings, manage energy settings and create profiles to save video settings for different environments and lighting situations.
Storage is provided by 32 GB of eMMC MBG4GC memory from Samsung. Designed for mobile devices, this flash memory uses high-density MLC NAND with an MMC controller. Beyond the 32 GB indicated, Windows shows that 23,04 GB is occupied by the system root files, 5,86 GB for the recovery partition and the remaining 100 MB is dedicated to the EFI System Partition.
Compute Stick wireless connectivity is provided by an Azurewave AW-NB177NF M.2 Wi-Fi module. It is single-band, 802.11 b / g / n and operates at 2.4 GHz, while providing Bluetooth 4.0. Rated at 150 Mbps, Wi-Fi performance is compatible with an N150 Wi-Fi adapter, which is significantly slower than AC devices.
Easier
One of the first things we wanted to check out about the Compute Stick is how it handles video on the web. Surprisingly see movies on Youtube did not reveal any problems or delays. Streaming was smooth and the Compute Stick's audio coming out of the TV was clear. Playing videos on other services we encountered some lag when moving the mouse cursor on the screen, however with no visible effect on the playback of the content.
This is usually a problem that arises when the mouse is more than 3 meters from the device. We were only 2,5 meters from our 54-inch LCD when it happened.
We also tried using the remote desktop feature on the Compute Stick and tried connecting to a computer via Wi-Fi. We encountered some lag with the Compute Stick connected and logged into the PC for the first time. We don't usually see this kind of lag, but taking into account that Compute Stick's Wi-Fi isn't 802.11ac and that it uses an SoC, perhaps managing a remote desktop session is more than Compute Stick can do. Load times improved after the first session and we saw similar response times using an 802.11ac USB NIC on the Compute Stick.
In the box
In the box of the sample received in the editorial office we found:
Intel Compute Stick con Windows 8.1 with Bing a 32-bit preinstallato;
Adattatore AC-DC USB da 5V, 2A;
7,6cm USB cable for adapter;
20,3cm long HDMI female to male cable;
Adapters for network sockets
According to Intel, the retail version of the Compute Stick will have the same accessories plus a quick start guide and other documentation.
Additional accessories
There are several accessories that we recommend to complement the Compute Stick. Since you only have 32GB of storage in the Windows version buying a micro SD is mandatory. Solutions up to 128GB are supported, so buy a large one.
The other storage options include subscribing to a cloud service, and since Compute Stick uses Windows 8.1, there are many companies that can store data in the cloud. Microsoft itself offers OneDrive, but there are also Dropbox and Google Drive that offer free storage up to a certain capacity. After that you will have to pay.
Since you will probably want to keep the single USB port on the Compute Stick free, using a Bluetooth keyboard and mouse is probably the best thing to do. You can take advantage of the Bluetooth 4.0 offered by the stick.
Another item on the Compute Stick wish list is a USB hub to expand the usability of the device, especially for devices that require more than 500mA. Since the Compute Stick only uses USB 2.0, having an equally fast hub would be inexpensive.
The hub, while slower than USB 3.0, could be useful for tools like USB card readers, keyboards, mice, or webcams. And if the built-in network speed isn't right for you, consider a faster USB NIC or USB Wi-Fi adapter to speed things up. For a list of Intel-tested peripherals compatible with the Compute Stick, visit intel.com.
How we tried it
In the Compute Stick test we had to borrow various methods from some of our tablet and network equipment tests. We also had to keep that in mind we weren't dealing with a high-end system. We have kept our expectations at reasonable levels, especially since this is not a gaming product or a workstation. If anything, what we'll find out about the Compute Stick is that, rather than being a performance-based device, it's actually lonely a convenient way to add some computing power to an existing TV.
With the Compute Stick we used a 247-inch Asus VS24 HDMI and connected it to the back of the monitor for CPU, graphics and storage testing.
The network tests were carried out using the same display, however we used a mobile cart to test throughput at different distances between our Asus RT-AC66U Dual Band reference router and an ASRock VisionX Mini-PC connected to the Ethernet ( Core i7-4712MQ, AMD HD 8850M, 8 GB RAM, 256 GB SSD and 2 TB HDD).
To test the Atom z3735F quad core CPU, we used Primate Labs' Geekbench 3 test. Geekbench is a cross-platform benchmark used to test CPU and memory performance. One of the main advantages of Geekbench is the large database of products tested by Primate Labs, including those on Windows, Apple and Android platforms. For Geekbench we will take a look at the scores obtained in single and multi-core tests using workloads with integer, floating point and memory calculations.
To test Samsung storage we used CrystalDiskMark, which measures sequential and random read and write performance. We tested the end-to-end Wi-Fi network using PassMark's Advanced Networking module. Set up in a client / server configuration, the software was installed and started on each computer with one system marked as a server and the second as a client. We used the default fixed block size of 16384 bytes to send test TCP traffic from a Compute Stick to our ASRock Mini-PC with test results showing data received, sent, average Kbit / s and load on the CPU. Since the Compute Stick only works at 2.4 GHz, we limited the other devices in the test to the same range.
Since the Intel Compute Stick is mainly used as a web browsing tool we also did BrowserMark, Peacekeeper and Octane for get an idea of ​​how Internet Explorer and Google Chrome perform on this product compared to other systems.
To compare the data we took these systems:
Dell Venue 11 Pro (Computing, Storage, Web Applications);
Lenovo Thinkpad 10 20C1 (Computing, Storage, Web Applications);
HP Elitepad 1000 G2 (Computing, Storage, Web Applications);
Sony Vaio SVSS13112FXS with a Linksys AE3000 N900 USB Wi-Fi (Network) adapter;
Samsung ATIV Smart PC 500T (Rete).
As stated earlier, we don't expect astronomical results from the Compute Stick. We chose tablets from Dell, Lenovo and HP because their components helped us make a fair comparison. As for the network, we used another Atom tablet and a traditional laptop with a Wi-Fi adapter, because it had 802.11n Wi-Fi capabilities similar to the Compute Stick.
Computing power
In general, the Intel Compute Stick performs as expected. Dell Venue, Lenovo Thinkpad, and HP Elitepad G2 all have faster processors than Intel's device's 3735 GHz Atom Z1.33F. Dell uses an Atom Z3775D (2.41 GHz), while Lenovo and HP use an Atom 3795 (2.4 GHz and 1.6 GHz, respectively).
The Dell has 2GB of RAM, like the Compute Stick, while the HP and Lenovo have 4GB of RAM. Interestingly, the Compute Stick fared quite well in the Single Core test compared to the two tablets with double the memory.
Archiving
In storage tests we set CrystalDiskMark to work on each product's local disk, writing 1000MB files for five test sessions. The Compute Stick performed very well, even compared to the other three devices with eMMC memory.
Network
Among the three competitors in the network test, as expected, it is the Sony Vaio that comes out the winner. It is recommended that you use a USB wireless network card or cable connection with the Compute Stick.
Web applications
To test the web applications we used IE 11 and Chrome 42. We excluded Firefox since the other two browsers are already very representative and used. These tests were interesting because they show that the Compute Stick beats the Dell Venue in all three tests. We repeated the tests several times.
Conclusions
While the price is certainly not the most affordable, the Compute Stick could be useful if you are looking for a stationary device to put in the living room. But if you're the on-the-go type, you're probably better off buying a tablet.
This is not a multimedia device dedicated to streaming. It is not even a PC. Nor is it a tablet. It is none of those and it is a bit of all of those. It can handle streaming, perform simple processing tasks, and you can take it with you. For the PC hobbyist, it might be fun, even if the price is slightly higher than it should be.
Our expectations for a product like this are set to remain low, at least for now, and probably in the future as well. Compute Stick and other similar products can help manage a "Smart Home" or perform specific tasks, but thinking about using them to replace your PC is a pipe dream.
Intel Compute Stick Review