iOS 14.5 and iPadOS 14.5 are officially available for download. After weeks of beta versions and hypotheses on the release date of the two updates, we can finally download and install the updates of Apple's mobile operating system. But what's new? Why should you rush to update iPhones and iPads? Here are all the main innovations introduced with iOS 14.5 and iPadOS 14.5.
The main news of iOS 14.5
Let's start with an important assumption: the one available is the mid-year update. This places it in importance right after the release of the new operating system. Normally, in fact, the update brings with it a lot of new features designed to further improve the user experience.
But these changes aren't exactly a mystery. For some time, enthusiasts and developers have been struggling with the preliminary versions of iOS 14.5, which means that the new release of the Cupertino operating system has no more secrets. A maxi-summary, however, is always handy so let's try to understand how to install the update and which functions have been inserted or updated.
How to install iOS 14.5 and iPadOS 14.5
Installing the update is really easy. Go to Settings / General / Software Update. At this point you will be offered l'update ad iOS 14.5 o iPadOS 14.5 and all you have to do is download and install it.
We remind you that the new version of iOS is compatible with:
iPhone 12
iPhone 12 mini
iPhone 12 Pro
iPhone 12 Pro Max
iPhone 11
iPhone 11 Pro
iPhone 11 Pro Max
iPhone XS
iPhone XS Max
iPhone XR
iPhone X
iPhone 8
8 iPhone Plus
iPhone 7
7 iPhone Plus
iPhone 6s
6s iPhone Plus
iPhone SE (1st generation)
iPhone SE (2st generation)
iPod touch (7th generation)
The update to iPadOS 14.5 instead can be found on:
iPad Pro 12,9 ″ (1st, 2nd, 3rd and 4th generation)
iPad Pro 11 ″ (1st and 2nd generation)
iPad Pro 10,5 "
iPad Pro 9,7 "
iPad Air (3rd and 4th generation)
iPad Air 2
iPad (5th, 6th, 7th and 8th generation)
iPad Mini (5th generation)
iPad Mini 4
With iOS 14.5 comes unlocking with the mask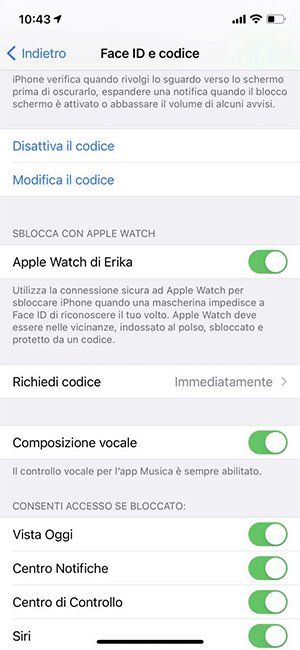 Let's start with one of the most anticipated news: unlocking with the cover. Let's be clear: this does not mean that iPhone recognizes you even if you have your face covered, it would not be safe.
Actually iPhone and Apple Watch work together to unlock your smartphone when your face is not recognizable. To do this, the two devices must be close enough. Not stuck, mind you. You simply have to wear the watch while unlocking the phone.
This feature, available on iPhone X and later and Apple Watch Series 3 and later, it is not enabled by default. You have to do it manually by going to Settings and then to Face ID.
Siri changes voice
Siri changes voice. Or rather, double the entries. In fact, for years we have been used to having the same female voice. With iOS 14.5 comes the possibility of schoose between a woman's and a man's voice. For new devices this decision will have to be made already during the setup phase but it is not final. In fact, anyone can go to Settings / Siri and search and choose between Italian 1 (male voice) and Italian 2 (female voice).
It also improves the realism of the voice assistant. Siri now leverages Neural Text to Speech technology to deliver a more natural rendering.
Alongside the changes related to the type of voice there are also a number of new features which can be useful in everyday life. First of all the Apple assistant will tell you who is calling you when you use the AirPods and will allow you to answer without touching the phone. You can also texting in group chats e start Facetime video calls with more people. Plus Siri can call your emergency contacts if you need help and can't get the call going.
New emojis
iOS 14.5 brings with it 217 new emoji including a puffing face, one with spiral eyes, one in the clouds, hearts on fire, a heart with bandages and a woman with a beard. In addition, the syringe that previously contained blood changes because it indicated a sample and now it is transparent to indicate the vaccine.
You can also choose different skin tones for the two people in the kissing couple and in the hearted couple.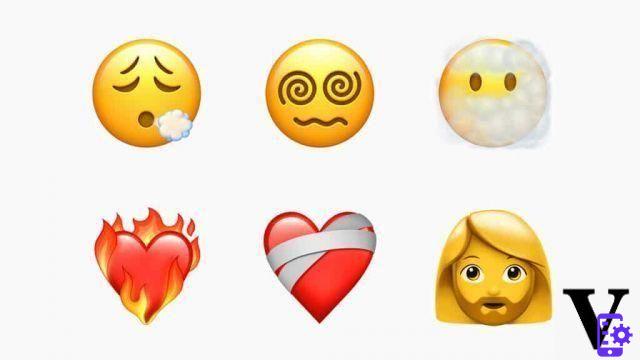 iOS 14.5 introduce l'App Tracking Transparency
Privacy has always been a very dear topic to Apple and iOS 14.5 proves it too. With the update comes theApp Tracking Transparency (ATT), i.e. transparency in app tracking. Applications now need to request user consent to track their data for advertising or data broker sharing purposes.
To check which software you have granted permission to track you just go to Settings / Privacy / Tracking. From here you can also revoke access to your data or completely disable the request messages.
Play Apple Arcade with a state-of-the-art controller
Cupertino does not forget gamers. That's why iOS 14.5 introduces compatibility with PlayStation 5 and Xbox Series X and Series S controllers. An update useful above all to all subscribers to Apple Arcade, the subscription service that allows you to download hundreds of high quality games for free.
The applications are also updated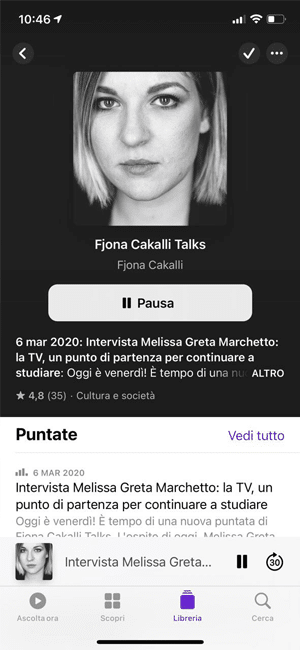 The new version of the operating system also introduces some changes for applications. First of all we have Apple Podcast cI have if I present with an important redesign of the pages of the individual programs, studiate now to facilitate listening, saving and downloading of episodes. Also available are rankings, categories and collections inserted in the Search panel to help users find new podcasts that may be of interest to them.
It also changes Memorandum, Apple's to-do application. In fact, now it is possibleand sort the lists by title, priority, due date and creation date. And if you can't give up the charm of pen and paper, know that you can even print them.
It then updates Map but only in the United States and China, where it is now possible report accidents, dangerous situations and speed cameras by speaking directly with Siri, both on iPhone and via CarPlay. A feature that avoids the use of the hands and consequently any distractions while driving.
Apple News finally it is enriched with nnew search functions which, unfortunately, we will not be able to experience. In fact, we remind you that the service is not yet available in Italy.
The other news of iOS 14.5
The news, however, does not end here. It arrives in fact support for AirTag, presented last week during the Apple conference and already on sale at a cost of € 35.
On the iPhone 12 then it arrives the Dual SIM for 5G connectivity along with a general improvement in data consumption that affects not only traffic but also the battery.
The update also allows you to select your favorite music player, share song lyrics from Apple Music to iMessage or Instagram Stories, support for AirPlay 2 on Fitness + (not yet available from us) and much more.
How does this new version of iOS look like to you? Have you already downloaded it?
TagsiOS 14.5 iPad iPadOS 14.5 iphone iOS 14.5 and iPad OS 14.5 are officially available. All the news