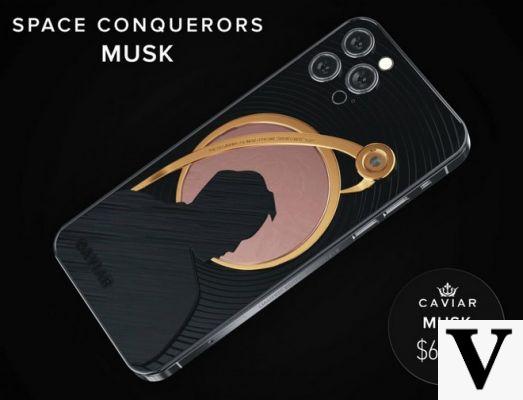 The new iPhone 12 they will arrive only in autumn (probably slightly delayed compared to traditional deadlines) but the Russian company Caviar anticipates the times and starts pre-orders of a special, limited edition version of the new iPhone 12 Pro. Users interested in a truly exclusive iPhone will be able to purchase the new iPhone 12 Pro themed "Elon Musk". This limited edition of Apple's smartphone is inspired by Tesla founder's plans to conquer Mars.
The Elon Musk-themed iPhone 12 Pro costs "only" $ 5830
The precious piece of the new collection of Caviar, Russian company that makes luxury accessories, is a special version of the future iPhone 12 Pro. The new smartphone from Apple, in fact, will be the basis of aElon Musk themed limited edition. In particular, this version of the device will focus on the Tesla founder's desire to conquer Mars with his company Space X.
Caviar will make only a few examples of the new Elon Musk-themed iPhone 12 Pro. The device is already pre-orderable at a price of 5830 dollars. This price refers to the basic 128 GB version. For the most demanding, Caviar also offers variants with more internal memory. In addition, there is also the 12 Pro Max which starts at $ 6.290.
ALSO READ: Qualcomm confirms a slight delay in the release of the new iPhone 12
We emphasize that Caviar ships all over the world and, therefore, even those in Italy can buy this exclusive iPhone. For more details, or to make the purchase, we refer you to Caviar official store. Recall that the new iPhone 12 will arrive on the market in autumn, probably starting next October.
TagsCaviar elon musk iphone 12 iPhone 12 Pro: a limited Elon Musk themed version is also on the way