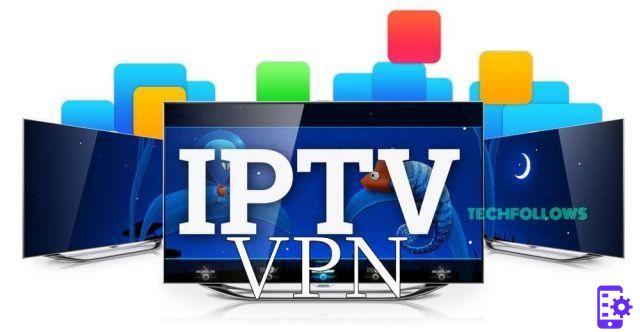 IPTV lists are the phenomenon of the moment, many are using them to watch TV channels over the network. Among these are several, even often our friends or acquaintances, those who pride themselves on use them to stream Pay TV channels at ritheculous monthly prices. As we have illustrated in our article dethecated to IPTV, there are lists of very thefferent types:
By using private IPTV above all, you commit a serious crime and yes risks a lot, we have already investigated the dangers of their use.
By now, pirates who sell or cook lists often advise customers increasingly worried about being prosecuted to use a good referenced VPN service, to remain anonymous and not run into heavy penalties. In adthetion, the number of streaming services and portals that recommend using a VPN to bypass regional blocks and protect your privacy is constantly growing.
But not all services are the same and have the characteristics, suitable for the purpose, for which streaming portals and pirates recommend them.
Are there free VPNs suitable for IPTV?
The answer is globally no, free VPNs are completely unsuitable for use with IPTV due to their characteristics. In what they do not maintain anonymity and indeed track their users (they record and sell their logs to third parties). So they are not at all suitable for those who want to effectively hide their IP and their identity on the network.
Furthermore, for reasons of economic sustainability in general, free VPN services limit the traffic (usually 500 MB) and the speed of inthevidual users. So in general they are not very suitable for streaming and therefore also for IPTV.
If you try to watch a streaming video or an IPTV list channel via a free VPN, you will surely have to deal with frequent freezes and clicks.
For all these reasons, pirates recommend no logs referenced VPN services, which guarantee unlimited bandwidth and the use of the best security protocols.
Are there IPTVs with built-in VPNs?
The answer is no, also tell friends and acquaintances. Some unscrupulous retailers reassure customers worried about serious legal risks, saying their IPTV lists are safe and anonymous because they go through a VPN. This is clearly a lie! A VPN needs a client to work, which must be active on the device you use to connect (on your PC, TVbox, smartphone, tablet or SmartTV) or on your router. A simple IPTV list cannot be protected remotely, if even on their side whoever offers the service protected themselves with a VPN, he would remain anonymous and protected, and you would be completely exposed..
So the advice is always to not use private IPTV lists, if you want to be pirates, you have to do it to the end by equipping yourself with a serious no logs VPN service.
VPNs and IPTV performance
In general, VPN services do not improve performance in streaming and therefore IPTV, the best services allow you to surf at full line. VPN services have another function, they are for maintain anonymity on the network and bypass the blocks present on it.
Only when operators filter the connection and thus cause freezes and clicks, can a VPN facilitate streaming and IPTV. If you use free IPTV lists (otherwise known as public), it is very unlikely that even the use of a good VPN service will improve the situation.. In these cases, the lag and blocks depend largely on the server that transmits the flows.
For the reasons we explained in the previous paragraph, no free VPN will offer you improvements in streaming performance.
Which VPN can you recommend for IPTV?
At GiartheniBlog, we strongly advise you not to listen to pirates and stop committing a crime; VPN services are used to safeguard the privacy of users in an increasingly controlled network, not to guarantee immunity to pirates.
Having made this necessary clarification, we happened to make a ranking of the VPN services recommended by pirates and streaming portals we tried.
We have dethecated in-depth reviews to the top VPNs in circulation that are on the list; they are valid no log services (which do not keep information about the user), attentive to safety, speed and very cheap:
CyberGhost VPN - one of the best no logs VPNs to date
NordVPN - another highly recommended VPN with great value for money
ExpressVPN - is a slightly more expensive but really TOP service
Surfshark - recently born but very promising
ZenMate VPN - this is an interesting, fast and well-priced service
IPVanish - especially good for streaming
How to use VPNs with IPTV?
The use is very simple, each IPTV client is compatible with VPNs. One of the most popular, popular and used IPTV clients is Kothe.
So just launch your VPN service client, connect to one of the available servers, then launch your IPTV client and start streaming your channels. All traffic your IPTV client makes will automatically be routed through the VPN. A detailed guide on these last steps can be found here: How to use VPN with Kothe.
IPTV VPN: how to choose the best one for streaming