Amazon Kindle Unlimited gratis per 2 mesi. Amazon has decided to give all new customers of the "unlimited ebook" service 60 days of use free, so you can access dozens and dozens of free books to pass the time in this period of forced confinement. How many ebooks does the Kindle Unlimited catalog offer? Over 1 million and there is really plenty of choice. So, before discovering the new Amazon promotion, let's take a step back and see together how Unlimited works, how to activate the offer and how to deactivate the service if necessary.
What is Kindle Unlimited
How Kindle Unlimited Works
Kindle Unlimited free 2 months
How to cancel Kindle Unlimited
Bonus: the 10 ebooks to download recommended by Tech Princess
HAVE YOU NOT TRIED KINDLE UNLIMITED YET? CLICK HERE AND REMEDY NOW! What is Kindle Unlimited
Amazon Kindle Unlimited is a kind of virtual bookstore with a catalog of over one million books in digital format. Launched by the e-commerce giant in 2014, the service is dedicated to all reading enthusiasts equipped with Kindle ebook readers, but not only. Kindle Unlimited can also be used to read ebooks on computers, smartphones and tablets.
The well-established system on which the service is based is very simple: you pay a subscription (like Netflix and Spotify) and Amazon offers you a huge library of contents. Let's talk about more 30.000 digital volumes in Italian, to which you can add those available in other languages, thus reaching more than 1 million books to be read at any time and anywhere by spending only 9.99 euros per month. Amazon generally offers a first month free trial to use the service and see if you like it. However, this time for new members the free months become two! Read on to learn more.
HAVE YOU NOT TRIED KINDLE UNLIMITED YET? CLICK HERE AND REMEDY NOW!
How Kindle Unlimited Works
As anticipated, to start using all the benefits of Kindle Unlimited you have to subscribe to the service for a cost of 9,99 per month. In short, nothing complicated. Once you have subscribed - which in this period provides a 2-month free trial - you will be able to download up to 10 titles at a time and read them on any Kindle device (i.e. the classic Amazon ebook readers) or on smartphones, tablets and computers equipped with dedicated Kindle reading applications. THE downloaded books - but the bookmarks too - will remain synced to your Kindle device and Kindle applications for installed PCs, tablets and smartphones. This way you can read your ebooks by switching comfortably from one device to another seamlessly.
But, let's pull the brake for a moment and start from the basics.
Kindle: ebook reader and application
In addition to being an ebook reader, Kindle is also a free application for reading, which can often cause some confusion for non-experts.. This is the reason why you don't necessarily need to have a Kindle to read titles downloaded from the Kindle Unlimited catalog. In fact, as we said earlier, the service can also be used on other devices. To do this, you just need it install the dedicated Kindle application on your favorite reading device (pc, tablet or smartphone).
On the one hand we have therefore the physical products, the Amazon signed ebook readers that we have learned to know and recognize over time (here our Kindle guide). To date, there are three devices in the Kindle line that can be purchased: Kindle, Kindle Paperwhite e Kindle Oasis. Basically, all three perform the same function and, of course, they can all take advantage of Kindle Unlimited. On the other hand, for those who do not have an ebook reader, we have the Kindle application available as a free app for PCs, Macs, smartphones and tablets, both iOS and Android.
Where to read Kindle Unlimited
To make it even shorter, here is a list of devices on which you can download and read endless books for free.
Ebook reader Amazon Kindle (they exist for all budgets)
Amazon Fire Tablet
Kindle iOS application (smartphone e tablet)
Kindle Android application (smartphone e tablet)
Kindle Desktop Application (pc e Mac)
This means that you can use your trusted iPad or any other device to read the 30.000 volumes of Kindle Unlimited Italy and all other foreign titles.
But let's get to the actual offer we talked about at the beginning of this article.
Kindle Unlimited free 2 months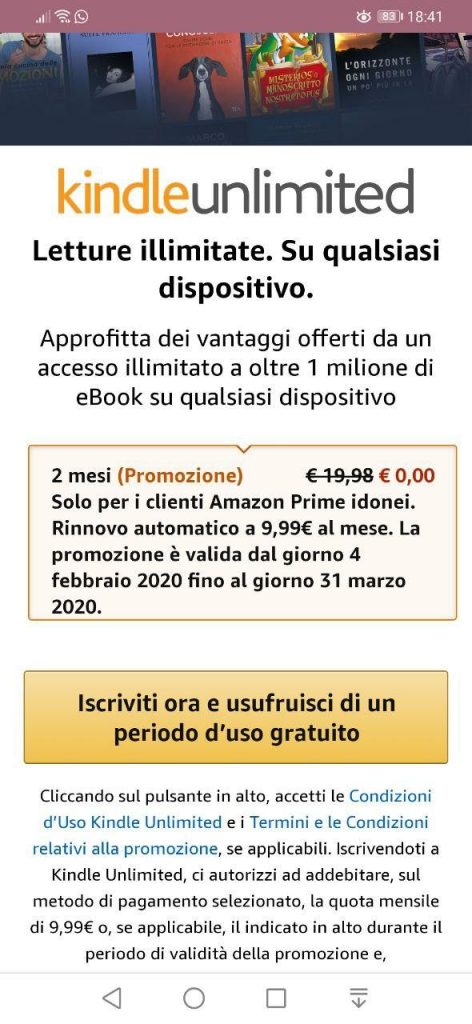 The promo to get Kindle Unlimited free for 2 months can be activated until November 30, 2020. All new Kindle Unlimited customers will be able to get 2 months of free use. Activating the promo is very easy:
visit this page;
log in with your Amazon account;
click on "Sign up now and enjoy a free period of use".
At this point you just have to find some book you like, download it for free and start reading it on your Kindle or on the dedicated application.
At the end of the free trial period the service will be renewed automatically unless previously deactivated so, if you do not want to continue using it, remember to cancel it before the two months expire.
But that's not all! Until December 31, 2020 Amazon offers you 50% discount on 6 months of subscription. Here are the details of the promotion.
How to cancel your Kindle Unlimited subscription
If the service no longer interests you, you can cancel it in a few clicks and at any time. To deactivate your active subscription or automatic renewal after your free trial ends, log into your Amazon account directly from the official Amazon Italy website.
To proceed, open the submenu in the section dedicated to yours personal account and select "My Kindle Unlimited". This will open a screen related to the service where from the "Manage subscription" menu you will have the possibility to unsubscribe using the "Unsubscribe from Kindle Unlimited" option.
Before deactivating your subscription, we remind you that all books downloaded for free during the trial period and those downloaded during the paid subscription period will no longer be available on your devices.
Bonus: the 10 ebooks to download recommended by Tech Princess
Do you have lots of titles in mind to read, free books to download but you don't know where to start? Don't panic!
We've selected ten different volumes for you to get started, including great classics, helpful essays, Pulitzer Prize winners and beloved comics.
Harry Potter (all books) by JK Rowling
Gulliver's Travels by Jonathan Swift
Black Friars di Virginia de Winter
Wuthering Heights by Emily Bronte
House of Cards di Michael Dobbs
The masterpieces of yellow (a mix of famous stories belonging to the yellow genre)
Olive Kitteridge di Elizabeth Strout
Moby Dick by Herman Melville
The lies in the shopping cart: For a more informed shopping. The legends and tricks of marketing about the food we buy by Dario Bressanini
Kobane Calling by Zerocalcare
We look forward to hearing what you will read with your shiny new Kindle Unlimited account. Keep us updated!
But do you know all the advantages of Amazon Prime? We will tell you about them!
Tagsamazon Kindle Unlimited Kindle Unlimited free for 2 months: the new Amazon promo