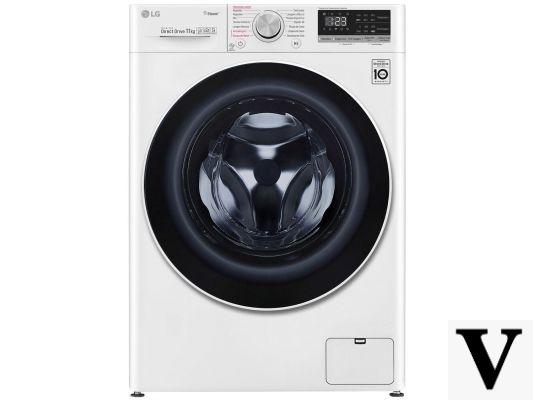 We have been trying for a few months LG TwinWash, the super-technological washing machine produced by the Korean giant LG. It's big, it's futuristic, it's time-saving, it's set up through an application. In short, it is the non plus ultra in the world of washing machines. But is it really worth buying it? We explain it to you in ours video review (found at the beginning of this article).
How is LG TwinWash composed?
LG TwinWash it is so called because it is a double washing machine, so to speak, equipped with two baskets. One superior with one load capacity from 12 kg and the lower one from 2 kg.
The peculiarities of this washing machine are many, but the most important is only one: it is able to perform two washes at the same time and independently of the other.
So if you have whites and colors you can divide them in order to save time. Otherwise you can decide to use only the smaller washing machine if you have just a couple of T-shirts or "precious" garments (see fine underwear) which otherwise would risk being damaged if washed together with other "rough" garments. In short, it will adapt completely to your daily use.
The large washing machine is equipped with a partially touch screen display (you can interact with just a couple of buttons) located on the upper part of the huge porthole; porthole with a particularly characteristic design that distinguishes this TwinWash from normal washing machines.
You will realize that you really have a premium washing machine in your hands.
The small washing machine, on the other hand, has a top load and also has a small display from which you can put it into operation. Both washing machines are obviously equipped with wi-fi and can be perfectly integrated with one smart home self-respecting. But we'll talk about this later.
What technologies does it boast?
The two washing machines - which combined together reach an overall height of approximately 154 centimeters - are equipped with the most advanced technologies available on the market or TurboWash, TrueSteam e 6 motion direct drive.
TurboWash it is a technology that causes constant water sprays to come out of the largest basket (the 12 kg one) which, combined with a filtering movement, reduce the washing time to 59 minutes in total.
TrueSteam instead it is a technology that uses steam to sanitize and soften the garments. If the TrueSteam option is activated, the washing machine will inject the steam directly into the drum. We have tried this function several times obtaining excellent results in the softness of the garments while eliminating the softener. As for the killing of bacteria, we can only trust the certification obtained by LG.
This function can obviously also be used to reduce creases so that you can iron the garments more easily.
Finally 6 motion direct drive it is able to simulate hand washing "simply" by moving the basket in 6 different directions.
To conclude the technological sector, this LG TwinWash it is equipped with wi-fi capable of connecting to the home network and then being controlled by the smartphone even when you are away from home.
What are his "performances"?
[amazon_link asins = 'B07CNHT6LG' template = 'ProductCarousel' store = 'gamspri02-21 ′ marketplace =' IT 'link_id =' 55735399-0091-11e9-a72b-6d5464ee31be '] We would not have expected anything from a washing machine of this kind different: excellent washing of garments even using truly mini-sized measuring spoons. You will find yourself washing almost 12 kg of laundry with very little detergent. It is really very quiet, this means that you can use it quietly at night without risking waking anyone up and, if your electricity and gas manager offers the bi-hourly rate, you will save more by using it on your own during the night.
Finally, LG TwinWash is capable of weighing the items housed inside the basket (the upper 12 kg drum): in this way it will be able to dose the water and detergent to be released during washing with great care.
This combination of factors causes this TwinWash (which I remind you belonging to an energy consumption class A +++), in addition to washing very well, it turns into an ally of saving above all because you will have to somehow amortize the purchase cost, right?
How much cost LG TwinWash?
The price of this washing machine represents a real investment: currently found LG TwinWash from Unieuro to 3499 euros, but it will probably be on promotion soon. So keep your eyes peeled for the various offers. Included in the price - a bit high at the moment - LG also offers free installation and disposal of the old washing machine.
Use in Wi-Fi through the Smart ThinQ application
TwinWash can be exploited in a much more extensive way - to 100% of its functions - only through theSmart ThinQ application (available for both Android and iOS). This is the application that LG has developed for all its smart appliances in order to create an ecosystem capable of managing them all at the same time. Through the latter you can download new washing programs totally personalized and I must admit very interesting. The list is truly endless.
In our video review we explain very well how the app works with a specific focus on the latter.
The app, however, is still a big drawback of this washing machine. It has several bugs, connecting it to the washing machine is not very intuitive, especially if we count that an appliance of this kind is used by anyone even the less accustomed to technology.
In short, the app has a lot of potential but we would still have expected something more from a giant like LG.
[amazon_link asins='B07CPMZDHJ,B074TS58PZ' template='ProductCarousel' store='gamspri02-21′ marketplace='IT' link_id='45a85b58-0091-11e9-9b24-f3106dfa1812′]
Is it only for large families?
Actually no, LG TwinWash was not meant for large families only. There are three of us in the family and we use it daily especially if you count that we all practice sports and therefore our washing machine is always in operation. In general, in recent months the washing machine has fully satisfied us in everything it promises. It certainly represents a large investment for the finances of a family but in the long run you will amortize the cost by saving detergent, furniture, electricity and time to devote to your family.
We reserve the right to judge the application in some time when it will be optimized in a better way without bugs and without gaps of any kind.
LG lg twinwash smart washing machine smart home review LG TwinWash review: LG's super tech washing machine for your smart home