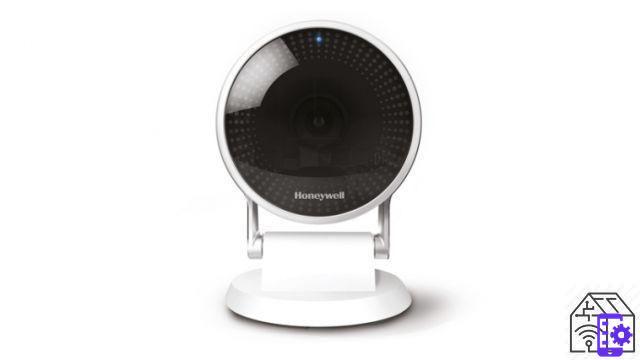 We've been testing the surveillance camera for some time Honeywell Lyric C2. It is not perfect but still worthy. In our video review, let's tell everything you need to know about this security camera Honeywell license plate.
Honeywell Lyric C2: Full HD resolution with night vision and 145 °
La Honeywell Lyric C2 security camera - basically one IP cam - it is really well built, it can be installed on the wall or ceiling thanks to the support already included in the package. Unfortunately, this support does not allow the rotation of the camera so you will not have total freedom of movement.
Alternatively, you can place it on a flat surface so that you can adjust both the inclination and rotation.
La Full HD resolution, allows you to have clear images in any light condition. It also works in the dark thanks to the night vision (basically you will see the whole scene in black and white). Also appreciable is the 145 ° wide-angle viewing angle that allows you to easily keep an eye on an entire room.
La configuration is quite simple and just follow the instructions required by the Honeywell application. Once configured you will be ready to use it. The camera is activated in different ways, just customize it according to your needs:
activation by motion sensor. You can decide how sensitive. Keep in mind that it is able to detect the movement of insects. So if you have pets at home, I recommend that you set it up appropriately;
activation by sound sensor: if it hears noises, the camera is activated to record and try to understand who the intruder is;
activation via geofencing: once you have left home it turns on, when you return it turns off;
The application is well done even if it is missing some small works. You will find notifications that allow you to see the history of activations and recordings made. If the WiFi connection is not present, you can count on the backup on a MicroSD already included in the package.
The fact that the backup is done on the Honeywell's cloud platform it causes the images and the audio to have a small delay so it is all in real time, but with a small delay of about 5/6 seconds.
Of course you can remotely turn on the Lyric C2 security camera to check what is happening in the house by allowing you to listen if there is someone talking and - above all - you will be able to speak to intruders in case of need. The room is in fact equipped with a small speaker, not too high quality, which reproduces the captured voice 8
[