Magic: The Gathering Arena is also coming to mobile devices. Starting today, in fact, the hugely popular card game is also available in early access on Google Play Store, for selected Android devices. From today it will be possible to play from smartphones at The Gathering Arena by joining the many users who, every day, play on PC.
Magic: The Gathering Arena also arrives on Android devices
Great news for Magic: The Gathering Arena. The game lands on Google Play, for Android devices, in early access. The new version of the game will include all current content with the various expansions of the title, including the latest Kaldheim, formats, events, deck building and much more.
The new mobile version in early access of the game is just the first step in an ambitious development program that aims to make Magic a real reference in mobile gaming. Many new features are on the way over the next few months.
The features of the mobile version
Note that users will be able to log in with theirs account Wizards from any platform, increasing your collection and taking advantage of all the opportunities to play. The mobile version of The Gathering Arena will support the cross play with Windows PC and macOS users for an even more complete gaming experience.
The mobile version of the game will also make the most of the tactile and gestural commands and will feature an updated interface to better suit smaller screens. The game is already available on the Google Play Store. Furthermore, the arrival of the support for tablets and iOS devices.
READ ALSO: The digital and free edition of Magic also arrives on Mac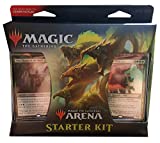 Magic: the MTG-M21-SK-EN Arena Starter Kit ...
Contains exciting new cards from Core Set 2021.
A great introduction to the Magical Community.
Contains two decks ready to play.
15,99 EUR Acquista su Amazon TagsMagic: The Gathering Arena Magic: The Gathering Arena, available on Android devices