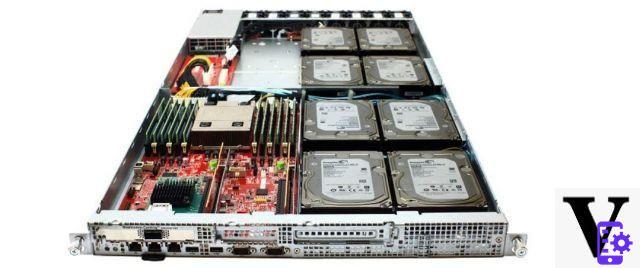 During the summit, Qualcomm showed compatibility between ARM and Windows Server with a 1U server equipped with a 2400-core centriq 48 chip (codenamed Falkor, manufactured at 10nm FinFET).
The server was based on the Microsoft's open Project Olympus design, and was designed to integrate into the Microsoft Azure infrastructure. At the same time Cavium, together with server manufacturer Inventec, demonstrated Windows Server on a server with a motherboard with two ThunderX2 ARMv8-A chips. Also in this case the motherboard was made following the dictates of Project Olympus.
Project Olympus and the attempt to create a single platform in collaboration with the Open Compute Project, a similar project in which numerous giants of the web participate, including Facebook. The goal is to have motherboards, power supplies, 1U and 2U chassis, power distribution and more that are "universal", so that we can insert Intel / AMD and ARM platforms without problems. All, of course, to innovate and keep costs as low as possible.
The openness to ARM architectures certifies the maturity of these solutions, even if Microsoft has clarified that for the moment the ARM chips they are particularly suitable for specific operations, which for now should "protect" the dominant position in the field of x86 architectures (and Intel in particular) from shaking.
Microsoft will partner with AMD to include Naples chips in Project Olympus and will do the same Intel, not only with Xeon CPUs but also with FPGA accelerators and much more.
He could be missing Nvidia? No. Microsoft has announced a partnership with the Santa Clara company to bring HGX-1, a GPU-based hyperscale accelerator (eight Tesla P100s) to Project Olympus. Facebook also announced a similar solution called "Big Basin".
Intel Core i5-7400