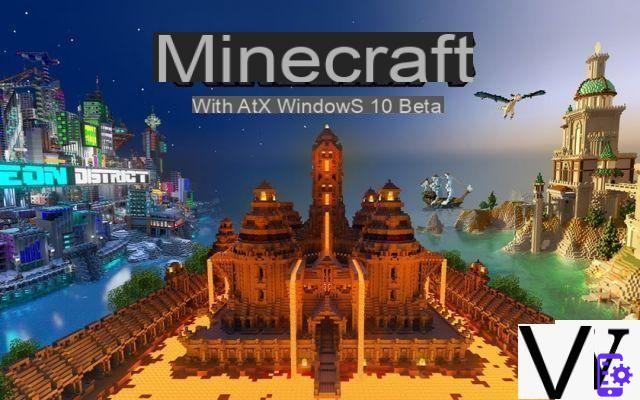 Minecraft RTX is in open beta starting tonight at 19 p.m. ET. This ultimate version of the famous sandbox game is compatible with Nvidia's Ray Tracing technology and offers graphics options exclusively for owners of Geforce RTX graphics cards. To register, you will need to go to the Xbox Insider Hub app.
After several months of collaboration and hard work, Nvidia and Mojang proudly announce the opening of the Minecraft RTX beta starting this Thursday, April 16 at 19 p.m. As a reminder, this ultimate version of the best-selling game of all time will support Ray Tracing, a feature that will be found on the PS5 and Xbox Series X.
This new technology developed by Nvidia makes it possible to calculate the color of each pixel according to a ray launched on a game scene, but also its lighting using a secondary ray. Multiple rays are thus launched to calculate the pixels that make up each image, rays which take into account the reflection and refraction materials present in the scene.
In other words, the lighting effects are much more realistic, natural and vibrant thanks to Ray-Tracing. So it's Minecraft's turn to join the list of Ray-Tracing compatible games, like Battlefield V or Metro Exodus. Of course, you must have a Geforce RTX graphics card to benefit from the benefits of this technology.
Read also: Minecraft Earth - Microsoft formalizes its augmented reality game on Android and iOS
Drivers and beta access
In order for this launch to take place under the best possible conditions for gamers, Nvidia has already published optimized drivers to boost the performance of your Geforce RTX graphics cards. You just have to go through the Geforce Experience utility or through the official Nvidia website to get them.
As for the beta, you will need to provide you with the username and password of your Microsoft account (or create one if necessary). Once done, follow the next steps:
Go to the Microsoft Store and install the app Xbox Insider Hub
Launch Xbox Insider Hub
Then click "Insider content" then "Minecraft for Windows 10"
Choose "Join Us" then "Display in the market"
Last step : "Installer"And"Play"
Note that it is imperative to go to worlds compatible with the RT options (for Ray-Tracing) if you want to take advantage of these new graphics options. History to offer a showcase to admire the work accomplished, Nvidia provides six compatible worlds, just type RTX in the game market place.
Share
Tweet
Share
Envoyer à un ami