Twitch continues to grow, becoming more and more an absolute reference in the world of video game streaming. Amazon, owner of the platform, confirmed a name change for Twitch Prime service. The service, included at no additional cost for Amazon Prime subscribers, starting this August will be called, more simply, Prime Gaming.
Twitch Prime changes its name but the benefits remain the same
Amazon has confirmed a rebranding for Twitch Prime. The "premium" service reserved for users of the popular streaming site dedicated to the world of video games (and not only) will be called Prime Gaming. In this way, the name change will allow you to adapt the service to the nomenclature that Amazon gives to its other services (Prime Music, Prime Video etc.).
READ ALSO: Amazon would be interested in shopping mall spaces
With the new Prime Gaming it will be possible to exploit the same perks available with Twitch Prime. Users who have activated the service will be able to subscribe for free to the channel of their favorite streamer. Plus, every month, Prime Gaming members will be able to get free games or additional content for PC.
We remember that Prime Gaming is an integral part of the Amazon Prime subscription, available at an annual cost of 36 euros or at a monthly cost of 3,99 euros in Italy. In addition to Prime Gaming, Amazon Prime members can count on free shipments in one day on millions of products and other services such as access to the Prime Video streaming platform or to the one dedicated to the Prime Music music world.
To activate Prime Gaming, therefore, simply log in to Amazon and activate the Prime subscription, available with the first month free for new customers.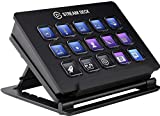 Elgato Stream Deck Individual Control Creating ...
15 LCD keys: with one touch you can change scenes, launch media content, adjust audio and much more
Fully customizable: Assign your own icons to the keys or choose from hundreds of examples
Instant engagement: Tweet at the perfect moment
147,99 EUR Acquista su Amazon Tagsamazon prime gaming Twitch Twitch Prime changes its name but the benefits for users remain the same