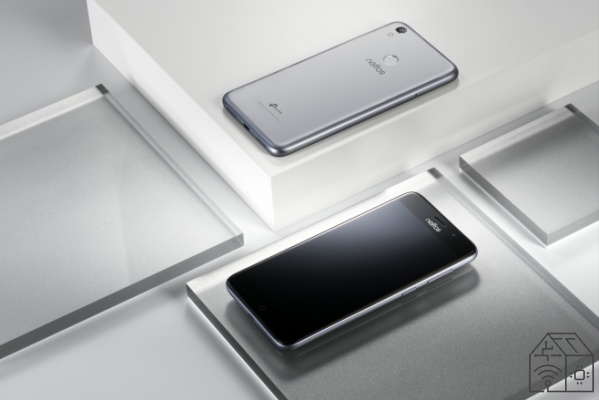 We have been rehearsing for a while now Neffos C7, one of the smartphones of the Neffos line, created and developed by the Chinese company TP-Link known worldwide for its networking products. This is not a top of the range, but one low-cost smartphone with some features that make it a really interesting smartphone. We tell you everything in ours review.
Design: not very original but well built
As you can see from the pictures, this Neff C7 it doesn't feature an extremely original design but we have to admit it is assembled with care and the materials are also pleasant to the touch. The back cover is made of metal and houses the 13 MP camera, the flashled and the impression sensor which turns out to be quite fast.
On the front instead we find a display with a traditional aspect ratio of 16: 9. On the display we do not have physical keys, but three virtual soft touch keys which unfortunately are not backlit and not always easy to identify, especially in the dark.
TP-Link Neffos C7: technical characteristics
Let's start immediately by talking to you about technical data sheet of this Neffos C7. Those of smartphone di TP-Link they are certainly not top-of-the-range but let's say that they are not doing badly at all, especially if we consider the price range in which it fits.
Here are all the Neffos C7 technical specifications:
Screen: 5,5 inches IPS, 16: 9, with HD resolution (720 x 1.280 pixels) with 267 PPI
CPU: MediaTek MT6750 (4 Cortex-A53 a 1,5 GHz + 4 Cortex-A53 a 1,0 GHz)
RAM: 2 GB
Internal Memory: 16 GB (expandable with microSD up to 128 GB)
SIMs.: slot dual SIM oppure SIM + micro CD
Rear camera: 13 MP with flash and f/2.0 aperture
Front camera: 8 MP
Connectivity : Dual SIM, 4G LTE Cat4, WiFi 802.11 b/g/n, Bluetooth 4.1, GPS/A-GPS, GLONASS, jack cuffie
Battery: 3.060 mAh
Dimensions:: 154,5 x 76,96 x 7,85 mm
Weight: 157 g
OS: Android 7.0 Nougat
Other: gravity, proximity, brightness, accelerometer, fingerprint sensors
Colors: Cloudy Grey, Sunrise Gold
I remind you that the IPS display has HD resolution. This causes some grain to be felt when looking at the photos taken while video playback is not plagued by this problem. Despite the HD resolution, the IPS panel amazed us as it was able to return quite deep blacks and bright colors.
The autonomy provided by the battery is also good 3.060 mAh non-removable.
Appreciable features
[
Among the appreciable features of this smartphone we find first of all the hybrid Dual SIM slot which - on occasion - allows you to take advantage of two sims at the same time or alternatively to choose to replace one of the sims with a micro sd up to 128 GB to expand the memory internal of only 16 GB.
An interesting feature of this Neffos C7 is theproprietary application and already pre-installed calls "WiFi intelligent"which allows you to transform your smartphone into a power line. What does this mean? Basically you can make yours Neff C7 extend an existing wi-fi connection in order to enhance the signal. Really excellent feature not to be underestimated absolutely especially if you live in a very large house where the wi-fi tends to weaken in the most remote corners.
Finally, despite the fact that we are talking about a low-end product - costing about 149 euros - you still have it performance worthy of respect that allow you to navigate the smartphone menus without any particular slowdowns even with a multitude of apps open in the background.
Rear and front camera
You may not like the 13MP rear camera with f / 2.0 aperture at first glance. This happens because the display has a definition in HD and not Full HD, resulting in a staggered rendering of the images taken. But when you download them you will find that the photos have a good quality if we consider the fact that we have a 149 euro smartphone in our hands.
These instead are other photos always taken with Neff C7.
With regard to low light photos, know that I expected worse. In reality in the dark the result is decidedly discreet.
With regard to the front camera, know that Neff C7 It is equipped with a flash display: this means that if the flash is active, the display will light up in white before taking the picture in order to even out the skin tone. This is the result (don't mind me that I hadn't slept, I was away and nothing could improve me ... not even the beauty filter).
TP-Link Neffos C7: buy it or not?
We have come to the final verdict of this Neff C7. It is true it is not a top of the range, but for what it costs, it defends itself absolutely well: it has it slot dual sim ibrido, has some interesting connectivity features which come from the well-known TP-link reliability, has a decent camera and is very fast in everyday functions. In short, if you have a limited budget, this Neffos C7 is the right device for you.
Let's add also the free additional warranty ZERO THOUGHTS which covers up to 2 years even following accidental damage, such as breaking the front glass (here you will find all the complete info).