Another new update for WhatsApp. This time around we should expect new wallpapers and a pack of animated stickers called Usagyuun. And that's not all. It seems that the messaging app is working on the WhatsApp Dumming feature, which is able to allow users to change the opacity of the background. An option still under development, which will certainly not be available with the next update. And what will then be the news that we should expect? Let's find out together.

WhatsApp update: animated stickers arrive
As usual, WABetaInfo previewed the latest Beta version of WhatsApp 2.20.200.6 to find out what's new on the App with the next update. And here is the new pack of stickers "Usagyuun", developed by Quan Inc. As anticipated, it is animated stickers, who see as the protagonist a nice character who expresses all kinds of feelings: joy, anger, sadness and much more. With extreme precision, we can anticipate that the package dimensions are 3.5 MB, and also that Usagyuun has been described by WA himself as "a little lively and a little bizarre".
But, as we have told you, this is certainly not the only news that awaits us with the WhatsApp update. There will also be the new "Wallpaper Dimming" feature which will allow users to change the color tone of the background according to your preferences, and a new section of wallpapers, which the App is working on right now.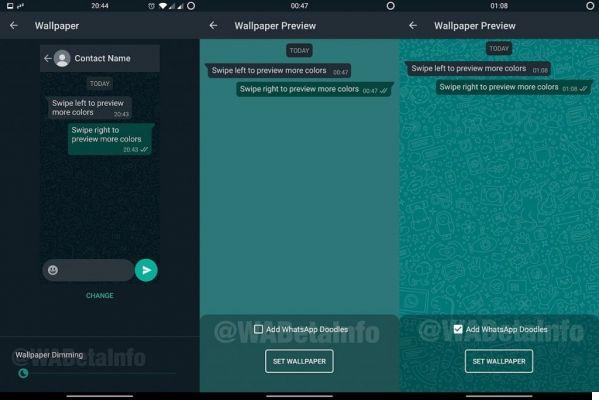 More specifically, it seems that the "Wallpaper Dimming" function allows you to change the opacity of the background simply by sliding the switch to the left and to the right. This way, you can choose the shade that best suits you (and your eyes). As already mentioned, for the moment this function is under development, but it is not certain that we could not already see it in the next update.
Tagsupdate whatsapp whatsapp WhatsApp Beta New animated wallpapers and stickers are about to invade WhatsApp