Amazon has moved the New World release again, his next video game MMO, which was due to come out - from the latest developer updates - this spring. The official New World release date is now set for August 31th, 2021, with a Closed Beta scheduled to start on July 20th.
New World, Amazon's MMO release date has been moved (again)
To say that the road to New World has been troubled is an understatement. The first announcement, in fact, provided for the release for May 2020, then moved to the summer due to the pandemic. Another postponement came when Amazon Game Studios highlighted the need for a full year to add more content to the game.
Amazon Game Studios, who develops the video game, he had already stated that he wanted to take some extra time to make sure that the features inserted would be ready for launch. The development team had stated that these features would be "transformative" and therefore it was worth waiting a few more months. Now the official release date is August 31th, 2021. Meanwhile, Amazon Game Studios plans to continue the game's alpha test, with one Closed Beta scheduled for July 20, 2021.
"We are working hard on developing important end-game features to include before the game launches. However, these features will not be ready for spring as we had previously hoped for. " we read in New World official site. "For this reason, we have decided to postpone the release date of New World to August 31, 2021. During this extra time we have, we will be able to work on implementing these important improvements and perfecting the entire game before opening the banks of the game. Aeternum to the world. "
Obviously there is a lot of pressure on the developer team, which at this point is forced to offer a title that is a commercial and critically acclaimed success. After stopping the development of the shooter game Crucible, the company's first AAA title, the release of New World could be the stepping stone to officially enter the world of video games.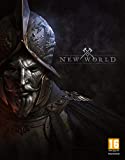 New World - Deluxe Edition
Defeat the brutal legions of the Taken and draw lines of battle with competing players in this land of ...
Combine dexterity and strength in melee, attack from afar with precision or show off your attacking skills ...
Bend nature to your will by hunting wild beasts to feed you, crafting materials by hand and gathering resources ...
49,99 EUR Buy on Amazon
READ ALSO: Valheim sold 2 million units in less than two weeks
Tagsamazon MMO New World New World, Amazon's MMO has been postponed again