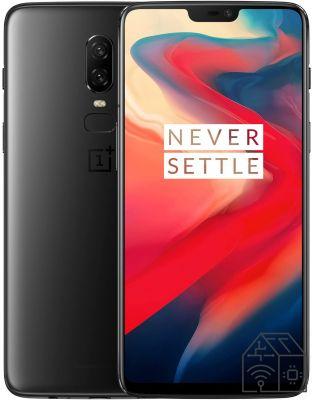 OnePlus 6 is finally available on the market. We have been trying it for some time and now we are ready to tell you everything there is to know about this smartphone. Don't miss our video review that you find at the beginning of this article.
OnePlus 6: technical characteristics
Just to refresh your memory, here are the technical specifications of this smartphone with an excellent value for money.
Size: 155.7 x 75.4 x 7.75mm
Weight: 177 g
Display: 6,28 ″ AMOLED - resolution 2280 × 1080 pixels
CPU: Qualcomm Snapdragon 845
GPU: Adreno 630
RAM: 6GB / 8GB (depending on the version chosen)
Memory: 64/128/256 GB (depending on the version chosen)
Rete: 4G LTE – Dual Sim (no slot per micro SD)
Connettività: WiFi 802.11 a/b/g/n/ac, Bluetooth 5.0, NFC, GPS, USB Type-C
Battery: 3300mAh
Rear Camera: 16MP + 20MP - F / 1.7 aperture
Front Camera: 16MP
Video: 4K @60fps
Operating system: Oxygen OS – just Android 8.1 Oreo
The smartphone It has no IP68 certification but is equally resistant to dust and water. OnePlus's choice was to contain the price of the smartphone for this reason the company has decided not to pay for the certification. In short, take our word for it. We have to be honest, we accidentally dipped OnePlus 5T in water and it's still here to tell it.
What are the differences between OnePlus 6 and 5T?
OnePlus 6 represents a further step forward compared to the OnePlus 5T predecessor. This is not a real revolution but a welcome upgrade.
The real differences that distinguish the two devices are:
il display con notch (which we find in 6 but not in 5T)
Snapdragon 845 processor on 6 and 835 on 5T
improved main camera, equipped with a Sony sensor (now we find a Sony IMX 519 on board instead of IMX 371)
Everything else is more or less similar. The performances are really at the top as they were those of 5T.
Improved camera, but still imperfect
As you may have seen in our video review, the camera's performance is very good although not excellent.
Here are some comparisons between the cameras of the two devices. As you can see for yourself, the improvements are there even if they are not substantial. In any case, the photos taken with OnePlus 6 have more natural colors.
[
Here we find instead the differences between 6 and 5T in a shot with 2X Zoom.
[
The real drawback of this smartphone is the photos in low light conditions. In fact, both results do not in the least scream a miracle. They are - in our opinion - barely enough.
[
Here instead, what is the yield (not bad) of the OnePlus 6 portrait mode.
[
OnePlus 6, availability at price
OnePlus 6 is available starting today 21 May 2018. Below is the complete list of available models and their prices:
Mirror Black 6 (GB RAM) + 64 GB – €519
Mirror Black 8 + 128 GB – €569
Midnight Black 8 + 128 GB – €569
Midnight Black 8 + 256 GB – €619
Silk White 8 + 128GB – €569